2011 NFL Draft Predictions
by Trevor Whenham - 3/2/2011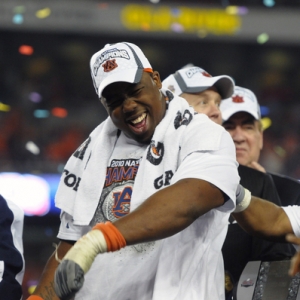 We're a month away from NFL Draft month. Unfortunately, it's not the only focus of the league this year because of stupid labor battles. Still, the Draft is incredibly exciting, and a worthy cause for a ridiculous amount of speculation and predicting. In that spirit, here are eight NFL draft predictions I will make about this year's draft. I know not all of them will turn out to be correct, but a couple certainly will, and that's all that matters:
Nick Fairley won't be the first DT picked - There is a fair bit of speculation right now that Fairley is at the top of the list of NFL Draft prospects. I don't believe that -- Da'Quan Bowers would be my choice. More significantly, I don't even think Fairley will be the first DT picked.
Fairley is a physical freak -- wildly impressive. The problem, though, is that he relies on that physical dominance to do what he does -- his body is far ahead of his skills at this point.
He'll need to polish his technique a lot or I don't see him being nearly as dominant against top-level talent as he is against outmatched college guys.
Marcell Dareus is a touch less impressive physically, but he is much more effective with his technique, and the closer we get to the draft the more I think that that will start to matter to teams looking for an immediate return for what will be a massive investment in either player.
There will only be two first round QBs - It's a strange year because there are several teams that need quarterback help, but there just isn't enough supply out there. Despite the need, I don't see teams going too far out on a limb in this one.
Cam Newton will go high (more on that in a second) and Blaine Gabbert will be in the Top 10, but I don't see teams falling in love with another guy to make him a first day selection. Jake Locker crumbled under pressure this year, Ryan Mallett is a head case, and no other guy is worth a reach.
Cam Newton will go way too high - I like Newton's play a lot -- he was an absolute beast this year. Still, the speed with which he is rocketing up the board is ridiculous -- a lot of NFL mock drafts have him as high as third to Buffalo.
I have two main issues with Newton as a high pick. First, there has to be character issues. Before he wound up at Auburn he had a rocky time off the field at Florida. He is way too close to his dad, and that's clearly not a good influence. Finally, whenever I have seen him in the offseason -- and he has been everywhere - -he's looking and acting like a mega-star already, before he's even been drafted.
It's no guarantee that he'll have the attitude to do the work he needs to do to be a success. More significantly, though, Newton is not a prototypical NFL QB, and the league has traditionally done a very lousy job at adjusting to the style of non-traditional guys. At 20th Newton would be a great pick. In the Top 5 he is a massive reach.
Ryan Kerrigan will be a steal - This draft is ridiculously deep in first round defensive linemen. There are going to be some real stars among the group. One who is going to deliver more than his draft slot indicates is Purdue's Kerrigan. They guy is absolutely relentless in his focus -- to disrupt and cause pain.
I've seen him double and triple teamed all game and still find ways to make his presence felt.
Robert Quinn is over-ranked - Quinn is physically impressive and will go fairly highly. I just don't think he'll live up to expectations, though. There are all sorts of reasons to have questions about him -- he missed all of last season so he could be rusty, the reason for his suspension leads to character concerns aplenty, and he dealt with a serious brain tumor in high school so there are inevitable health questions.
Mike Pouncey will clearly be the second best Pouncey - Maurkice Pouncey was a remarkable story this year -- a rookie who becomes a Pro Bowler for a very good Pittsburgh team. Now his twin brother is available and will go high as well.
Mike Pouncey has skills, but if people expect him to be as good as his twin I expect people to be disappointed. He doesn't have an obvious position, and he doesn't have quite the physical tools. He could be solid, but I don't expect him to be a star -- like his brother is.
Gabe Carimi will be the best first round OT - This is not nearly as strong of a class for left tackles as it has been in recent years. There are still a few good ones, though, and Carimi -- though he won't likely be the first taken -- could easily be the best.
I love watching this guy -- not only does he contain opposing players, but he'll frequently drive them 10 yards down the field just because he can. He's very aggressive, but that aggressiveness is balanced by physical tools and very strong technique. He can start right away, and he'll start for a long time.
Five years from now we will only vaguely remember who Jake Locker is - Locker is one of the bigger disappointments I have had in a long while. He came into college with amazing physical tools. Last year people took notice, and he came into this season on top of the world - on a rising team, and viewed as the likely top pick before the season started.
In the face of that pressure he totally crumbled. Time and again he was totally unimpressive when given a chance to shine. He still has physical tools, but I no longer believe that he has everything else you need to succeed in this league -- the heart, concentration, focus, and determination.
I hope I'm wrong, but I fear that Locker could waste an incredible amount of talent.