NFL Draft Predictions
by Trevor Whenham - 4/14/2011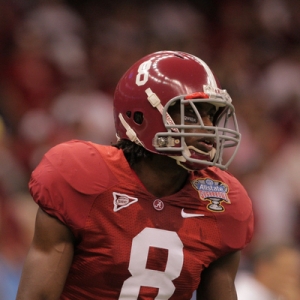 The NFL Draft is not quite here yet, but thanks to the labor mess everything else about the NFL is depressing so the draft is the only thing worth thinking about. Here are eight NFL Draft predictions that I feel pretty good about heading into the 2011 NFL Draft on April 28 in New York:
Cam Newton will go No. 1 - I'm not high on Newton as a pro. The guy is a pure winner, and what he did last year was incredible -- there is no denying that. The problem as I see it, though, is that either Newton is going to have to change as a player or a team is going to have to change their approach to offense in order for things to work. NFL teams don't adjust well, so that falls to Newton, and I'm not convinced that picking a guy and asking him to do something other than what he did to get there is a good idea. That all being said, Newton is far and away the biggest star of the class, and Carolina has perhaps the biggest need in the league for a splash that will make their fans take note and start to care about the team again. Taking him is a big gamble, and not a great one in my mind, but it's a gamble Carolina can't afford not to take.
Julio Jones will be better than A.J. Green - These two are head and shoulders above the rest of the wide receiver class. Jones has a better combination of size and speed, he works very hard, he is very tough and willing to play when he's hurt, and he blocks extremely well. I don't doubt that Green will be good, but Jones has performed on a bigger stage, and I expect him to be a somewhat better pro.
Patrick Peterson will be a steal - The way things are shaping up it looks like Peterson could fall as low as seventh. At that level he would be a serious steal. He's the best athlete in the draft, and that's saying something in this group. He's also ridiculously versatile -- he returns kicks like crazy, and he's a guy with safety size and corner skills. He has the versatility to plug several gaps for a team.
Da'Quan Bowers will be a major steal - Bowers will be an even bigger steal. There was talk that he could potentially be the No. 1 overall pick, and I was in favor of that talk. Now there are concerns over the state of his knee. It doesn't seem to be a major problem, though you can't blame teams for being cautious given the amount of money they spend on top picks. Now Bowers will likely go outside of the Top 10, and in that spot he is an outstanding gamble. If he's okay then he's a beast -- by far the best pass rusher in the draft.
Ryan Kerrigan will climb - I love Kerrigan. The Purdue pass rusher isn't prototypical in any way, but when you watch him play you realize that he just finds a way to get involved in every play and make a difference. What stands out about the guy is that he never quits. You can beat him down a dozen times and he'll still jump right back up again. He'd get a sack on a broken leg. He's already climbed from the fringe of the first round into the Top 20, and I wouldn't be at all surprised to see him climb even higher up. He's a low risk stud.
Jake Locker is going to Seattle - Locker had an absolutely disastrous senior season at Washington. He was a potential first overall pick coming into the year, though, and he has had a very good offseason capped by a strong pro day. Seattle makes too much sense for him. He's a Washington state product born and raised who was very popular playing college ball in Seattle. He has brilliant fundamentals and all the makings of a pro QB. There is a lot of work to do, but in Seattle they could be patient and let him develop. That's where he'll wind up.
Andy Dalton will be the class of the QB class - It's all about Newton and Gabbert when talking about QBs. The guy I think will ultimately shine, though, is Dalton. He's a pure winner -- he took sub-BCS talent to the promised land two years in a row, and he looked good doing it. There will be some adjustment time, but he's a smart player, and given a little time to learn and adjust he could shine in the right system.
Gabe Carimi will be the best OT taken - Wisconsin's Carimi won't be the first offensive lineman picked. He could even be fourth. He could wind up being the best, though. When I watched Carimi play the last couple of years what stood out is his relentlessness. He's the type of guy who locks onto a defensive player and drives him 15 yards down the field just to prove a point. He's great against the run, and solid against the pass as well, and he's built to play tackle. He's an immediate starter at right tackle who could eventually lock down the left side for a team for a decade.