NFL Draft Predictions: SEC First-Round Picks Props
by Alan Matthews - 4/25/2011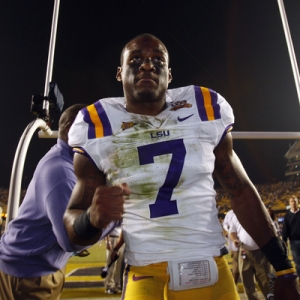 Is there really any doubt that the Southeastern Conference is the premiere conference in college football? It's certainly not an argument when you look at the overall quality of teams. After all, an SEC team has won the past five National Championships, and Alabama and LSU will both be among the favorites this coming season.
Shoot, the SEC is even the king of recruiting as well because kids want to play with the best. For example, in the 2011 signing class rankings, there were a whopping seven teams among the Top-15 rated classes: No. 2 Alabama, No. 3 Auburn, No. 6 Georgia, No. 10 LSU, No. 12 Florida, No. 13 Tennessee and No. 15 South Carolina.
But what about SEC players in the draft? Does all that talent translate to the NFL like it did back in, say, the heyday of the Miami Hurricanes?
Last year the SEC had by far the most players drafted overall with 49. The Big Ten was second with 33. However, the SEC didn't have the most first-rounders in 2010. It had seven. The Big 12 had eight players taken in the first round, including the first four overall. But that haul was largely because that 2009 Oklahoma team was stacked with first-rounders (Sam Bradford, etc.).
This year, Sportsbook.com offers a prop on how many first-rounders the SEC will have. The 'over/under' is eight (a bit surprised they didn't add a half to avoid a push). Looking at most NFL mock drafts by the experts, it seems a sure thing that the SEC will have five of the first seven players off the board: Auburn's Cam Newton, Alabama's Marcell Dareus, Georgia's A.J. Green, Alabama's Julio Jones and LSU's Patrick Peterson.
OK, so will either two or four more SEC players go in Round 1? Two for sure, according to my NFL Draft predictions. Auburn's Nick Fairley was at one point considered possibly the top overall pick after his dominating national title game performance against Oregon, but his stock has dropped him to around 8-10. Florida offensive lineman Mike Pouncey will go in the first round just like his brother Maurkice did last year to Pittsburgh. So that makes two out of the eight SEC first-rounders.
The next three top-rated SEC players, in whatever order, are Alabama running back and former Heisman winner Mark Ingram, Mississippi State offensive tackle Derek Sherrod and Arkansas quarterback Ryan Mallett. Georgia linebacker Justin Houston is also a fringe first-round player.
The 'over' eight players is a -160 favorite, and I believe that's the only way to go. Ingram is a lock and probably will be the only running back taken in the first round. In fact, that is also a prop at Sportsbook.com, with the 'over under' 0.5 running backs in Round 1. Totally jump on the 'over' on that one at -145. In addition, the site mentions the 'over/under' on Ingram's draft spot at 32, which, of course, is the final pick of the first round. Cash in on the 'under' at -130. Another Alabama player prop is the 'over/under' on where Jones goes – it's listed at 9.5. There's no way Jones lasts past both Ohio teams so take the 'under' (Even) on that one as he probably goes No. 6 to Cleveland.
I also wrote a total number of first-round quarterbacks story here at Doc's, in which I mentioned Mallett's stock is dropping but that his physical skills will be too appealing in the late first round to pass up – even if a team has to trade back into the first round to get him. Most mock drafts also have Sherrod going in the final few picks of Round 1 as well. So we should be looking at a minimum of nine SEC players in the first round if not 10.