NFL Draft Projections: Late-Round Steals
by Trevor Whenham - 4/22/2011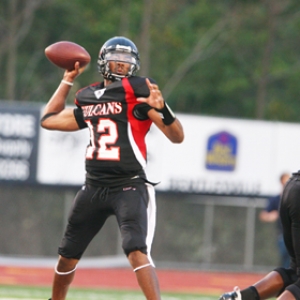 I am a diehard Michigan fan, so I obviously have a soft spot for Tom Brady and the mythology of what he turned into after being a sixth-round pick. You can call this article 'The Search for the Next Brady,' because here are my NFL Draft projections for nine guys who are likely to go in the last three rounds of this year's drafts who have a chance to perform at well above the level of their pick:
DeMarcus Van Dyke, CB, Miami — He's going to fall because he's a bit scrawny and because he was only a part-time starter. I'm not concerned by either factor. He's tall enough and has a frame that can have some muscle packed on it. He also has shown that he can learn, and he has shown progress each year. What really stands out, though, is the one thing you can't teach — he's fast. His 40 time at the Combine was 4.25, and it's not just straight line speed, either.
Mike Smith, OT, Nebraska — Smith would have been much higher up the boards if he had been a senior last year. Coming into his senior season, though, he suffered a broken leg and missed the whole year. That kept him out of the Combine, but he did manage to get an invite to the East-West Shrine Game, and he was very good. He also performed well at his pro day to ease concerns about his health. He's a real sleeper at an important position.
Roy Helu Jr., RB, Nebraska — Helu is the kind of player I like. He never takes a play off, he's productive, and he's tough. He's not higher up the boards because he's not a flashy, sexy runner at all. He finds a way to get it done, though, and in a draft that is short of impressive running back talent Helu has a shot at being a productive part of a team's rotation.
Kris Durham, WR, Georgia — A.J. Green is obviously the receiver getting all the attention for the Bulldogs, and deservedly so. Durham is no Green, but when Green missed the first four games last season Green was promoted to No. 1 receiver and he didn't look out of place. His yards per catch was solid, and he was evasive. He didn't get invited to the Combine, so he isn't getting much attention. He has great size, though, and could be a contributor on Sundays. He's a gamble, but a worthwhile one at this point in the NFL Draft.
Jalil Brown, DB, Colorado — Like Durham, Brown was shoved out of the spotlight by a star at the same position — Jimmy Smith in his case. Brown got a lot of work against good receivers this year as teams looked to avoid Smith, and he did well. He also measured well at the Combine. He is getting more attention lately and could go as high as the fourth round. If he goes below that, then he's a bargain.
Josh Portis, QB, California of Pennsylvania — Portis has more baggage than a luggage store, but he's an intriguing gamble nonetheless. He was a highly touted QB at Florida, got in trouble there and transferred to Maryland, and then wound up in Division II. He managed to last there, but he got in more trouble with the cops. He's a mental case, but a wildly athletic one. He's probably not a QB at the next level, but if a team can find a way to inject him with some maturity he could be useful somewhere on the field. He certainly has much better than late round athleticism.
Darrin Walls, CB, Notre Dame — Walls is a strange story — he was a three-year starter at a high-profile school, but he was somehow snubbed for the Combine. He made up for it as his pro day with a solid 4.39 in the 40, and some nice athleticism in other areas. He's experienced, he worked through some issues after his sophomore year, and he's mature and competent. In short, he's a nice depth pick who could become a starter in a year or two.
David Carter, DT, UCLA — Carter wasn't a starter until he was a senior, and that obviously means a lot of people haven't noticed him. He was solid when he did start, though — and brilliant at times. He also had a very good Shrine game. He's a guy that is coming into his own, and there is still a lot of wear left on his tires, so he's definitely intriguing.
Marc Schiechl, DE, Colorado School of Mines — Here's a guy from a truly obscure school. He's got game, though — he is the all-time Division II leader in sacks, and fourth all time in tackles for a loss. He's too small to play DE, but as a rushing linebacker he could certainly be a nice twist for coordinators to throw in to catch an opponent off guard.