NFL Draft Projections: Players That Are Dropping
by Trevor Whenham - 4/25/2011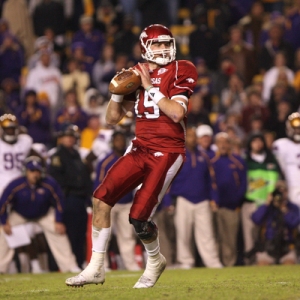 One of the more intriguing aspects of the NFL Draft in my eyes is the players who go into freefall between the end of the season and draft day. They were good enough over their three or four years on the field to be considered as an elite draft pick, yet once they are done playing they manage to fall badly in the eyes of scouts and the media.
Sometimes it makes a lot of sense — like when a guy is a disaster at the Combine or gets in trouble before the Draft. Sometimes, though, guys fall down the boards mostly because NFL scouts are navel-gazers, and they can talk themselves into or out of anything they want to. Here are my NFL Draft projections for four likely first round picks who have fallen further than anyone this year. Let's have some fun and look at whether they seem justified in falling, or if they seem like potential bargains at their new, lower spot:
Da'Quan Bowers, DE, Clemson — Bowers will possibly be the biggest fall of all. At the start of draft season he was penciled in at the top of a lot of draft boards, and he was widely seen as the best pure pass rusher in the class.
But then his knee became an issue. He had arthroscopic surgery on his knee, and that set off a firestorm of rumors and speculation. Stories abound that he has a badly degenerative problem, that he has arthritis, and so on. He has gone from the safest pick in the draft to the riskiest, and that's all since he played his last game.
The biggest problem is that there is no way of knowing what is going on. The dreaded anonymous sources from inside teams say that they are very scared about the situation, but his agent insists that his knee is just fine, and that teams say he is healing well and won't be an issue.
Ultimately, the only way we will learn the truth is by seeing where he gets picked and how he plays. My gut says that he's going to be a bargain, but I'm no knee doctor.
Nick Fairley, DT, Auburn — Fairley was another guy who was talked about as a potential No. 1 pick early in the process, and he was viewed as a total beast and a key to Auburn's success last year. But then he started losing the PR war. People started to complain that he had only had one productive year. They questioned his commitment to football and his football IQ. They noticed that his best games weren't always against the best opponents. The media and scouts can be very fickle, and they have turned against the big man here.
I'm torn over whether they are right to be skeptical. On one hand I think the complaint that he was only productive on year is ridiculous — he was productive that year, so he is obviously capable. On the other hand, he felt to me all year that he was hyped beyond his play, so this adjustment downwards could be more about coming back to a realistic level than about falling.
Jake Locker, QB, Washington — Locker's fall really started in September. Coming into the season he was looked at as a potential No. 1 pick. In fact, he was the solid favorite to be picked first. But then he had a horrifyingly inconsistent and often terrible season.
He looks like an NFL quarterback, he throws like an NFL quarterback, and a lot of people want to believe that he's a NFL QB. The problem is, though, that he's never actually won anything, he's never stood up under pressure, and he doesn't seem to be a great leader.
It's hard to know how much he will fall because he could wind up anywhere from the Top 10 to the second round, and he could be the third QB picked, or the fifth or sixth.
I have tried hard for a few years now to be a big Locker fan, but it just hasn't paid off for me, and I'm not optimistic anymore. There are at least five guys that I would rather see any team I care about pick than Locker. I especially think that Seattle picking him to be their savior at QB is a recipe for disaster.
Ryan Mallett, QB, Arkansas — I'm a big Michigan guy, so I am not inclined to like Mallett after he deserted us when the going got tough. Despite that, though, I find his fall ridiculous.
Like Fairley, he's losing the PR battle badly. There are countless stories about his attitude, his vices, his lack of leadership, and so on. That has bled into questions about his play on the field — something that wasn't being questioned early on to nearly this same extent.
I have obviously never met the guy and have no idea what his attitude is really like. I do know, though, that he can throw the ball like crazy, that he is big and strong, and that he made his team much better than they would have been without him.
There's the risk that he could be another Ryan Leaf, but at the end of the day I'd rather have a team I like take him over Cam Newton.