NFL Draft Projections: Top Defensive Players
by Aaron Smith - 4/13/2011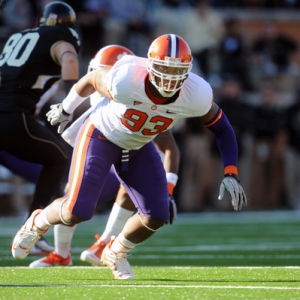 The old adage "Offense sells tickets, but defense wins championships," often rings true in the NFL. It's always great to have both, but most coaches will tell you that they would rather have a great defense than a great offense. This year's NFL Draft class has a plethora of talent on the defensive side of the ball. There are plenty of players who are ready to step in and make an impact right away. Of course, that is if the NFL actually plays anytime soon. Here's a look at my NFL Draft projections for the Top 10 defensive players in this year's draft. Keep in mind that this is not the projected order they will be drafted in, but a ranking based on their ability and potential in the NFL.
Top 10 Defensive Players in the 2011 NFL Draft
10. Aldon Smith (Missouri- DE, OLB) - Smith has the versatility to play either the outside linebacker position or the defensive end. He missed four games because of injury, which is a bit of a concern. Smith has the tools to be a solid pass rusher. He gets into the Top 10 because of his amazing athleticism and potential.
9. Cameron Jordan (California-DE) - Jordan was a consistent performer at California, and he has impressed the scouts at all of his workouts thus far. He is probably the best defensive end in this draft against the run. Jordan has plenty of mobility, and he projects as either a 5-technique end or a 4-3 left defensive end.
8. J.J. Watt (Wisconsin-DE) - The best way to describe Watt is relentless. He pursues the football extremely well and does a great job keeping his head up at all times. A look at the tape of Watt from his college years will show that he is tremendous at getting his hands in the passing lane and batting down attempted passes.
7. Prince Amukamara (Nebraska-CB) - Amukamara has absolutely brilliant technique on the outside. He didn't miss a game in his entire career at Nebraska. He is quite aggressive and will pick off quite a few passes. Amukamara isn't a big hitter, but he is a sure tackler and is solid in run support.
6. Da'Quan Bowers (Clemson, DE) - Bowers does not come without some red flags, but he has an extremely high upside potential. He underperformed in his first couple years at Clemson, but had an exceptional season in 2010. He has had knee problems in the past, and some scouts believe he has been favoring his healthy knee in recent workouts.
5. Nick Fairley (Auburn, DT) - A few months ago most people were projecting Fairley as the top pick in the draft. Concerns over his work ethic and character have seen his stock slip a bit of late. Fairley is a terrific pass rusher from the defensive tackle spot. If he plays hard every down, he can be a star.
4. Robert Quinn (North Carolina, DE) - Quinn was diagnosed with a brain tumor in high school and was told by doctors his playing career might be over. He recovered and had a very successful career at North Carolina. Quinn was ruled ineligible in 2010, but his pure ability as a pass rusher has him rising on draft boards.
3. Von Miller (Texas A&M, OLB) - Miller has the ability to be one of the best pass-rushing linebackers in the NFL. He had 27.5 sacks in his last two years in college. Miller is extremely quick, and he has exceptional closing speed for an outside linebacker. He has a tremendous amount of upside potential, and he should get picked very early in the draft.
2. Marcell Dareus (Alabama, DT) - Dareus has impressive agility for a 319-pound defensive tackle. He excels against both the run and the pass, which should make him a very hot commodity on draft day. He needs to improve his stamina so that he can be on the field more consistently, but Dareus has all the tools to be a defensive standout in the NFL.
1. Patrick Peterson (LSU, CB) - Peterson is an absolute freak of an athlete who just happens to be a terrific cornerback. He is plenty strong enough to be a safety, but he has the cover skills to be an elite cornerback. Peterson is great at being aggressive without getting flagged for pass interference. He is probably the best defensive prospect in the draft without considering his return skills, but whoever drafts him will have one of the best return specialists in the NFL as well.