NFL Draft Prop Odds and Predictions
by Darin Zank - 4/28/2011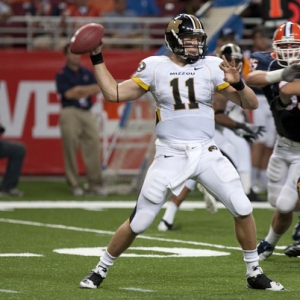 As if the NFL draft isn't enough fun, as fans get a look at the future of their teams, several online sportsbooks are offering bettors chances to get down on some sporting interest. Bodog in particular is offering a page full of proposition bets on this year's NFL Draft, which starts with the first round Thursday night (8 p.m. EST, ESPN). Here's a quick look at some of the NFL Draft prop odds on that page, and some betting predictions.
Under the "NFL player props" listing on the Bodog sportsbook menu we find, among other things, an 'over/under' of 3.5 on the number of quarterbacks taken in the first round of the draft ('over' -160/'under' +120). At least three quarterbacks are thought to be first-round quality, but this year's class of QBs is not all that deep. Heisman winner Cam Newton, Missouri's Blaine Gabbert and Washington's Jake Locker are getting plenty of attention, and should go in the first round. After that, though, it's up in the air. Prediction: We'll go with the 'under' here, thinking that most teams have more pressing needs.
The SEC is listed at -1.5 over the Big 12 on the number of players selected in the draft from each conference. The SEC as a whole may have been down a bit last year, but that doesn't mean there was a dearth of NFL-caliber talent. The Big 12, meanwhile, saw Texas finish last in its division. What does that say? Prediction: We'll go with the Southeast Conference on this prop.
And the Big Ten is listed at -.5 on draft picks (-150) over the ACC (+110). Prediction: With so many needs for linemen on both sides of the ball we'll go with the Big Ten on this one.
In the battle of ESPN draft gurus, Mel Kiper and Todd McShay are both listed at -120 as to who will have more correct picks in their final mock drafts. Prediction: We'll go with Kiper here, based on his hair alone.
Bodog is also offering 'over/unders' on the draft positions of several top players. Bettors can take 'under' 6.5 on LSU cornerback Patrick Peterson at -200, or the 'over' at +150. Georgia WR AJ Green's draft slot 'O/U' is 4.5 ('O' +170/'U' -250). And Arkansas QB Ryan Mallett's number is 39.5 ('O' +135/'U' -175). Predictions: We'll go with the 'under' on Peterson (Arizona at No. 5?), the 'over' on Green, and the 'under' on Mallet and his big arm.
And in some group betting propositions at Bodog bettors can wager on who will be the first pick in the draft, right down to who will be the 10th pick. For instance, Newton is the favorite to be the first overall selection, regardless of which team ultimately uses that pick, at -500, followed by Alabama DL Marcell Dareus at +300 and Gabbert and Peterson both at +1,500. Prediction: Despite late reports out of Carolina, we're not convinced the Panthers will go with a quarterback two drafts in a row, or even that they'll keep the pick. So we'll take a bit of a chance and go with Dareus to be the first pick Friday night.
Rounds two and three of the NFL draft will take place Friday night (6 p.m. EST, ESPN), with rounds four through seven Saturday (noon EST, ESPN).