NFL Picks: Patriots at Broncos Odds and Betting Predictions
by Alan Matthews - 12/14/2011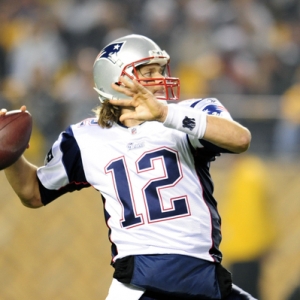 It's our second straight week of Tebowmania here at Doc's, but how in good conscience could I not preview Sunday's New England-Denver matchup between the NFL's golden boy quarterback entering the season, reigning NFL MVP Tom Brady, and the guy who seems to have taken Brady's place as the apple of the media's eye: Tim Tebow? And the two couldn't possibly be more different in style of play.
Tebow is so popular right now that both CBS and NBC were arguing over which network would be allowed to show the game, which will be at 4:15 p.m. on CBS. NBC badly wanted to flex this game to Sunday night but will have to make do with Ravens-Chargers.
CBS already had lost a Tebow game when the Lions-Saints two weeks ago was flexed to NBC on Sunday night: To make up the difference for a lost game (it was originally to be Patriots-Colts on Sunday night) Fox got Broncos-Vikings when normally that would be on CBS. And last week's Bears-Broncos game was also on Fox as the Bears were the visiting team (generally the visiting team determines which network shows the game if it's not in prime time).
So the NFL wasn't about to take Tebow from CBS yet again when it's the AFC network. CBS and Fox can protect one game per week from being flexed, and CBS already protected Sunday's Eagles-Jets matchup weeks ago, when that game had considerably more luster.
This could well be a divisional-round playoff matchup. Currently New England (10-3) is the No. 3 seed in the AFC as the East Division leader and Denver is No. 4 as the West leader. But the Pats are still very much in the mix with Houston, Pittsburgh and Baltimore for that No. 1 overall seed in the conference.
New England could clinch the AFC East this week with a win OR Jets loss. Denver (8-5) leads Oakland by a game in the AFC West and currently holds the tiebreaker with a 3-2 record inside the division, with Oakland at 2-2 (teams split head-to-head matchups).
New England and Denver haven't met since 2009, back when Tebow was a Florida Gator. The Broncos won, 20-17, in overtime behind a big game from Kyle Orton.
The Patriots are 1-4 all time at Sports Authority Field at Mile High, including the postseason. Brady is 1-6 all-time against Denver (includes 0-1 in playoffs).
Patriots at Broncos Betting Storylines
It's never a good thing to bring religion into any sports discussion, but perhaps it's time to wonder if Tebow has an angel on his shoulder.
Tebow was nothing short of terrible for three quarters against the visiting Bears last Sunday, with Chicago taking a 10-0 lead on the first play of the fourth quarter. But then the magic appeared.
The Broncos QB was 3-for-16 for 45 yards passing during the first three quarters and then 15-for-20 for 163 yards and a TD in the fourth and overtime. On the Broncos' first scoring drive, Tebow went 7-for-7 for 63 yards, including a scrambling 10-yard pass to Demaryius Thomas for a wide-open touchdown.
Then, thanks to a Marion Barber brain lock, Tebow led the Broncos to a game-tying field goal. Another Barber mistake, a fumble in overtime, allowed Denver to drive for the winning field goal in a 13-10 win – Denver's sixth straight victory and seventh in eight games with Tebow starting.
He has thrown for 732 yards in the fourth quarter, which is 212 more yards than quarters 1-3 combined. His six fourth-quarter touchdowns match his number of touchdowns thrown in quarters 1-3.
Tebow has six game-winning drives in the fourth quarter or overtime in his first 11 starts. That is the most such drives in a player's first 11 career starts of any player to debut since 1970.
New England seems back to normal, having won five in a row and scoring at least 30 points in all five as the Pats started another 30-point streak that was ended in Week 6, a game from tying the NFL record for most consecutive regular-season games with at least 30 points.
New England did look a bit shaky in a trap game at Washington last week, winning 34-27. Brady completed 22-of-37 passes for 357 yards with three touchdowns and his first interception since Nov. 6. That interception led to a very public sideline blow up with New England offensive coordinator Bill O'Brien that was a staple of "SportsCenter" early this week.
The incredible Rob Gronkowski caught six passes for a career-high 160 yards and set the NFL single-season mark for touchdown receptions by a tight end with his 14th – he would add No. 15.
The Pats did give up 463 yards to a very mediocre Washington offense. New England ranks last among NFL teams (No. 32) in total defense, allowing 308.7 yards per game. Only six AFC teams have allowed more points than the 274 yielded by New England.
Patriots at Broncos Betting Odds and Trends
New England opened as a six-point favorite with the total at 45.5 on NFL odds. The Pats are taking about 70 percent of the action so far.
The Patriots are 7-6 ATS this season and 4-3 ATS on road. The Broncos are 7-6 ATS and 1-5 ATS at home. 'Over/under' records: NE 8-5, DEN 7-6.
New England is 2-5 ATS in past seven as a favorite. The Broncos are 5-0 ATS in past five as a dog. They are 1-4 ATS in past five at home vs. teams with a winning road record. The 'over' is 14-4 in the Pats' past 18 as a favorite between 3.5-10 points. The 'over' is 5-0 in Broncos' past five games after scoring less than 15 points in their previous outing.
NFL Picks: Patriots at Broncos Betting Predictions
For all the talk about quarterbacks here, the defenses will decide things. Can the Pats force Tebow into mistakes? He threw his second interception of the season last week and lost a fumble, only his third of the season. But Tebow still has only five turnovers in eight starts.
The Pats will focus on that Denver No. 1-ranked rushing attack -- in their last nine games, the Broncos are averaging 187.1 yards per game, the most in team history in a span of nine games -- and dare Tebow to beat them. The Bears worked it to perfection before then getting less aggressive with a 10-point lead.
As for Denver's defense, New England will clearly be the best offense it has faced since allowing 49 points at Green Bay in Week 4. Thus, Denver needs plenty of pressure on Brady.
Broncos rookie Von Miller is on target to break the rookie sack record set in 1999 by Jevon Kearse at 14.5 sacks. Miller has 11.5 sacks, and he and Elvis Dumervil have helped the Broncos record at least two sacks in 12 consecutive games.
Sorry, the Tebow train derails this week. Take the Pats and the points. I also like the 'under' with New England winning, 27-17.
Strike Point Sports is destroying the bookies with their NFL picks. A 3-0 sweep this past weekend has helped their clients to 10 of 15 winning NFL weeks, including three of their last four. They will have a big card coming this weekend. Click Here for more info.