NFL Totals Betting: Week 15 Over and Under Predictions
by Dave Schwab - 12/14/2011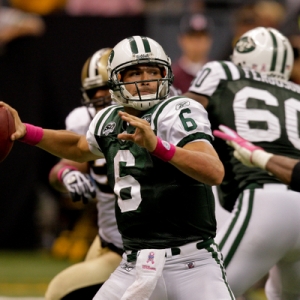 The total line slightly favored the 'over' in Week 14, with nine games going 'over' the total, six games staying 'under,' and one game ending in a 'push'. After enduring a couple of down weeks, we evened things out with a 1-1-1 record on our top plays. Our year-to-date record through 14 weeks of the NFL schedule now stands at 24-17-1.
The oddsmakers have done an excellent job at putting a fine edge on some razor-sharp NFL lines, but there is always some value to be found as long as you know where and how to look. The following are this week's top three NFL picks for NFL totals betting with the lines provided by BetOnline.
Sunday, December 17
Tennessee Titans vs. Indianapolis Colts
Over/Under: 41
Game Overview
The Titans are the type of team that either grinds out a win or loses a close one every week. It is little wonder that they are hanging around at 7-6 overall and the total has stayed 'under' in their last seven games. Tennessee has not given up more than 24 points in this seven-game stretch.
By now everyone knows the Colts story and the thought of a nightmare 0-16 season is rapidly becoming a reality. Even if they manage to somehow win this game, it is doubtful the offense will be able to put more than 20 points on the board, considering it is averaging just 14.2 points per game.
Game Trends
The total line for this game opened at 41 points and has stayed there ever since. The total has stayed 'under' in four of Tennessee's last five games as a road favorite and in 10 of its last 13 games against the AFC South. The total has stayed 'under' in five of Indianapolis' last six games overall and in its last four in the division.
Prediction: UNDER
New York Jets vs. Philadelphia Eagles
Over/Under: 44
Game Overview
The Jets have finally found some offense during their current three-game winning streak with an average of 33 points a game. Mark Sanchez has thrown seven touchdowns against just one interception during this stretch.
Michael Vick was a welcome sight in the Eagles' offensive backfield last week in a 26-10 win over Miami. A full week of practice to allow Vick to prepare for this week's game can only help a big-play offense that was woefully short of big plays in his three-game absence.
Game Trends
The total opened at 45 points and has dipped down to 44. Weather should not be a factor for this game other than the usual swirling December winds at Lincoln Financial Field. The total has gone 'over' in nine of New York's last 11 games as a road underdog. It has also gone 'over' in four of Philadelphia's last five games following a SU win and in five of their last seven games in December.
Prediction: OVER
Detroit Lions vs. Oakland Raiders
Over/Under: 47
Game Overview
Detroit finds itself back in driver's seat in the wild-card race in the NFC after putting up 34 points in a six-point win over Minnesota last Sunday. The AFC West has been good to the Lions' offense this season with a total of 93 points combined against Kansas City and Denver.
Oakland is still very much in the division race at 7-6, but its defense has been victimized for more than 30 points a game in each of its last four outings. Last week the Raiders were torched for 46 points in a loss to Green Bay, and the week before they gave up 34 points in a loss to Miami.
Game Trends
The line opened at 49.5 points and has dropped to 47 with some early money on the 'under,' which is fine with us. The total has gone 'over' in seven of the Lions last nine games on the road and in eight of their last 10 games following an ATS loss. The total has also gone 'over' in seven of the Raiders last 10 home games and in nine of their last 13 games following a SU loss.
Prediction: OVER