NFL Week 10 Player Props and Betting Predictions
by Alan Matthews - 11/10/2011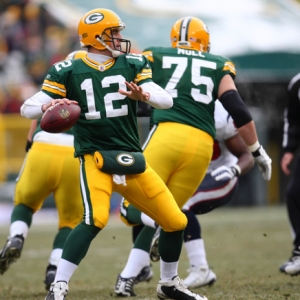 I looked at three Week 9-specific props last week in my Bodog NFL props column and had success and two of the three – while also getting closer to winning one prop that probably won't be decided until the end of the season.
First off, one prop was an 'over/under' of 1.5 turnovers (both at -115) for Chargers quarterback Philip Rivers in last Sunday's game against Green Bay. Considering that Rivers entered that matchup with an NFL-high 11 picks and 14 total turnovers, I said it was a lock to take the 'over' against a Green Bay defense that was second in the NFL in picks. So what did Rivers do? He threw a career-high three interceptions and two were returned for scores. Cha-ching!
Second, I looked at 49ers RB Frank Gore against the Washington Redskins. Gore entered that game as just the fifth player since the merger with at least 125 yards rushing and one rushing TD in four straight games. Gore doing that again vs. the Skins was 'no' at -300 and 'yes' at +200. Despite the lousy value, I said you just had to go 'no'. The former Hurricane had a solid game with 107 yards, but he didn't even reach the end zone. Another win.
Our loss came via the suddenly average New England Patriots. There was a prop on whether Tom Brady would throw for 300 yards AND the Pats would score at least 30 against the Giants. I went with 'yes' at +200 (compared to -300 for 'no'). Well, Brady did his part with 342 yards, but I'm off the New England bandwagon after it failed to reach 30 for the third straight game in a shocking 24-20 home loss to the Giants.
One other prop I took on last week involved Chargers Coach Norv Turner and whether he would be the team's coach next season: I took 'no' at +150. Sunday's loss to Green Bay was San Diego's third in a row, and if the Bolts don't start their normal second-half surge Thursday night vs. Oakland, this is money in the bank.
For Week 10 special props, Bodog is offering mainly only end-of-season results other than the Tim Tebow totals that have become a weekly staple (I'm sick of Tebow, so won't touch those).
There are three 'yes'-only options on Packers QB Aaron Rodgers: Will he break the single-season passing record of 5,084 (+300), will he break the single-season percentage record of 70.623 (+400) and will he break the single-season passer rating of 121.1 (Even)?
Right now Rodgers is on pace for 5,238 yards and currently is completing 72.5 percent of his passes with a rating of 129.1 (no game less than 110). My concern with the yardage is that the Packers could clinch the No. 1 seed by about Week 14 and, thus, could take their foot off the gas the final few weeks, maybe even taking Rodgers out for a bit to rest. Plus, Green Bay's final five games all seem likely to be in wintry conditions.
I would go with the percentage bet because this guy is just unbelievably accurate: in his past two games he has 56 attempts and 11 incompletions and a handful of those were throwaways. I would also take the rating one because he doesn't have to play all season to win that prop – he only must play in Week 10. So theoretically, he could get hurt and you still win that prop.
Moving to team props, let's stick with the Packers for now. You can now bet on the team's exact final regular-season record, with 15-1 as the 3/2 favorite followed by 14-2 at 11/4. Here is the Pack's remaining schedule: vs. Vikings, vs. Bucs, at Lions (short turnaround for both on Thanksgiving), at Giants, vs. Raiders, at Chiefs, vs. Bears, vs. Lions. I'm going with 14-2. I think they run the table at home but lose at the Giants and either at the Lions or Chiefs but not both. If one of those two final games were on the road I could see a loss if Green Bay had nothing to play for, but not at Lambeau.
You can also bet on when the 49ers win clinch the NFC West, which is a joke. The 7-1 Niners have a five-game lead in the NFL's sorriest division. San Francisco, which has a magic number of four vs. the rest of the division, can do it in Week 11 if it wins this week at home vs. the Giants and next week vs. the Cardinals AND the Seahawks and Cardinals lose this week and next AND the Rams lose this week at the Browns and win in Week 11 vs. Seattle. That could happen, but I wouldn't bet on it (I think Niners lose this week to Giants). Clinching in Week 11 is 5/1, with the favorite being Week 13 at 3/2 and Week 12 at 3/1. I would go Week 13 because the Niners are at Baltimore in the Harbaugh Bowl for Week 12 and likely lose that one. But they are home to the Rams in Week 13 and should wrap it up then.
Finally, how many wins will the AFC West division champion finish with? The 'over/under' is 9.5, with the 'under' at -150 and 'over' at +120. Of course, the Chargers, Raiders and Chiefs are all 4-4 with Denver at 3-5.
Throw away the Broncos as they aren't winning the division. Can any of the first-place trio finish 6-2 to justify the 'over'? San Diego and K.C. are done playing each other, but the Bolts and Raiders play twice, starting Thursday night. The Raiders have one game left against the Chiefs. Oakland has five road games left, starting Thursday night, so no way it wins six games. The Chargers still have four road games and a tough home one vs. Baltimore. Don't see 6-2 there. And the Chiefs have three road loss locks at New England, Chicago and the NY Jets plus a home game with Green Bay. No chance at six wins. Take the 'under'.
Indian Cowboy has been dominating the football bookies and his college and NFL picks have helped clients to seven of eight winning football weeks. His NFL handicapping has uncovered another gem this weekend. A one-week package is only $99 – Click Here for more details.