NFL Week 14 Player Props and Betting Predictions
by Alan Matthews - 12/8/2011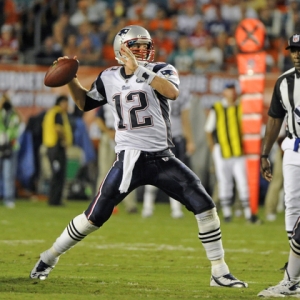 It was a so-so Week 13 in the NFL in terms of my player prop recommendations. Let's start with Tim Tebow, and I swear this is the final time I address him this season (well, unless the Broncos keep winning and then I'll have to preview another Denver game, as I did this week's Bears-Broncos matchup). Of the props that were Week 13-specific, I recommended to take Tebow 'over' 60 yards rushing ('o/u' at -115) at Minnesota and that it was a lock that he would complete a first-quarter pass ('yes' at -600).
Well, Tebow didn't come anywhere near 60 yards rushing as he had only four carries for 13 yards a week after having a record 22 carries for a QB. So a loss there. But Tebow did complete a first-quarter pass – barely. He was 1-for-2 in the first against Minnesota.
Pats tight end Rob Gronkowski has been one of the big stories of the season and I recommended take the "no" prop at +200 on whether "Gronk" would break the single-season tight end record of 13 touchdown receptions (he entered last week with 11). That's not looking good right now as he tied the mark with two more TDs on Sunday. I can't imagine him not getting at least one more, barring injury.
I did a little better on Texans rookie QB T.J. Yates making his first NFL start. Against the Falcons, I predicted Yates would go 'under' 210.5 passing yards (-115), 'under' 1.5 TD passes (-200) and 'over' .5 picks (-225). Two of the three hit, with Yates throwing for 188 yards, one score and no picks.
So all in all not a bad week, but let's do better in Week 14. However, there really aren't any intriguing props specific to just this week, so I will address a few of Bodog's new season-ending props.
Both New England's Tom Brady and New Orleans' Drew Brees are having MVP-caliber seasons, but both are getting overshadowed by the lock MVP, Green Bay's Aaron Rodgers. There is a prop on whether Brady will throw at 40 TD passes this season ('yes' +250, 'no' -400) and whether Brees will ('yes' +250, 'no' -400). There is also a prop on who leads the NFL in passing yards: Brees (2/5), Brady (2/1) or Rodgers (11/2).
Brady would need 10 TD passes in the final four games to hit 40: at Washington, at Denver, vs. Miami, vs. Buffalo. These are all cold-weather games for what it's worth. Brady has thrown at least two scores in every game but one, so you have to assume he gets eight more. Washington has been pretty good against the pass, allowing only 14 TD throws. But Denver is second-worst in the NFL, having allowed 22, with Buffalo right behind at 21 and Miami at 18. With the Pats likely having to battle through the end of the season for the AFC's top seed, I think Brady lands right on 40 because he won't get a game off.
Brees also would need 10 TD passes in the final four games to hit 40: at Tennessee, at Minnesota, vs. Atlanta, vs. Carolina. I think Brees is a lock for 40 because he gets three of his final four games in domes, and his rating this year is 93.5 outdoors compared to 115.6 indoors. Plus, the Saints also likely will have to play it out through the end for playoff position, so Brees won't get any time off.
And while the NFL odds are lousy, you have to go Brees for the passing yardage crown – again because of all those indoor games. Plus, he is 115 yards ahead of Brady and almost 200 up on Rodgers. You can also bet on who finishes second to Rodgers in the MVP voting, with Brady at 2/3 and Brees at 3/2 (there are two other players on this prop, but forget about them). I love Brees on this prop.
How about which player will lead the league in rushing touchdowns? Panthers rookie QB Cam Newton set an NFL record for QBs with his 13th rushing score last week and is the favorite here at 4/5, followed by Philly's LeSean McCoy (12 TDs, 1/1), Minnesota's Adrian Peterson (11 TDs, 7/1), Baltimore's Ray Rice (9 TDs, 12/1) and Arizona's Beanie Wells (9 TDs, 20/1). I might have recommended taking a flier on Peterson normally here, but he's hurt and probably out again this week. So I think you have to go Newton because he can call his own number at the goal line. Plus, McCoy's Eagles are done and McCoy might start to sit a bit.
Finally, which team wins the AFC West: Denver (7-5, 2/3), Oakland (7-5, 9/5), San Diego (5-7, 11/2) or Kansas City (5-7, 35/1)? The Broncos currently hold the tiebreaker over Oakland with a 3-2 division record, compared to 2-2 for the Raiders and Chargers. The Chiefs have no shot so I won't even include them. Chargers and Broncos split; Broncos and Raiders split; and Chargers are 0-1 vs. Raiders and close season in Oakland. Here are the remaining schedules for the trio – Denver: vs. Chicago, vs. New England, at Buffalo, vs. Kansas City; Oakland: at Green Bay, vs. Detroit, at Kansas City, vs. San Diego; San Diego – vs. Buffalo, vs. Baltimore, at Detroit, at Oakland.
I see the Broncos probably losing two to finish 9-7, but 4-2 in division. I don't like the Raiders, not with Darren McFadden still not back. So for San Diego to tie Denver it likely has to win out. That would make the Bolts 9-7 with also a 4-2 division record (I expect Denver to beat KC), meaning the next tiebreaker would be win percentage in common games. I won't delve deep into that because so much can still happen, but I will say that San Diego is currently 1-2 vs. the NFC North with that Lions game remaining, while the Broncos are also 1-2 with that Bears game left. Both Denver and the Bolts beat Miami, while the Broncos beat the Jets but San Diego lost to New York. It's already getting complicated: I would take a flier on the Chargers considering they are 18-2 in December and January under Norv Turner.