Monday Couch Potato: NFL Week 4/NCAA Week 5 Betting Recap
by Alan Matthews - 10/3/2011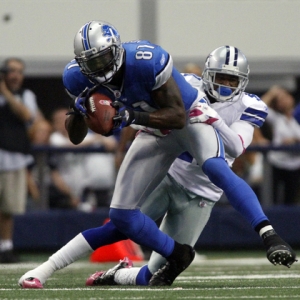 Welcome again to the Monday coach potato, a recap of the football weekend that was. Here are three things that caught my attention in the pro and college ranks:
I'm done betting against the Lions
I actually had a productive betting week, but it would have been tremendous if not for those stupid, stupid Detroit Lions! I used to live in Michigan so am happy for friends and family who follow this team, but I expected the Lions to lose both last week at Minnesota and on Sunday in Dallas. Instead, the Lions (+1.5 at kickoff) made last week's comeback from 20-0 down look average as they rallied from a 27-3 hole in Big D to win, 34-30. The Lions are 4-0 for the first time since 1980.
That makes them the first team in history to win consecutive games in which they trailed by at least 20 points in each contest. It was the largest comeback in NFL history by a road team. It had been 54 years since the Lions have come back from as far down as 24 points, home or away. It was Detroit's eighth straight win overall dating to last regular season, and its fifth straight on the road, a franchise record.
You know, it's my own fault. I jumped on that stupid Tony Romo bandwagon, which is now emptying faster than the Titanic. Basically, Romo has become Rex Grossman in that you might see flashes of brilliance, but also flashes of stupidity. Against Detroit, Romo threw three second-half interceptions, two of which the Lions returned for touchdowns.
It's the largest blown lead in Cowboys franchise history, and it's tied for the second-largest blown fourth-quarter lead (13). The only time the Cowboys blew a larger fourth-quarter lead was in Week 1 of this season, when they led the Jets by 14 in the final quarter before Romo gagged it away.
Unfortunately, Sunday's Dallas loss was doubly painful. I also recommended betting against Lions WR Calvin Johnson scoring two touchdowns again on a Bodog prop. But he did catch two more (record fourth straight game), including a two-yarder for the winning points with 1:39 left. How he wasn't double teamed all day I simply don't understand. Right now, Johnson is the NFL MVP.
BTW, Detroit is one of just three remaining teams without an ATS loss, joining Carolina and San Francisco.
Eagles not a Dream Team, just dreaming
Eagles QB Michael Vick played through a hand injury on Sunday at home against the 49ers and threw for a career-high 416 yards and two touchdowns and rushed for 75 yards. But he can't play defense, and that's clearly a problem for Philly (-10.5) after a stunning 24-23 loss that probably shook up your Survivor Pool. The Eagles are the fourth team since 2000 to lose three straight games in which they led entering the fourth quarter in all of them.
The offensively-challenged Niners were down 23-3 midway through the third quarter. Alex Smith, arguably the worst starting QB in the NFL, went 13-for-17 for 201 yards in the second half, with two TD passes. In the last three weeks the Eagles have been dominated in the fourth quarter. They have been outscored 36-0, and have turned the ball over three times, without forcing one turnover themselves. Opposing teams are 9-for-14 on third downs in the second half in that stretch. You just can't blame the offense, which had a whopping 13 plays of at least 15 yards on Sunday. It was the first time in Eagles franchise history that they gained 500 yards of offense at home and lost.
Philly sort of has the Yankees syndrome in that it is vastly overrated by the books simply on reputation. The Iggles are now 1-3 ATS this season.
LSU-Alabama essentially a national semifinal
First off, I hope you took my advice and took Kentucky +29.5 at LSU this weekend in what seemed like a logical letdown game for the Tigers, who won, 35-7. LSU got QB Jordan Jefferson back, but it's pretty clear that he won't re-take his starting job, but instead he will be a change-of-pace weapon.
Anyways, UK did cover with LSU coming off back-to-back wins over ranked teams and staring at a matchup with ranked Florida this Saturday. And speaking of those Gators, they were proven as frauds and re-started the debate that Alabama might be the nation's best team. The Tide's 38-10 win in Gainesville on Saturday – moving Bama to 4-1 ATS this season – wasn't even that close. It was Florida's worst home loss since falling to LSU, 36-7, in 2002 – ironically Nick Saban coached that club as well. The Gators had all of 15 yards rushing in this one (entered averaging nearly 260 yards), while Alabama's Trent Richardson had two TDs and 200 yards of offense by himself. Florida entered the game having scored in 15 of 16 quarters, but scored in only one here.
Alabama did LSU a favor it probably didn't want to: Gators starting QB John Brantley was knocked out of Saturday's loss and already has been ruled out of this week's game against the Tigers. That pretty much guarantees that both LSU and Alabama will be unbeaten and probably No. 1 and No. 2 in the nation when they meet on Nov. 5. The total on that game might not even be in double digits with how good both are defensively (yes, I'm kidding, but not by much).