2011 Potential NFL Draft Busts
by Trevor Whenham - 3/2/2011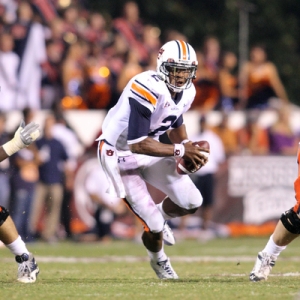 Every year in the NFL draft there are a few guys -- and sometimes more than a few -- that you have to call busts. They may or may not be total failures at their position, but they certainly don't deliver the punch that is expected by teams drafting them as highly as they were drafted. Identifying those players is far from an exact science, but here's my guess of eight likely first round picks that stand a good chance of not living up to expectations:

Cam Newton, QB, Auburn - I am in awe of what Newton did this past year -- even if his eligibility should have been in question. He's a physical freak, and his talents are diverse and impressive. The problem, though, is that he doesn't play a style of game that is a typically NFL one, and the NFL is notoriously bad at adapting to the talents of a quarterback who is outside of the mold.
Newton is rocketing up draft boards since he showed off for scouts, and that won't diminish. Given the lack of spark among other top QBs there is a good chance he could be the first QB taken, and therefore a good chance he'll be taken earlier than be should be. Expectations will be very high, and fans will want an immediate return. I'm not sure Newton can deliver that.
Blaine Gabbert, QB, Missouri - Gabbert is one of the guys that drives me crazy when it comes to drafting quarterbacks -- a guy who had some decent-but-unspectacular numbers in college who is projected to suddenly be more than he has been once he turns pro. I can't help but be skeptical.
A team is going to take Gabbert higher than he deserves to go because there are so many teams that need QB help, and so few attractive veteran options available.
Mike Pouncey, C, Florida - Pouncey has game -- there is no doubting that. I just suspect that expectations are going to be higher for him than they should be because of how good his twin brother Maurkice was this year -- as a rookie he made the Pro Bowl for the Steelers as a center.
Mike Pouncey is a center who could be more suited as a guard, and might need some time to find his role.
Robert Quinn, DE, North Carolina - Quinn's is an inspirational story -- he overcame a brain tumor in high school to become a college star.
There are warning signs everywhere, though -- his health has to be a concern, and his attitude and character have to be questioned after lying to officials forced him to miss all of last season. Having a whole year off of football is a lot to overcome as well.
Jake Locker, QB, Washington - Locker had everything going for him coming into this season -- ridiculously impressive physical tools, a rising team, and the hype of being a potential first overall pick. Instead of reveling in the face of that attention, though, he crumbled under the pressure.
He was pretty much terrible at times -- far more times than would be ideal. If he thought that there was a lot of pressure this year then he should see what it feels like being in the NFL after a few losses in a row.
Cameron Heyward, DE, Ohio State - As a die-hard Michigan fan I watch a lot of Big Ten football. Despite watching Heyward a lot I really can't figure him out. When he is good he is stunningly good. You can go for a long, long time without even noticing he's on the field, though.
If a guy disappears when he's in college then it seems likely he'll disappear more often in the pros.
Mark Ingram, RB, Alabama - There are several teams that need running help, and stunningly little running talent in this draft. That means that a team is going to take Ingram fairly early in the draft.
I can't take anything away from Ingram, but I am not totally sold on what he is capable of. He wasn't nearly as impressive this year as he was last year, and I don't entirely think his game translates to the pros -- or at least I can't be positive it will.
Their games are different, but I think of him the same way I think of Darren McFadden in a lot of ways. McFadden hasn't been a total disaster, but I'm sure the Raiders would take that pick back.
Anthony Castonzo, OT, Boston College - Teams love picking offensive linemen, and there is a lot of need for them this year -- especially tackles. That means that there are going to be teams that are willing to take a bit of a reach to fill their need at the position.
Castonzo is in the second tier of tackles, but he's likely to go higher than he should because of need -- and because of a lack of elite talent at some other key positions this year.
Castonzo could be good, but there s a fairly good chance that he'll not play up to the expectations of his elevated draft position.