Quarterbacks in the 2011 NFL Draft
by Darin Zank - 3/2/2011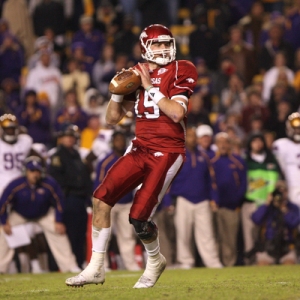 When it comes to the NFL draft, no position is scrutinized more than the QB spot. And yet drafting quarterbacks is still, like the rest of the draft itself, a bit of a crapshoot. Some guys look like sure things coming out of school, and some live up to their lofty expectations, like Peyton Manning, Troy Aikman, John Elway, all No. 1 overall picks and all Super Bowl winners. But busts still abound. JaMarcus Russell, anyone? David Carr? Ryan Leaf? And we could go on.
Atlanta's Matt Ryan, Baltimore's Joe Flacco and Mark Sanchez of the Jets all have taken their teams to the playoffs in recent seasons as rookie starters. But they are exceptions to the norm, as the list of guys who've pulled that trick is short. And they all stepped into good situations, in that the Falcons, Ravens and Jets all were able to run the ball on offense. A good rushing game takes a lot of pressure off any quarterback, not just rookies.
St. Louis took Sam Bradford with the No. 1 overall pick last year, and that worked out well, as he helped the Rams make a jump from chumps to within a game of winning their division (albeit in the horrible NFC West). The question bettors want answered is whether there's anybody in this year's draft (April 28-30) that could have a similar impact.
Stanford's Andrew Luck, after leading his team to a 12-1 season and an Orange Bowl victory, would probably be not just the top QB taken in this year's draft, but the No. 1 overall pick. Instead, Luck opted to return to the Farm for what will be his junior season.
Here's a quick look at our top three quarterback NFL draft prospects, and a few others.
1. With Luck's decision to stay in school, Missouri's Blaine Gabbert has moved up to the top spot on most draft quarterback depth charts. Gabbert started for two seasons for the Tigers, running a spread system, checks in at 6-5/ 235 and supposedly has all the physical tools. With a little seasoning, maybe like the Packers did with Aaron Rodgers, Gabbert's got the makings of an NFL starter. But can he take Buffalo or Arizona or San Francisco or Tennessee or Washington to the playoffs this season? Doubtful.
2. Auburn's Cam Newton garnered a lot of attention last year, some of it unwanted, in leading the Tigers to the national title and winning the Heisman. Newton performed superbly in a tough situation and on the biggest stage in college football, at the BCS Championship Game.
He started only 14 games as a collegian, but he completed 66 percent of his throws and ran for nearly 1,300 yards. Newton's got Roethlisberger-like size, and better mobility, although he won't be running it 18 times per game in the NFL. This subtracts a bit from his overall value. And coming out of the SEC he'll have to stave off the comparisons to JaMarcus Russell. Newton could go as high as No. 3 to Buffalo, but we wonder how good a fit that would be.
3. Ryan Mallett started 29 games at Michigan and Arkansas, completed 65 percent of his throws last year and compiled a 62/19 TD/INT ratio for the Hogs. He's even bigger than both Gabbert and Newton – 6-7/240 – and throws the better deep ball than either of them. His decision-making, though, was questionable at times. But running Coach Petrino's offensive scheme may give him an early edge over the other two.
The Next Tier
TCU's Andy Dalton started 40 games for the Frogs, completed 66 percent of his passes last year and capped off his collegiate career with a great performance in a Rose Bowl victory. His intangibles make him desirable.
Jake Locker of Washington was very highly regarded coming out of high school, and started from the beginning at U-Dub, but inconsistency and injury kept him from playing up to expectations. Locker likes to run, sometimes too often, and only hit 54 percent of his throws. He could have been a Top-10 pick last year, stayed in school instead, and his draft status might suffer for it. Also, he got very mixed reviews during Senior Bowl week.
Christian Ponder started three seasons at Florida State, but had two surgeries on his throwing elbow.
Colin Kaepernick from Nevada may be the real sleeper in this group. He's got some size, can stretch the field, moves well and he had very good Senior Bowl week. He'll need to work on his mechanics, though.
Others who should get a look
Pat Devlin, Delaware
Taylor Potts, Texas Tech
Nathan Enderle, Idaho
Tyrod Taylor, Virginia Tech
Ricky Stanzi, Iowa
Carolina has the first pick in the draft, and there's still a chance they could take a quarterback, even after choosing Jimmy Clausen at No. 48 last year. Buffalo got a decent season from Ryan Fitzpatrick, but they might grab another QB at No. 3. Cincinnati still has Carson Palmer, but he's asked to be traded, and if his request is granted, the Bengals might be in the market at No. 4. Arizona seems likely to go after a free-agent instead of using its pick at No. 5 on a QB.
San Francisco still has Alex Smith, the No. 1 overall pick from a few years ago, but new Coach Harbaugh may want to bring in somebody else. Tennessee at No. 8 is almost certain to take a QB, and with a running game already in place stands out as a team that could make an immediate jump with some better production out of its QB. Washington at No. 10 is a possibility if the right guy is still around, as is Minnesota at No. 12, Miami at No. 15 and Seattle (if they lose Hasselbeck) at No. 25.