Ranking the Quarterbacks at the NFL Draft Combine
by Trevor Whenham - 3/4/2011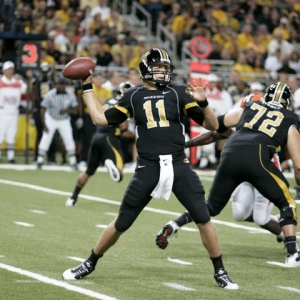 It's a very interesting time in the NFL right now -- and I'm not talking about the labor situation. There are a whole lot of teams that need quarterback help, a shortage of inspiring options in the league right now, and a draft class that has some potential but doesn't have a clear slam-dunk guy amongst it. The needs will likely force teams to take risks on guys who wouldn't go nearly as high in a strong QB draft class. That means that teams are even more likely than normal to be disappointed by a high QB draft pick.
There are, by most measures, five guys among the top tier of quarterbacks in this NFL draft. Here's a look at how these NFL draft prospects rank in my eyes after the Combine. I'll say up front that I'm not at all sold on any of them:
Cam Newton, Auburn - Newton is a physical freak, and he was spectacular at Auburn last year -- especially with the game on the line. I've become too much of a cynic to be won over by incredible athletes that are non-traditional NFL QBs, though -- call it Vince Young syndrome.
I have no doubts that Newton has the size and athleticism to play the position. There are a lot of things I am concerned about, though -- the cockiness and poor judgment that keeps popping up (there is no reason for anyone to ever speak about themselves in the third person), the fact that his father is a total crackpot who is still a big part of the picture, a game built more on instinct than intelligence, and so on. I'm also not convinced because teams will have to adapt what they do to take full advantage of his talent, and NFL teams are notoriously lousy at adapting to non-traditional QB talent.
If a team could pick up a guy like Newton in the bottom third of the first round then he'd be an excellent gamble, and great value. He's quite likely to go in the Top 5, though. At worst he'll be gone by the 10th pick. Taken up there I just don't see him as worth the risk.
Blaine Gabbert, Missouri - Almost every year there is a Gabbert -- a guy who rockets up the draft boards despite a college career that doesn't necessarily stand out. Sometimes it works out great -- Joe Flacco comes to mind. Other times it really doesn't, as J.P. Losman proved.
I liked Gabbert fine in college – he's a nice player. The most NFL-ready QB in the draft, though? It's clearly not a great draft class.
Gabbert is huge and athletic. He's reasonably intelligent and seems like a good guy. He'd be a great late first round or early second round pick. As a guy who is likely to go very early to a team that is desperate for immediate help, though, I just don't see it.
There's skill, but there are also some serious decision making flaws that pop up more than they should. When I watched Sam Bradford play in college I saw a guy who made opposing defenses miserable. Same thing for Matt Ryan. Those guys looked like they would be pros. I just don't see the same thing in Gabbert -- or at least not consistently enough.
I think he'll start and he'll be reasonably successful, but I expect him to be more Byron Leftwich than Bradford.
Jake Locker, Washington - This is where it gets really tough. I'm not at all confident giving Locker a mulligan for his really lousy season last year. It's hard to believe that he didn't just choke under pressure last season.
I completely and totally bought into him before the season, and couldn't have been more disappointed. If he can't handle that pressure, though, then how will he do in the pros? It's hard to be optimistic.
On the other hand, he's gone through a fair bit of chaos at Washington, so maybe some stability and new surroundings in the pros will help. He's certainly athletic enough to perform well if he gets his act together. I just wouldn't want to be the team that's relying on him doing so.
Ryan Mallett, Arkansas - Maybe I'm just bitter because I'm a Michigan fan and Mallett left us in a tough spot when he left for Arkansas. Regardless, I don't trust Mallett. He is physically very capable, and he's built for the league. I just don't trust him from a mental or character perspective.
The guy is a ticking time bomb -- Ryan Leaf the second. Mallett's attitude is a long way from a benefit, and I wouldn't bet that it will get better. I may be surprised, but I'd bet that Mallett doesn't turn out.
Christian Ponder, Florida State - I think it's ridiculous that Ponder is up where he is. He's another so-called NFL body that I just wouldn't want to trust.
He was hurt in 2009. He was hurt last year. When he was healthy he was a long way from consistent. If he was a stock I certainly wouldn't be buying. I'd take Andy Dalton over Ponder any day. Or Ricky Stanzi. Or even Greg McElroy.