This Week in Sports Betting, A-Z
by Nicholas Tolomeo - 7/22/2011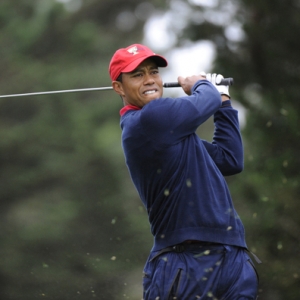 A - Anastasia Ashley. If you consider surfing a sport then you have to rank surfer Anastasia Ashley as one of the hottest athletes in the world, right up there with Hope Solo and Natalie Gulbis. This month Ashley finally graced the pages of Playboy. Bad news was she was wearing her surfing uniform. Good news is that surfing uniform consists of a bikini bottom four sizes too small for her butt, which she admits in an interview is the favorite part of her body. Ashley doesn't just show up and compete, she usually wins too. She is the 2010 Women's Pipeline Pro champion.
B – Baylor Bears. When it came time to set season ticket prices for the upcoming football season, someone at Baylor University thought it would be a good idea to base season ticket prices on the high temperature during the Fourth of July in Waco, Texas. Turns out the temperature was 101 degrees, so this promotion might actually end up costing fans more money.
C–Canseco, Jose. Twitter gave voyeuristic fans a play-by-play of Jose Canseco's recent break up with 24-year old Leila Shennib. Canseco went into full meltdown mode when Shennib dumped his needle pricked rear end. He hopped on Twitter, likely while intoxicated, and ripped off this tweet, "Be careful with woman who show off there (sp) tits and ass and think that's a career. I will never forget or forgive what u said to me leila ur evil." In a genius move Canseco then went on to post her phone number for the world to see, which inevitably led to numerous threatening calls to Ms. Shennib. Canseco then began groveling publicly as he wrote, "love makes fools out of all of us especially me" and then it was a marriage propose to Ms. Shennib via Twitter and then after that he tweeted what everyone was thinking, "I made a total fool of myself…what an idiot I am." And before you say "who cares about Canseco," he has 395,000 followers and counting.
D – Divorcing. Tiger Woods is divorcing again, this time with his long time caddie, Steve Williams. The sometimes dynamic duo has been together since 1999. Now that Woods sucks at golf and since he has already been divorced by Elin Nordgren and he already divorced his swing coach, his caddie was the next logical step. Of course, Williams cannot be mad. If golfing was a sport and somehow being a caddie was one too, Williams would rank as the highest paid athlete in New Zealand (where he is from). No word on if he gets a $100 million settlement like Elin did. Speaking of Elin…
E – Elin Nordgren. Last year Rachel Uchitel, the nightclub-manager-turned-Tiger-Woods-mistress, was getting Elin Nordgren's sloppy seconds while carrying on an affair with the famous golfer. This year it is Nordgren getting Uchitel's sloppy seconds as apparently the guy Nordgren is hooking up with, marketing executive Jamie Dingman, was banging Uchitel two years ago.
F – "Friday Night Lights". The long-running series finally came to a close this month. Just like the football team in the show, there are long odds ahead for the series in trying to win an Emmy. Their chances are with Kyle Chandler for best actor in a drama (+1200), Connie Britton for best actress in a drama (+1000) and best drama overall (+1200).
G - Gender bet. The ink is barely dry on Hines Ward's DUI citation or "Dancing with the Stars" 12 award, but one online sportsbook has already posted odds on the gender of the winner of "Dancing with the Stars" 12. The odds are split down the middle with both male and female listed at -115. The odds of the next winner getting a DUI just days after winning the award are 15/1.
H – Hotties. Anna Kournikova may have been the hottest tennis player of all time, but she was never really a threat to win much of anything. The problem with women's tennis is that the best players stick around longest in tournaments and the best players tend to be hulking Amazonian women no one wants to look at. However, there are some contenders that actually look good in a tennis skirt. Here is a list of the eye candy to keep tabs on this year according to Maxim and their odds to win the U.S. Open: Maria Sharapova (9/2), Caroline Wozniacki (7/1), Ana Ivanovic (66/1), Daniela Hantuchova (125/1) and Maria Kirilenko (250/1).
I – I Heart Japan Women's Soccer. That is what the t-shirt worn by Minnesota Twins Manager Ron Gardenhire read this week. He lost a bet with Minnesota shortstop Tsuyoshi Nishioka, who for some reason wanted the Japanese team to win. Of course, the shirt was a blatant lie because, obviously, Gardenhire does not love women's soccer.
J – Jackson State. When Southwestern Athletic Conference football coaches gathered to vote for preseason favorites this week, the coaches tabbed Jackson State as the favorite to win the East Division. There is only one problem with that, Jackson State cannot win the division and advance to the conference tournament because it is under a postseason ban this season. Despite the ban, the Jaguars still received 13 first-place votes. Second-place selection Alcorn State is technically the favorite to advance to the SWAC title game. Talk about faint praise.
K – Knile Davis. Words like Heisman Trophy hopeful and dark horse Heisman Trophy contenders are phrases that should be banned until November, but college football analysts will toss them out as early as the day after the last Heisman is handed out. They foam at the mouth with excitement over their Heisman picks, so why shouldn't I? Arkansas running back Kniles Davis is a dark-horse Heisman contender with Heisman hype, Heisman speed and the kind of talent it takes to win a Heisman trophy. He has the ninth best odds on one online sportsbook to win the Heisman. His Heisman odds are +1600. The best thing this kid has working for him are nickname possibilities. Just think of it: Kniles Davis, King of de Knile, Silent K as in Killer. Feel free to reserve those domain names.
L – Loss of teeth. Cincinnati Bengals running back Cedric Benson beat down his roommate so bad last week in Austin, Texas that the poor roommate may have lost some teeth, according to a police report. Charles Clavens was allegedly on the business end of a few Benson haymakers as the NFL running back became angry about the living arrangements he had with Clavens.
M – Murdoch, Rupert. The scandal that has rocked the UK has sent oddsmakers scrambling to post as many betting props as possible regarding News Corporation CEO Rupert Murdoch. The 'over/under' of his 2012 net worth is $7.6 billion, the 'over/under' on where he will rank on Forbes' Most Powerful People in the World is 13th and the moneyline on Murdoch being egged or foam pied (again) by July 24 is +1000.
N – Novak Djokovic. Wimbledon champion Novak Djokovic is the favorite to win the 2011 Men's US Open. He is listed at 7/4 on Bodog ahead of Rafael Nadal (5/2), Roger Federer (7/2) and Andrew Murray (6/1). A US winner looks to be a long shot as Andy Roddick (33/1) has the best odds of the lot.
O – Olympic Tweeting. Someone with too much time on their hands came up with a Twitter policy to be followed by British athletes competing in the upcoming Olympics. The guidelines allow Tweeting, but in true proper English fashion, athletes were urged to use correct spelling and grammar. LMFAO!
P – Pacman Jones. In breaking news Cincinnati Bengals cornerback Pacman Jones was not arrested today. He was arrested, however, on June 10 after refusing to leave a Cincinnati bar after becoming "rowdy." Of course this week Jones pleaded not guilty because, hey, it worked for Casey Anthony.
Q- Quarterback. A picture surfaced recently of Detroit Lions quarterback Matthew Stafford on the beach with a buxom blonde. But the story of the picture was the physique of Stafford, not the blonde. To put it kindly, Stafford looks like he is in lockout shape. He probably packed on 30 pounds in the offseason. And just when Lions fans thought they had hope…
R – Running of the Bulls. In perhaps the last great sporting event not televised by ESPN, the Running of the Bulls in Pamplona, Spain, continued this week. The nine-day event featured no deaths this season, but two people were gored on Tuesday. Since someone began keeping statistics in 1910 (probably Tim Kurkjian), 15 runners have been killed.
S – Soccer. Apparently soccer is supposed to become popular in the US once of our national teams, men's or women's, does something. Well, a quick look at the MLS shows that halfway through the season there had already been 21 scoreless ties. That beat the record for an entire season, and there are still games to be played! Unless a nude Hope Solo is in net forcing these scoreless ties, soccer has no hope over here.
T – Twitter Record. Proving that the Japanese really like to Tweet, the Women's World Cup final drew the highest Twitter activity ever with 7,196 tweets per second or TPS as I call it. The previous record was fueled by those crazy Japs who help keep a 6,939 TPS pace just after midnight in Japan this year. Other noteworthy events with their corresponding TPS include Japan's earthquake and tsunami (5,530), Osama bin Laden's death (5,106), Super Bowl XLV (4,064), Britain's Royal Wedding (3,966) and Neil Armstrong landing on the moon (0).
U – UFL. There are a few football fans out there not happy to hear that the NFL season is going to take place. Those would be the people at the United Football League, which has managed to lose $100 million in just two years of existence despite the fact that there are only four teams and players only make $40,000 a year. When word came that the NFL Preseason would likely go on as scheduled, the UFL bent over for the NFL and moved the start of its season from August to September. It had hoped degenerate gamblers and football-starved fans would tune into UFL games in August in desperation. Thankfully, that will not happen.
V – Vick, Michael. Philadelphia Eagles quarterback Michael Vick continues to defy the odds, and this has nothing to do with his play on the field. Vick, a convicted felon, has managed to land another endorsement deal, this time with some fly-by-night company named Double Eagle Holdings, which actually has nothing to do with the Philadelphia Eagles. Double Eagle Holdings is the parent company of Fuse Science, which basically sells knock off Gatorade.
W – Wilson Raj Perumal. The rest of the world has a lot of things the USA doesn't have, like convicted match fixers. Either nobody around here fixes games, except Tim Donaghy, or nobody is getting caught. This week news came that Wilson Raj Perumal of Singapore has been found guilty of bribing nine Finnish soccer players from 2008 to 2011. Looks like those players' careers are finished (get it?).
X – XLVI. Now that we are all but assured of having a Super Bowl, we can pay closer attention to Super Bowl XLVI odds. The Green Bay Packers and New England Patriots remain the co-favorites at 7/1 on Bodog ahead of the San Diego Chargers (10/1) and the Pittsburgh Steelers (12/1). The Carolina Panthers (125/1) and the Buffalo Bills (100/1) continue to receive no love.
Y – Yao Ming. With the league currently going through a work stoppage, NBA players are entertaining going overseas next season. Yao Ming is definitely headed overseas next season, but not to play. Yao is retiring after eight injury-plagued seasons that felt more like 18. He is only 30, but he made so much money while getting dominated in the paint by other big men that he doesn't have to worry about being dunked on anymore.
Z – ZigTech. Reebok's line of ZigTech sneakers offers a unique sole that looks like a stretched out curly fry. Since unveiling the shoe, Reebok has lined up some famous athletic spokespeople like Sidney Crosby, John Wall and Peyton Manning. Their latest spokesperson is ESPN big-breasted reporter Erin Andrews. Not sure how sniffing jocks all day and sleeping with professional athletes makes Andrews a good spokesperson for athletic shoes. But this is probably just sour grapes from me, because Andrews is selling sneakers when she could be selling sultry swimwear or Body by Victoria.