This Week in Sports Betting, A-Z
by Nicholas Tolomeo - 4/9/2011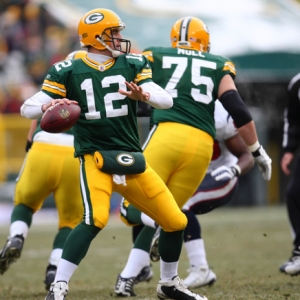 A – Aaron Rodgers. Two months ago Aaron Rodgers realized his destiny and led the Green Bay Packers to the Super Bowl. Now he has found a San Diego bartender named Destiny Newton and has led her to the beaches of Hawaii. The latest in a line of bombshells to be spotted with Rodgers, Newton is a college student from southern California and likely not related to Cam Newton.
B – Bundchen and Brady Mansion. Work is coming along nicely on Gisele Bundchen and Tom Brady's 22,000 square-foot, $20 million mansion that looks bigger than Gillette Stadium. Work has been underway on the Brentwood, California, monstrosity for more than a year now. Once completed, the mansion will have eight bedrooms. No word on which one Bill Belichick will sleep in.
C – Chicago vs. Detroit. Charlie Sheen has rekindled the fire on an old rust-belt rivalry between Chicago and Detroit. After he bombed in the first appearance of his "Violent Torpedo of Truth" tour in Detroit, he came to Chicago for his second show and before even taking the stage, the crowd erupted in a "Detroit Sucks" chant. The Detroit sucks theme carried on for most of the show.

D – Detroit Pistons. Here is one investment that just doesn't pass the smell test. California billionaire investor Tom Gores has agreed to purchase the Detroit Pistons. Terms were not disclosed, but if he paid more than couple hundred bucks, he probably got ripped off.
E – eBay. Apparently some member of the 2009 Yankees World Series team invested in Myspace and is now broke. This week's athlete gone broke and gone to eBay item is an authentic 2009 New York Yankees World Series Ring. It is selling for a 'Buy it Now' price of $34,999.
F – Four Bucks. That is the going rate for a swath of the collapsed Metrodome roof that the Minnesota Vikings are selling to fans. The first 2,000 visitors to the rundown dome will be able to tour what is left of the stadium for $4 and take home a piece of the tattered roof that collapsed in December.
G – Gloria James. Keeping it classy like only she can, LeBron James' mother, Gloria James, was arrested by Miami Beach police for allegedly assaulting a valet worker for taking to long to retrieve her car. Here's a stunner: Ms. James had a strong odor of alcohol on her breath and bloodshot eyes when police arrived on the scene at the bright and early time of 4:47 a.m. EST on Thursday. This was also the same night the Heat lost, 90-85, to the Milwaukee Bucks, so maybe Gloria was taking out some anger on a valet driver. This is the second arrest for James as she was previously arrested on drunken driving charges in 2006 when she famously kicked out a window of a police cruiser. She's turning into the black female version of Charlie Sheen. Looking back on the latest arrest, by assaulting the valet driver, Ms. James likely saved herself another DUI, because she was never able to get behind the wheel because she was busy giving a beatdown to some sorry valet.
H – Houston prostitute. A Houston prostitute has cost Southern University Athletic Director Greg LaFleur his job. LaFleur was arrested in Houston during a prostitution sting when he tried soliciting a local hooker for sex. The 52-year old was officially fired by the University 72 hours after the failed attempt to purchase sex.
I – Iverson, Allen. We haven't heard much from Iverson since he went overseas, but sure enough he landed back in the news when he mouthed off to police officers this past week in Atlanta when a car he was a passenger in was pulled over for having expired tags. After asking the cops if they knew who he was, (they really should have replied, 'yeah a Turkish basketball player'), Iverson said the cops could go ahead and take his grey Lamborghini because "I have 10 more." The best quote in the story comes from the officer who said Iverson, "went on and on about who he was" for 20 minutes.
J – Jay-Z. In what is likely the first step towards John Calipari vacating his third Final Four appearance with a third different school, the New Jersey Nets were recently fined $50,000 because Nets minority owner Jay-Z was in the Kentucky locker room after the Wildcats clinched a Final Four berth.
K – Kendra Wilkinson. Former "Dancing with the Stars 12" favorite Kendra Wilkinson has fallen to the back of the pack. She is now one of the longshots at 10/1 on Bodog to win the celebrity dance competition. The favorites are Pittsburgh Steelers wide receiver Hines Ward (3/1) and Karate Kid Ralph Macchio (3/1). The other big longshot is boxing great Sugar Ray Leonard (30/1).
L – Lingerie Football League. A dream job is not as far away as you may think and former Minnesota Vikings tight end Marc May landed his simply by being lucky. May was the secretary for the NFL Alumni Chicago Chapter. The local Lingerie Football League team, the Chicago Bliss, came to the meeting to solicit for a coach. When asked "who wants to coach some women in their underwear" nearly the entire room raised their hand. May, being the secretary, of course, officially recorded himself as the coach in the meetings minutes.
M – Manny being Manny. Was there really any other way this career could end? On Friday the bizarre news broke that Manny Ramirez' even more bizarre five-game tenure with the Tampa Bay rays was over after the slugger retired rather than facing a 100-game suspension. 100 games?!?! What did Ramirez go into the stands at the Palace of Auburn Hills and start unleashing haymakers?
N – NBA Mock Draft. It's always interesting to check out NBA mock drafts, with so many variables with underclassmen and foreigners and the NBA Lottery. NBADraft.net currently has Arizona sophomore Derrick Williams going first overall to Cleveland. They also have the Toronto Raptors taking the obligatory international bust with the third overall pick, some guy/girl named Jan Vesely.
O – Orange Bowl CEO. To walk around wearing a bright orange blazer, Orange Bowl CEO Eric Porns (best name in sports) will now be paid over $500,000 a year, after a recent $150,000 pay raise for we're not exactly sure what.
P – Pigeons. For reasons still unexplained, Mike Tyson recently admitted to renting a truck in Canada and sneaking 250 pigeons into the United States via Detroit many, many years ago. Tyson states that his dream in life was always to race pigeons.
Q – Quarterbacks. The Mannings are apparently breeding quarterbacks, male and female. Just weeks after Eli Manning's wife gave birth to Ava Frances Manning, Peyton Manning's wife Ashley gave birth to a set of twins, Marshall Williams Manning and Mosley Thompson Manning. The guess here is that Marshall ends up in the Hall of Fame and that Ava and Mosley will have stronger arms than Brady Quinn.
R – Ryan Howard. In a match made in Philadelphia sports heaven, Phillies slugger and Subway spokesperson Ryan Howard is reportedly getting married this summer to Philadelphia Eagles cheerleader Krystle Campbell.
S – Stoudemire, Amare. Looks like Amare Stoudemire is not planning on joining the Heat Wave down in Miami with Wade, James and Bosh. Stoudemire has listed his 5,244 square-foot South Beach penthouse for sale with a listing price of $6.5 million.
T – Ticket Prices. It is always interesting to analyze the difference in stadium pricing to show the disparity between some stadiums. The highest ticket prices belong to the Red Sox, Yankees, Cubs and White Sox, while the cheapest seats can be had at Pirates, Padres and Diamondbacks games. The most expensive beers belong to Fenway Park (60.4 cents an ounce), while the cheapest brews are in Arizona (28.6 cents an ounce) and Pittsburgh (31.2 cents an ounce). You can get a hot dog for $1 in Cincinnati while it's $5.50 in at a Mets game, it costs $35 to park at Yankees Stadium while, get this, its free to park at a Rays game. Basically when it comes to going to an MLB game, you get what you pay for.
U –'Under'. The Houston Astros started the season, 0-5 and if you're betting on the 'under' in Houston games you may be even worse off. Houston lost its first five games, and all games failed to stay 'under' and that had much more to do with Houston's pitching than its bats.
V – Vancouver Salmon. Detroit gave us the Octopi on the ice and now a Vancouver Canucks fan gives us the Salmon on the ice. After a recent Canucks goal in a game against St. Louis, a fan chucked a large salmon onto the ice at Rogers Arena. Not sure the significance of the salmon, but lets hope it leads to another tradition.
W – Wedding Bells. The Pittsburgh Steelers and Ben Roethlisberger failed to get a Super Bowl ring this past February, but come July, Big Ben will be getting a wedding ring. Rumors had been swirling about this marriage but now Roethlisberger has come clean with the details. He will be marrying 27-year old Pittsburgh area native Ashley Harlan, who he met at training camp in 2005. The couple will be married on July 23 and the 500-guest affair was supposed to be at the home of the Pittsburgh Penguins, Consol Energy Center, but that was booked by World Wrestling Entertainment (you can't make this stuff up). Harlan still lives with her parents due to the religious faith and beliefs of the couple. Riiiiiiight.

X – XX Super Bowl. In a sad and strange story with a happy ending, a 10-year old boy purchased William "the Refrigerator" Perry's Super Bowl XX ring for $8,500 and returned it to The Fridge. Perry had to sell the ring to help pay medical bills.
Y – Yankees and Onion Rings. Yankees outfielder Andruw Jones recently caught a face full of onion rings while chasing down a foul ball at Yankees Stadium. The ball landed in the stands and directly into an unsuspecting fans deep fried basket of goodness. The ball sent the tasty treats onto the field where they showered Jones, who was on the ground at this point. Jones did not appear to be pleased, but I'm sure this is a dream for a lot of fat people.
Z – Zelko, Kevin. In the greatest invention since beer, a Seattle Mariners beer vendor, 36-year old Kevin Zelko, announced that he will take beer orders at Safeco Field by twitter. Simply by tweeting your order and seat number to @Msbeervendor, you can have a beer delivered to your seat. Zelco has been vending beer at the park for six years and he estimates that he sells around 80 beers on average per game. Those numbers should go up somewhere in the 8,000 range now. No word if you could tweet Zelko from other baseball stadiums and try to order beers but go ahead and try, ya never know.