2011 NBA Mock Draft
by Robert Ferringo - 6/23/2011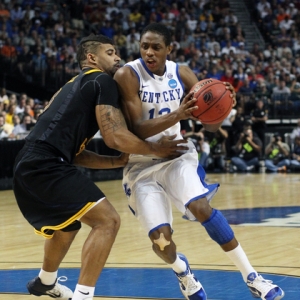 Worst. Draft. Ever.
Last year's college basketball season was a complete and utter shit show. I mean, we had a Final Four that included Butler and VCU, along with a Connecticut team that probably would have finished seventh in the Big East back in 2006. The reason for such an unpredictable year: the lack of high-end star talent.
An unwatchable NCAA Championship Game has given way to an unwatchable NBA Draft tonight.
The 2011 NBA Draft will be held at 7 p.m. EST tonight. The draft will be held at the Prudential Center in Newark. And with exception of seeing which trades occur as teams try desperately to dump salary before the impending lockout I can't think of a single person, place or thing that could make tonight's meat market watchable.
Wait, I just thought of one: it will be worth watching just to see the analysts try to pretend that someone like Jimmer Fredette, Marshon Brooks or Iman Shumpert actually is A) worth being a first round draft pick and B) not going to be in the NBDL in about 15 seconds.
Below is Doc's Sports 2011 NBA mock draft, version 2.0. Now, mock drafts are always a tricky business because all of the selections are interdependent. It's a house of cards. And if one thing goes askew the whole mock draft collapses. But I'll give it a go, including my educated guesses about foreign players that I've never seen play. Good times.
Without further ado, here is Doc's Sports 2011 NBA mock draft:
1. Cleveland - Kyrie Irving, Duke
I've said it before and will say it again: I was just not as impressed with Irving as everyone else was. I don't think he has the athleticism of John Wall or Derrick Rose. And you can assume he has more polish just because he went to Duke, but the kid basically missed 75 percent of his lone college season. That can't be good for his development. In all, this top overall pick kind of sums up this draft: take the most mediocre player available and hope for the best.
2. Minnesota – Derrick Williams, Arizona
Here is the guy that I would be going after if I were the Cavaliers. Williams is one of just a handful of players in this draft has true breakout potential. He is big, athletic, he can score, and he's proven himself on the college level against elite competition. I think that a power-small forward combo of Kevin Love-Derrick Williams is a nice foundation for the T-Wolves.
3. Utah – Brandon Knight, Kentucky
"When in doubt, take the big guy." That's kind of a hoops maxim. However, according to bobbleheads, the NBA game revolves around point guards. (Even though the last four starting PGs in the NBA Finals have been The Ghost of Jason Kidd, Mike "I Was Washed Up 5 Years Ago" Bibby, 57-Year Old Derek Fisher, and Overrated-Jon Rondo.) Whatever, I'll let them have their illusions. But the reality is that they let Deron Williams go for pocket change so they need a fresh young face to run the point. If these wacky Mormons take Enes Kanter here that means they are going for Jimmer with their second No. 1.
4. Cleveland – Enes Kanter, Kentucky
Enes is finally free. I'm hoping he's up to the challenge of filling that massive void in the hearts of Cleveland fans: the one left by Zydrunas Ilgauskas. This guy is a beast, by all accounts, and is a good building block.
5. Toronto – Jonas Valaciunas, Lithuania
I don't know the man. I won't pretend to know his game. But he's a 6-11 Lithuania center. And I'm willing to guess this isn't the scouting report on him: "Extremely tough, well-built, well-nourished center prospect…brings toughness and grit to the court every night…has a variety of moves and a love for Lil' Wayne, and he will blend seamlessly into a locker room of ego-centric American young adults…very polished and not at all related to Fred Weis."
6. Washington – Kawhi Leonard, San Diego State
I don't know why Leonard is going to go before Tristan Thompson, but I'm certain that he will. I like Leonard's game but I don't know if he's fast enough or strong enough to get off his mid-range game at the next level. I think Thompson has worlds of potential – kind of a young Jermaine O'Neal or young Chris Bosh – and has more upside. But that why this is the Wizards.
7. Sacramento – Tristan Thompson, Texas
The Kings are a complete and utter train wreck. But as long as they don't shoot themselves in the feet they could walk away with the player that may have the most potential in the draft. And in a crop that lacks much polish that's the best you can hope for.
8. Detroit – Marcus Morris, Kansas
If you look at the guys they have picked up over the last few years – Greg Monroe, Austin Daye, Rodney Stuckey – it is pretty clear that Joe Dumars doesn't watch much college basketball. If Thompson falls then I think Dumars is smart enough to snatch him up. But if not I think he will be drawn to the workman-like attitude of Morris. I think Morris can be a 14-7 power forward in the NBA for a long time. That may not be what fans want out of a Top 10 pick, but I think that's pretty solid.
9. Charlotte – Klay Thompson, Washington State
I was screaming all season that Thompson was one of the top five or six players in college basketball last year. I am much, much higher on Thompson that just about everyone, it seems, and I think that he's going to step right into the NBA and be able to do work. He's got great pedigree, an excellent frame, and I just like how his game translates. Thompson will be a very good NBA player for someone.
10. Milwaukee – Jan Vesely, Czech Republic
The Bucks are a bit of a wild card in the first round, in my opinion. I think that most of the top frontcourt talent will be gone by the time they pick. And I am pretty sure they wouldn't bite on another little player and take Kemba Walker. So I think they will go after Random Foreign Dude. Bottom line: someone is going to make a mistake and take Vesely in the Top 10. I just know I would never draft a guy that high who, in his Draft Express profile, has a best-case scenario of being the next Andrei Kirilenko.
11. Golden State – Jordan Hamilton, Texas
Once again: I don't think anyone knows what the Warriors are looking for. And judging by their last few drafts, I don't think that they know either. But Hamilton is a run-and-gunner that doesn't defend and makes a ton of questionable decisions. He'll fit right in here.
12. Utah – Alec Burks, Colorado
I know everyone wants it. I know everyone is trying to angle for it. I know everyone has predicted it. But I don't think that Jimmer ends up in Utah. He would be a nice draw on a team where there are not a lot of positives right now. But the reality is that Jimmer is not an NBA player right now and he'll never be a key contributor on a good team. Period. Instead, they take a guy that has the potential to be a poor man's Brandon Roy.
13. Phoenix – Kemba Walker, Connecticut
I think the Suns would leap at the chance to take Thompson or Burks if they were available. This team needs to get younger and more athletic on the wings, but I don't know that they can pass up the chance to grab college basketball's best player last year. He could learn behind Steve Nash and be a nice scoring option with the second team.
14. Houston – Chris Singleton, Florida State
A lot of people are impressed with Singleton. He is older than most of the other players in this draft. But he is also a very defined player: he's a bench guy that will defend, rebound and work for 82 games out of the year. I know I wouldn't be looking for that out of a first round pick – I would be aiming much higher – but someone is going to bite on him.
15. Indiana – Jimmer Fredette, BYU
If I were the Pacers GM I would keep stockpiling their already loaded frontcourt. But someone is going to reach for this guy and it might as well be a team that is desperate for some outside shooting. It's not that I don't like Jimmer. I just know he's not going to do much in the NBA. You would think that NBA execs and scouts would know that too and the guy would go in the second round like he should.
16. Philadelphia – Markief Morris, Kansas
The Sixers will most likely be involved in some sort of draft night deal and I don't think they will end up making this pick. But in the Jerron Collins-Robin Lopez mold they will snatch up the weaker twin.
17. New York – Donatas Motiejunas,
Whatever the Knicks do they are going to get lambasted for it. Why not aim big and go for Fredric Weiss Part Duex.
18. Washington – Tobias Harris, Tennessee
I am actually pretty high on Harris' upside and I think that someone is going to steal him at the back end of the first round. This kid has an NBA frame and he can do a lot of different things very well. He just got caught up in a disaster at Tennessee. (Which, actually, was his own fault. He was going to go to Syracuse but ended up at Tennessee under some shady circumstances. Karma baby.) So without any coaching or structure he was just kind of hanging out in Knoxville this year. He is a nice potential pick.
19. Charlotte – Nikola Vucevic, USC
Foreign, but proven, Vucevic is a guy that is getting a lot of buzz right now. He should. He basically had Ivy League-caliber guards to work with during his time at USC and he still just went about his business. He played well against the Morris twins and D-Williams and I think that Vucevic has the potential to be a key contributor on a good team. He is what he is, and I would take him on my team.
20. Minnesota – Bismark Biyombo, Congo
Again, the T-Wolves are going to be looking to deal, so I doubt they make this pick. But if they do they could take a shot here on a 6-9 athletic freak with no polish and no hope for making it to the NBA within the next three years. Hey, why not? I know it sounds ridiculous, but someone is going to make that mistake. After all, it's the NBA Draft.
21. Portland – Kenneth Faried, Morehead State
This guy is a beast. I know that he was playing in a league that made him look like Billy Madison playing dodgeball. But there is just no doubt that Faried is a guy that can stick in the NBA simply because of his defense and rebounding. He has a little better polish to his offensive game than people give him credit for, and he's going to be a fan favorite no matter where he ends up.
22. Denver – Josh Selby, Kansas
The Nuggets have size and athleticism, and they are rumored to be trying to trade Raymond Felton. If they do deal him I think that it could open up a slot for Selby. He was all hype coming out of high school, and he was hurt and lost in the shuffle at Kansas. But there were glimmers from this guy. He has big-time flameout potential but he also could be a steal at the end of the first round.
23. Houston – Reggie Jackson, Boston College
Jackson is another guy that I'm kind of high on. I think that he's going to find a niche coming off the bench as a perimeter scorer and I think eventually he does have the athleticism and the know-how to be a starting point guard. He would fit a need for Houston right away and I think that he's going to surprise some people.
24. Oklahoma City – Justin Harper, Richmond
Harper is 6-10, but he shot 44.8 percent from three-point land last year in 172 attempts and he also knocked down 80 percent of his free throws. The Thunder desperately needs creators on the perimeter. Harper isn't one of those but he is another shooting option for when teams double Durant and Westbrook. Harper has a lot of the P-word, "potential".
25. Boston – Marshon Brooks, Providence
A lot of people have this Kobe-wannabe going a lot earlier. But I don't see it and I'm not 100 percent sure that is going to be the case. Brooks is a scorer, but that's it, and I think he has "D-League" written all over him. But the Celtics could take a flier on a kid from a nearby school and hope he can learn something from Ray Allen.
26. Dallas – Davis Berans, Slovenia
Several online sources have listed this as the player that the Mavericks are targeting as they try to land, you guessed it, "The Next Dirk". There is no way that this guy has that type of potential. But hey, they just won the NBA championship. What do they care who they draft?
27. New Jersey – Tyler Honeycutt, UCLA
New Jersey should take a point guard like Donovan Morris or Nolan Smith. But I don't think they will want to risk hurting Deron Williams' feelings (even though he already has one foot out the door). So they will reach for someone like Honeycutt, who wouldn't have been a first round pick in any of the last 30 NBA drafts. But hey, pickings are slim, I guess. (Can the Nets just abstain from making a pick here?) Look for Kyle Singler to get picked somewhere between now and the end of the round as well, I just can't say where.
28. Chicago – Charles Jenkins, Hofstra
It should be pretty obvious to the Bulls that they need perimeter scoring help. I think that Jenkins is a guy that they could develop as a big point guard to lead the second team or a guy that can handle and run the offense – with some scoring mixed in – to play next to Rose if they want to slide Rose off the ball. Chicago could do much worse this late in Round 1.
29. San Antonio – Iman Shumpert, Georgia Tech
At this point my head is starting to hurt and I'm weeping for just how weak this draft class is. Shumpert was trash for Georgia Tech. But he has some size and he can handle the ball a little bit. Oh, and he can shoot every once in awhile. And even though he helped get his coach axed with his erratic play and he was a "leader" on one of the worst Georgia Tech teams of the last 25 years, I guess he's worth a first round pick. Welcome to the NBA!
30. Chicago – Scotty Hopson, Tennessee
No one is projecting Hopson as a first round pick. And he is a flake. But Hopson's size (he's 6-7) and ability to score makes him worth a late-round flier. Especially for a Bulls team that is in desperate, DESPERATE, need for perimeter scorers that are huge liabilities on defense. (I'm looking at you, Kyle Korver.)
Robert Ferringo is a professional handicapper and writer for Doc's Sports Services. You can check out his Insider's Page here.