This Week in Sports Betting, A-Z
by Nicholas Tolomeo - 1/12/2011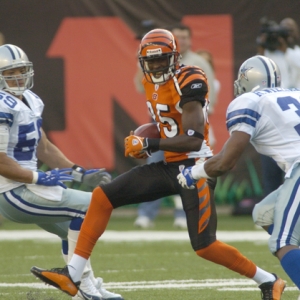 A – Allegiance for Sale. It has been done before, but it's never been as humorous. A Cincinnati Bengals fan is auctioning off his fan allegiance on eBay. Twenty-eight year old Brett Kostoff is pissed off at the Bengals and ownership. So his fan allegiance is up for grabs to the highest bidder on the popular auction site. In the item description Kostoff promises to use all the proceeds from the auction towards purchasing memorabilia and tickets for his new team. Kostoff brings to the table "16 weeks of everything I got on game days," and all his game day rituals which include standing on third down, throwing pillows, eating boneless buffalo wings and potato wedges before games and, most importantly, a "welcome to (insert team name here) country" sign in his man cave. Bidding started at 19.95, but just two days into the auction it had surpassed $600.
B – Brian Reed. In a story that went from comical to bizarre and now to tragic, the brother of Baltimore Ravens safety Ed Reed is still missing over five days after jumping into the Mississippi River to elude police that were chasing him. Police witnessed Brian Reed jump into the river but never saw him resurface. Cops have recovered his jacket and shoes. Ed Reed played in the Ravens win over Kansas City and he will play Saturday at Pittsburgh.
C – Casey Matthews. Many people watching Oregon play in the BCS National Championship Game may have noticed a striking resemblance between the long greasy hair of Oregon linebacker Casey Matthews and the long greasy hair of Packers linebacker Clay Matthews. Turns out the two are brothers. And talk about a blood line, they are also the son of Clay Matthews Jr. a 19-year NFL veteran, and nephews of Hall of Famer Bruce Matthews.
D – Declared. Uncertainty in NFL labor negotiations has not prevented collegiate players from jumping to the NFL in record numbers to get paid legally. The consensus top pick Andrew Luck has decided to stay at Stanford, but everyone else is seemingly jumping to the draft including Georgia wide receiver A.J. Green, Virginia Tech running backs Darren Evans and Ryan Williams, Missouri quarterback Blaine Gabbert, Alabama running back Mark Ingram, Alabama wide receiver Julio Jones, Arkansas quarterback Ryan Mallett and LSU cornerback Patrick Peterson.
E – Eagles fans. Stay classy Philadelphia. A couple Green Bay Packer fans who attended the Packers 21-16 win over the Eagles in the playoffs returned to find their cars vandalized. One Wisconsin native returned to his Toyota Camry to find over $2,000 in damage. Another fan returned to his car to find it nearly destroyed as well, and the Eagle fans left behind some evidence in the form of an empty case of Busch Light and a pile of vomit.
F – Fake Tickets. With booming ticket demand for the BCS National Championship Game between Oregon and Auburn, capitalism was running rampant around Glendale, Arizona. Eight people were arrested for selling fake tickets to the big game and potentially even more went unpunished. The eight people who were from the East Coast were caught with more than 200 fake tickets on hand. Tickets were reselling for as much as $5000 each online. That price seems even more ridiculous in retrospect considering it was a 22-19 dud of a game.
G – Green Bay Packers. Green Bay looks like it could be the road warriors of these NFL playoffs. The Packers went on the road to Philadelphia and nearly everyone predicted them to win, and they did, 21-16. Now the No. 6 seeded Packers head to top-seed Atlanta as only two-point underdogs. You can wager on Bodog on the Packers postseason progress, Divisional Round (-150), NFC Championship game (+450), Super Bowl runner up (+450) or Super Bowl Champion (+550).
H – Harbaugh Bowl. With the hiring of Jim Harbaugh in San Francisco we could be in store for one heck of a storyline next NFL season. Jim's brother John Harbaugh is currently the coach of the Baltimore Ravens, and despite the two teams being in different conferences we will not have to wait long for the first Harbaugh Bowl. The 49ers and Ravens are scheduled to play next season. If you thought the hype for the Manning Bowl was bad, just wait until next season.
I – Indianapolis Colts. Reggie Wayne was held to one catch for one yard in the Colts loss to the Jets on Saturday. But according to Wayne it was not his fault or the fact that he was covered by Darrelle Revis. Wayne said "It's bull, It's bull man. One ball, that's all…I shouldn't have even suited up. I should have watched the game like everybody else. I was irrelevant." And after the Colts 17-16 loss, the rest of Wayne's teammates are irrelevant until August, besides those Peyton Manning commercials, obviously.
J – Jenn Sterger. Now that the Brett Favre text messaging scandal has lost some of its steam, Jenn Sterger is ready to step back into the spotlight. Sterger, a former New York Jets gameday host and Maxim and Playboy model, is scheduled to host a March Madness party during the grand opening of Public House in Chicago on March 17. No word on if Favre is on the guest list.
K – Khloe Kardashian. In what has become a rite of passage for the Kardashian sisters, Khloe Kardashian was first romantically linked to a professional athlete, she later married him and now Khloe and Laker forward Lamar Odom are scheduled to get their own reality show. The reality show will air on E! aka the Kardashian Entertainment Channel. And because a show featuring only Khloe and Lamar would not involve enough of the Kardashian family train wreck, producers went ahead an announced that the Khloe's brother Rob Kardashian will be featured as a regular on the show.
L – Lindsay and the Lakers. Now that Lindsay Lohan is out of the Betty Ford Center, the Lakers may have a new celebrity fan. Lohan was spotted courtside at Staples Center for a recent Lakers/Knicks game with jewelry designer Pascal Mouawad. Looks like Lohan at least has her head on straight because she was attending a Lakers game, not a Clippers game.
M – Merchandise. The NFL released details of orders from NFLShop.com that counted sales from April 1, 2010 through the end of the year. The Pittsburgh Steelers were the top selling team in terms of merchandise and their safety, Troy Polamalu, owned the league's top-selling jersey. The Cowboys ranked second in merchandise while Super Bowl XLIV champion New Orleans was third. In terms of jersey sales Polamalu was followed by Drew Brees and Tim Tebow.
N – Natalie Gulbis. The hottest thing in golf these days has a new boyfriend. Natalie Gulbis, the blonde bombshell from the LPGA tour, is dating Dustin Johnson from the PGA tour. It was evident the two were dating when Gulbis was seen following Johnson during the Tournament of Champions. This is not the first time Gulbis has dated a professional athlete. In 2003 Gulbis was romantically linked to Steelers quarterback Ben Roethlisberger.
O – Oregon State. The Beavers took a major hit for next season when running back/game breaker Jacquizz Rodgers declared himself eligible for the 2011 NFL draft. This comes as somewhat of a surprise considering all season he said he would return to join his brother James Rodgers for their senior year. What makes it even more surprising is the fact that nobody is even projecting Jacquizz Rodgers to be drafted in the top three rounds.
P – Personal. For the second week in a row New York Jets Coach Rex Ryan has claimed that things are personal. The "personal" card worked last week as the Ryan and the Jets finally eliminated Manning and the Colts. This week Ryan says it is personal between him and Bill Belichick. The veteran New England coach did not buy the bait, saying neither would be on the field blocking or tackling, and thank goodness for that.
Q – Qwest Field. It took just four ounces to raise the ire of the Seattle Seahawks fan base. An inquiring soul decided to do a little experiment at Qwest Field, the home of the Seattle Seahawks. He poured a 20-ounce beer into a cup designed to hold 16 ounces. Turned out the beer fit just fine. Of course he filmed this experiment and posted it online. So the Seahawks were charging $1.25 more for a beer that supposedly had four more ounces than the lesser priced one. Seattle made up for this gaffe by charging the 16-ounce price for all the beer sold in the stadium. So maybe an inebriated fan base was the key to Seattle's stunning playoff upset of the Saints on Saturday.
R – Rematches. For the first time in NFL playoff history all four Divisional Round games are rematches. And that is not necessarily a bad thing considering the regular-season results. AFC North rivals Pittsburgh and Baltimore and AFC East rivals New England and the New York Jets split their meetings this year. In the NFC, Atlanta and Green Bay played a close game decided on a last-second field goal and Seattle actually went to Chicago and won earlier this year. The oddsmakers foresee two close games and two potential blowouts. Pittsburgh is a 3.5-point favorite, according to NFL point spreads, and Atlanta is a 2.0-point favorite while the Patriots are 9.0-point favorites and Chicago is a 10-point favorite.
S – Sparano, Tony. If his name was Tony Soprano maybe he would get a little more respect, but instead Miami Dolphins Coach Tony Sparano is being disrespected big time. The Dolphins publicly courted Jim Harbaugh and Bill Cowher for a head-coaching position that Sparano occupied. When those plans didn't work they came with egg on their face and offered Sparano a two-year extension which he accepted. To make matters worse Dolphins Owner Stephen Ross decided to interject himself by suggesting Miami go with a hurry-up offense. Good luck with that considering your two quarterbacks are both named Chad and are both are slow.
T – Tostitos. Brent Musburger single handily resurrected the famous "Brent Musburger Drinking Game" with his idiotic botched calls of the National Championship Game at critical junctures. He mistakenly called a premature touchdown on a long Oregon pass completion. The only problem was the runner was tackled at the three-yard line and Oregon never did score on that drive. And then with the National Championship on the line during a potential game-winning field goal Musburger busted out this embarrassing shameless sponsor shout out, "This is for all the Tostitos." So not only does Auburn have a title it also has a lifetime supply of tortilla chips, apparently.
U – Unidentified Heckler. The famous viral video of a single Auburn fan heckling Athletic Director Jay Jacobs on the tarmac at a small regional airport back in 2008 received over 700,000 views since it was posted two years ago. The heckler was responding to the hiring of Gene Chizik from Iowa State. The heckler yelled "We want a leader not a loser!" in the direction of Jacobs and news cameras. Luckily for the heckler his face was never captured because he looks pretty stupid now after the Tigers won a National Championship this week. Even with the fame (or infamy) that would come with owning up to it, nobody has stepped forward and admitted they were the heckler.
V – Victoria Beckham. Posh Spice and husband David Beckham are expected to welcome a fourth child later this year, according to David Beckham's Facebook account. The real suspense is not in whether the child will be a boy or a girl, but rather just how unconventional the name will be. The pair has three boys already, and their names are Brooklyn, Romeo and Cruz.
W – Wannstedt, Dave. All of a sudden recently fired Pitt Head Coach Dave Wannstedt is a wanted commodity in the NFL. Wannstedt won a Super Bowl as a defensive coordinator in Dallas but he was also fired in Chicago and Miami. aEven after five mediocre seasons at Pitt, Wannstedt's old buddy Norv Turner has expressed interest in bringing Wannstedt in as a defensive coordinator. The Browns and Bills have also expressed interest in Wannstedt, which probably explains why those two franchises are in the predicament they're in.
X – Xbox. What is better than one television in your hose wired with Xbox? How about 18 wired with Xbox. Former NBA player Matt Geiger sent out on a mission in 2002 to build the best bachelor pad in the country. In 2007 Geiger sent out to sell his 28,000-square-foot palace with six bedrooms and eight bathrooms in the Tampa Bay area for $20 million. Four years later he finally has a buyer who landed a bargain by paying only $8 million for the mansion that features a putting green, an artificial lake stocked with 2,500 bass, a personal herd of livestock (12 buffalo, 11 cattle, two donkeys, a miniature horse and one cow) and 40 televisions, including 18 wired with Xbox.
Y – Yamamoto, Norifumi. UFC returns to Las Vegas for the highly anticipated UFC 126 at Mandalay Bay Events Center. The main event features Anderson Silva (-270) against Vitor Belfort (+210). Forrest Griffin is also in action as an underdog against Rich Franklin (-170) but the show stealer could be the opening bout between Norifumi "Kid" Yamamoto (-165) and Demetrious "Mighty Mouse" Johnson (+135).
Z – Zone, Earthquake. Apparently Qwest Field became an earthquake zone on Saturday after Marshawn Lynch's video-game like rumble for a touchdown against the Saints. The Pacific Northwest Seismic Network (or PNSN as everyone knows it) recorded a small tremor in downtown Seattle at 4:43 p.m. local time. That coincided with the same time Lynch broke a tackle from every New Orleans Saint on the field to put the cherry on top of the Wild Card round upset.