Weekly Sports Betting Hot/Cold List
by Nolan Sinclair - Strike Point Sports - 11/10/2011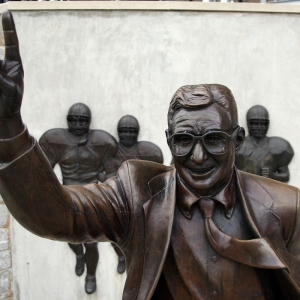 We are still a ways out from awards season in the NFL. The first half of the year has been completed, but there is still plenty of football to be played and a lot yet to be determined. What if, for example, Aaron Rodgers was to hurt his shoulder or his knee this weekend?
But there has been enough football played for us to look back and give some completely meaningless midseason awards. However, I'm going to do some things a little differently. Obviously Rodgers is the NFL MVP. And clearly Jim Harbaugh is the Coach of the Year and Cam Newton is the Rookie of the Year. So instead of more gushing over that trio I will focus on the runners-up in those three categories.
Here are three of my good-but-not-good-enough candidates for the NFL's top awards:
MVP Runner-Up: LeSean McCoy – Shady has been doing some amazing things this season. McCoy leads the NFL in rushing yards (825) and TDs (11). Add to that 28 receptions for 184 yards and you have quite the nine-game stretch. The Eagles have been massive underachievers so far this year. But imagine where they would be right now without the guy having the best year of any back in football.
Rookie of the Year Runner-Up: Andy Dalton – Mr. Dalton has been outstanding in his rookie season and he may actually have a chance of passing Newton for the real ROY by the end of the season. His numbers aren't nearly as gaudy as Newton's. But Dalton's team is 6-2 and in the middle of the playoff hunt compared to Newton's 2-6 mark. The MVP generally always comes from one of the top teams. Shouldn't it be the same for the ROY?
Coach of the Year Runner-Up: Marvin Lewis – Let's give Marvin some credit. Most people thought Cincinnati would be lucky to win 4-5 games this year and they have already topped that through eight weeks. Lewis dealt with numerous issues this offseason, but he kept his head right and is doing an outstanding job with a young team. (Yeah, they have been basically playing a Big Ten schedule, but still.) Well done.
Here is this week's version of Doc's Sports Hot and Cold List:
COLD LIST:
10. Kevin Gilbride – Someone tell this schmuck to run the ball on first- or second-and-goal from inside the two. He salvaged something from the fact that the G-Men pulled out the win but man, this guy is killing me.
9. St. Louis Rams – The Rams are 1-7 against the NFL point spread on the season. The 1-7 record includes two 14-point lines that St. Louis failed to cover in a year when double-digit underdogs have been raking. Ouch.
8. Ryan Torain – Shanahanigans loves to mess with the minds of running backs. And now that Torain hasn't topped 30 yards since his 125-yard outburst last month he has seemingly fallen by the wayside. I suppose I could put the entire Redskins team here at No. 8.
7. David Stern – This guy is the definition of megalomaniac.
6. Tampa Bay Bucs – The Bucs are just 1-4 ATS in their last five games. With games against Houston, at Green Bay, at Tennessee, and Carolina on deck things don't get much easier. This could be a fall back year for the young Bucs.
5. The Game of the Century – Alabama vs. LSU was being compared to the Ultimate Warrior vs. Hulk Hogan, and yet we seem to forget Ohio State vs. Michigan when they were 1 vs. 2 several years ago. That was a much better game and I, for one, was bored out of my mind by that SEC debacle last week. Ugly.
4. Texas A&M Aggies – The Aggies are a sneaky bad team at the books. Many view A&M as a viable option to lay their money on, but the Big 12 vagabonds are just 2-7 ATS this year. A matchup at Kansas St. awaits, but no matter how that one swings this has to be considered a disappointing year for this group.
3. San Diego Chargers – Phil Rivers' boys are just 2-7-1 ATS in their last 10 games overall. The Chargers are turning the ball over and not taking care of business in games they should. Their chances of covering their futures total of 10.0 wins looks bleak.
2. Broncos hype – Tebow and company are getting a lot of pub as of late, but be wary. Denver is 1-9-1 ATS in their last 11 games following an ATS win. And yes, he is 2-1 in his last three starts, but the two wins came against the Dolphins and Raiders, two of the worst organizations in the sport.
1. Penn State – Just an absolutely disgusting display of humanity. May the Lord bless the families of the victims.
HOT LIST:
10. Miami Dolphins – Congrats to the Dolphins for picking up their first victory of the season. They destroyed the Kansas City Chiefs in Arrowhead. The downside is they may have cost themselves a shot at Andrew Luck. The Dolphins have covered the last two games without their best defensive player, Vontae Davis, and I think this team is better than its record shows. I wouldn't say the same about Indianapolis.
9. Chicago Bears – This team was a late touchdown away from the Super Bowl and they actually finished ahead of Green Bay in the NFC North last year. Seemingly left for dead after a slow start, they have topped Tampa in London and the Eagles in Philadelphia in their last two games. This week they get a chance to crack another one of the most hyped teams in football – Detroit.
8. Kentucky Wildcats Basketball – Look, it doesn't matter who you are playing: if you get up on a team 74-13 in the first half and go on to win 125-40 in a college basketball game you are doing something right. All of this preseason hype is just going to make it so much better when John Calipari gets his smug face punched in by some upstart this coming March.
7. Vegas Oddsmakers – The books are a stout 62-62-6 ATS on the NFL season. Splitting action and splitting winners is what they are all about and they are doing a masterful job in one of the weirdest pro football seasons in recent memory.
6. College Basketball – And so it begins! LETS GO ORANGE! It's great to have another sport to gamble on to bridge the gap between Monday and Saturday.
5. Arkansas Razorbacks – Arkansas rocked South Carolina on Saturday to keep pace with LSU in the SEC West. The Razorbacks have won their last three home games both SU and ATS. Take stock in these Pigs as the three Ws have been against South Carolina, Auburn, and Texas A&M. Imagine the BCS chaos they could inflict if they were to knock off LSU.
4. Aaron Rodgers – The Green Bay signal caller is an absolute surgeon. He makes throws that seem impossible. If there is a window he will find it, and he just makes everything look easy. Bravo Mr. Rodgers. And if you are betting against the Packers right now you have no one to blame but yourself.
3. New York Jets – The J-E-T-S, Jets, Jets, Jets are on a nice little streak as of late. NY has won three straight both SU and ATS. A huge matchup with New England lurks for a share of first in the AFC East and New York is obviously back in the good graces of the books; they have been installed as a slim favorite this weekend.
2. Jake Ballard – Kevin Boss who? Ballard made two huge plays on the Giants' final drive versus the Patriots to seal a huge victory last week. I love this guy.And yes, he gets to be this high because I am an unabashed homer as a Giants fan!
1. The Hot List/Cold List – Check back next week for more.
Strike Point Sports has been tearing up the NFL so far this season, earning six of nine winning weeks with their NFL picks. They are a near-perfect 10-4 with their football predictions rated 5.0 or higher and will have a 7-Unit College Game of the Year this week. This is one pro handicapper that you don't want to miss!