Wide Receivers in the 2011 NFL Draft
by Dave Schwab - 3/3/2011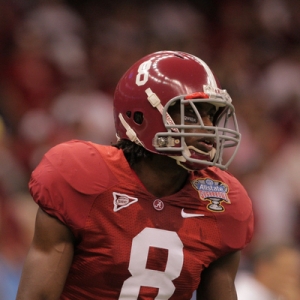 Regardless of what happens over the next few weeks with the current NFL labor situation, the 2011 NFL draft this April 28-30 will be held as scheduled. This past week over 300 of the nation's top prospects completed a wide array of testing, probing, and prodding at the Scouting Combines in an effort to further access their value in this year's draft.
Many of these players, especially at the skill positions, will now go on to perform at individual team workouts to hopefully enhance their position in the draft. Come April, pro scouts should be left with a fine-tuned list of all the top players at each position. The following is a look at the top players at the wide receiver position for the 2011 NFL draft.
A.J Green – Georgia
Green has been thought of as the top wide receiver in this year's draft from day one, and still remains a projected Top 5 pick. He has great size at 6-foot-4 and 211 pounds and is known for his ability to catch the ball in traffic, much in the mold of a Larry Fitzgerald. He does not have blazing speed but he turned in a decent 4.48 time in the 40 at the Combine. He should be the first receiver to come off the board.
Julio Jones- Alabama
Jones became the talk of the Scouting Combines after running a 4.39 40-yard dash with a broken bone in his foot. His stock also rose after posting a 38.5 vertical and an 11-foot-3 broad jump, making him the solid No.2 receiver in the draft. Jones has prototypical size for the position at 6-foot-3 and 220 pounds, which is a major plus considering his speed.
Jonathan Baldwin- Pittsburgh
There is little doubt that Baldwin is an incredible athlete, but there are some general concerns about his attitude and work ethic. Size and speed are not an issue at 6-foot-4 and 228 pounds with a 4.45 time in the 40. He has great hands and can go over the middle, but what separates him from some of the other top prospects is his ability to block downfield.
Torrey Smith- Maryland
Smith's 4.37 time in the 40 was one of the fastest of all this year's receivers. He is a bit undersized at 6-foot-1 and 204 pounds, but his blazing speed and sure hands make him a legitimate first-round pick. Last season he caught 67 balls and averaged 15.7 yards a reception for a very average Maryland offense.
Titus Young- Boise State
Young was the principal receiver in one of the nation's most prolific offenses for the past two seasons. Pro scouts may question his size at 5-foot-11 and 174 pounds, but just like Philadelphia's DeSean Jackson, looks can be deceiving. His 4.43 40 time at the Combine may have hurt Young's chances to go in the first round, but he would be a steal in the second.
Leonard Hankerson-Miami
Hankerson's stock rose with a strong performance in this year's Senior Bowl. He ran a 4.45 40 at the Combine, but he is really known as a possession receiver for his powerful frame and ability to go up and get the ball in traffic.
Randall Cobb-Kentucky
Cobb is another undersized receiver at 5-foot-10 and 191 pounds, but his versatility as a kick or punt returner could make him a valuable asset as a late second or early third round pick. He ran a respectable 4.45 40 at the Combine but has been clocked at faster speeds than that.
Jerrel Jernigan- Troy
Jernigan's stock dropped a bit at the Combines with a higher-tha- expected 4.47 time in the 40 after posting a 4.32 speed in a previous run. He is also a bit undersized at 5-foot-9 and 185 pounds, but is extremely athletic, especially in the open field. His speed and kick returning skills should make him a late second or early third-round pick.
Edmund Gates-Abilene Christian
Gates 4.35 speed in the 40 at the Combines caught some eyes after having a projected time of 4.46. The speedy 6-foot-0 and 192 pound receiver also notched an impressive 10-foot-11 distance in the broad jump. He had 66 receptions and averaged 17.9 yards a catch in his senior season. Gates will most likely still be on the board into the third round.
Dwayne Harris- East Carolina
Harris did not impress anyone with his 4.52 speed in the 40 at the Combine, but his body of work at East Carolina including 101 receptions for 1,123 yards in 2010 is bound to catch some team's eye. Projected as high as a fifth-round pick, he would still be a tremendous steal in the late third or early fourth round.