Case of the Tuesdays: Ravens As We Knew Them May Be No More
by Ricky Dimon - 10/23/2012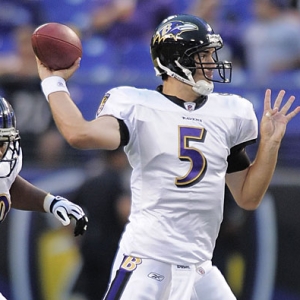 "Once upon a midnight dreary, while I pondered weak and weary…"
-- Edgar Allen Poe, "The Raven"

That's just about how every Baltimore Ravens fan must be feeling today, after (or more like during) a stretch of bad luck and bad play that was nothing less than disastrous. But they aren't alone. It was a tough weekend for all kinds of players, all kinds of teams, and even for entire leagues.

(all odds provided by Sportsbook.ag)

Baltimore Ravens. It did not take long to find out how Baltimore would get by without injured defensive stars Ray Lewis and Lardarius Webb. How about a 43-13 shellacking at the hands of Houston? Granted, the defense wasn't entirely culpable for Houston's onslaught, but the whole team performance was dreadful and disheartening. The Ravens have plunged to +2000 to win Super Bowl XLVII.
One-win teams. Three NFL squads still have a breadstick in the win column despite plenty of opportunities to add to their totals on Sunday. Carolina lost to Dallas, 19-14, then fired its general manager, Jacksonville lost to Oakland in overtime then watched Maurice Jones-Drew stumble to the locker room on crutches, and Cleveland lost to Indianapolis, 17-13, then had to continue dealing with the harsh reality of Jason Pinkston's dangerous blood-clot condition. The Browns are +3 underdogs at home against San Diego in Week 8.

The NHL. After last Thursday's labor negotiations, NHL commissioner Gary Bettman came out saying the process had taken "a step backwards" and that the league and players were "nowhere close" to a deal. Bettman even surmised that the two sides are "not speaking the same language." Well, that's encouraging! The New York Rangers and Pittsburgh Penguins (both at +800) are current favorites to win the 2013 Stanley Cup, trailed by the defending champion Los Angeles Kings at +900.

Detroit Tigers. Okay, it's not bad to be the Detroit Tigers right now. It's actually quite good. They are hottest thing in baseball and the favorites to win the World Series. But this long layoff after a sweep in the ALCS can't be a good thing…as their own history attests. Detroit had six days off in 2006 and then got smoked by St. Louis in five games. For its second go-around, Jim Leyland's squad will have had five days off by the time Game 1 takes place in either St. Louis or San Francisco. The Tigers are -160 favorites to win the Fall Classic.
Star forwards. The NBA season will begin with three of the game's most high-profile forwards on the sidelines. Kevin Love suffered a broken hand last week, Dirk Nowitzki underwent arthroscopic knee surgery, and Amare Stoudemire has a ruptured cyst in his left knee. Love and Dirk are expected to be out at least six weeks while Amare will likely miss two or three. The T-Wolves are +3000 just to win the Northwest Division; the Mavs and Knicks are both +4000 to win the NBA Championship.

Stephen Curry. Ever since joining the NBA ranks, Curry has dealt with the dubious distinction of having the worst ankles in the league. And it's not even close. Now it's become even worse, as the season hasn't even started and Curry is already injured. The former Davidson star could be ready for next week's season opener, but the chances of him staying healthy for the entire 2012-13 campaign are about as slim as his frame. Golden State is +4000 to win the Pacific Division, +5000 to win the West, and +10000 to win it all. The team's "over/under" win total is 36.

Kris Humphries. Getting divorced from Kim Kardashian is bad. Having your mom move in with you is super-bad. Technically, Humphries' mom isn't living with him since they aren't in the exact same apartment. But they are in the same complex after Mama Hump's recent move to the $8K-per-month Manhattan building. Hey, at least Kris is finally playing for a basketball team that appears to be on the rise. The Nets are +500 to win the Atlantic Division, +2000 to win the East, and +5000 to win it all. Their over/under win total is 44.5.

West Virginia. Oh how the mighty have fallen. Actually, the Mountaineers were never that mighty. They just finally got exposed when they had to start playing good teams. A 49-14 blowout loss at Texas Tech was followed by a 55-14 home humiliation vs. Collin Klein and Kansas State. Geno Smith and company have an off week to lick their wounds before a Nov. 3 home date with TCU (West Virginia opened as a -6 favorite).

Lindsay Lohan. Last Friday's intervention on LiLo was no small operation. It may have been spearheaded by her dad, Michael, but reports are that it involved just about everyone; managers, lawyers (plural), siblings, cousins, friends, enemies, pets…. Now her dad is prepared to go to court and ask for a conservatorship.

What does this have to with sports? Absolutely nothing, thankfully. But I can think of several organizations that need (or needed) a conservatorship, and one of those organizations didn't wait long. The Red Sox heisted John Farrell from Toronto to replace the debacle of manager that was Bobby Valentine. This doesn't make Boston a 2013 World Series favorite by any means, but Farrell can't be any worse than Bobby.