Fourth Down and Inches: Doc's Weekly Football Betting Report
by Doc - 10/2/2012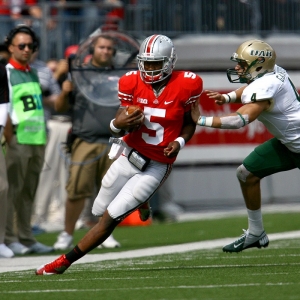 We came into Week 5 of the college football season fresh off a 5-3 performance the weekend before that left us +11 units. This had us fired up to release our "College Game of the Year" for this past Saturday night's Wisconsin at Nebraska game. Having been in the sports selection industry for well over 40 years, I have picked my fair share of winners. However, I also fully understand that in this business things sometimes do not go as planned. Doc's Sports was all over the Cornhuskers in this one as 12-point favorites as home, but a disastrous start with turnovers and penalties dug a 20-3 first-half hole that we were never able to climb out of. Nebraska staged a furious rally to win by three points on a late field goal, but if it would have just played like it did for the last quarter and half right from the start, this game would have never been close.
This experience has forced us to come to the conclusion that there is no complete team in the Big Ten this season. Ohio State probably comes the closest, but it remains ineligible to win this season's title. This makes our "home conference" a wide-open race with as many as six teams still in the running to win it all. The next few weeks will go a long way towards separating the contenders from the pretenders. However, right now your guess is as good as mine as to which teams will actually emerge at the top of the heap in their respective divisions.
Everyone is well aware how the SEC has dominated the landscape of college football over the past half-decade with six straight BCS champions. So far this season, no other SEC team has established itself as a serious threat to knock No.1 Alabama off of its lofty perch. In a conference that prides itself on playing shutdown defense, there are quite of few points going up on the board against the likes of No.4 LSU and No.5 Georgia. Last Saturday, Division IAA Towson scored 22 points on the Tigers and the Bulldogs gave up 44 points to Tennessee.
If you are looking for the most complete conference among the majors, take a hard look at the Pac-12. We have them pegged as the strongest major from top to bottom and more than capable of producing a one-loss National Champion. Oregon remains the team to beat at No.2, but do not count-out USC or maybe one of the other four teams that is currently ranked in the AP's Top 25 from making a move to the front of the class.
Going back to the Big Ten, the game that should capture everyone's attention this week sees Nebraska on the road against Ohio State as a three-point underdog this Saturday night. Urban Meyer has already made his presence known in the conference both on and off the field through accusations of doctoring game tapes as well as pulling off some other mind games with his fellow Big Ten coaches. It is clear that Meyer's ultimate plan is to establish the Buckeyes as the preeminent football program in the conference, both now and for years to come. Nebraska's Bo Pelini is just trying to establish that his Cornhuskers can win a big game in the Big Ten. The fans and media are getting a bit restless back in Lincoln, but a win over Ohio State would calm everyone down in the short term. Long term, the expectation level will always run high for whoever is at the helm of this storied football program.
One of the games on the Big Ten undercard for this Saturday is Michigan at Purdue, with the Boilermakers getting three points at home. Many people probably overlooked this matchup when the 2012 Big Ten schedules were first released. However, we believe that Purdue is more than capable of competing for this season's Leaders Division title, especially if it gets by Wisconsin next week at home. Turning back to this Saturday's game, look for Purdue to take away Denard Robinson's running lanes and make him win this game with his arm. The Boilermakers have been fairly stingy on defense so far and could make a great bet on the money line this week at +130. They certainly look like the better team when you compare each of their game tapes against Notre Dame this season.
It is safe to say that Doc's has plans for a big bounce-back this week after coming up short on our "College Game of the Year". Fortunately, we made-up most of our losses this past Sunday with a 2-0 record on our top NFL plays, including a 5-unit winner with New England. Look for another Top Play in the NFL to be released later this week and has always, please reach out to us at 1-800-356-9182 to cash in on this and all our other top selections for the week.
Doc's Sports wants to give you a great offer to try out our expert college football handicappers for free with no obligation, no credit card required and no salesman ever! These are the same college football picks that our clients receive from any of our Advisory Board handicappers and you can get $60 in picks credit in minutes. Click here for more details and to take advantage of this free $60 picks credit today.