This Week in Sports Betting, A-Z
by Nicholas Tolomeo - 2/9/2012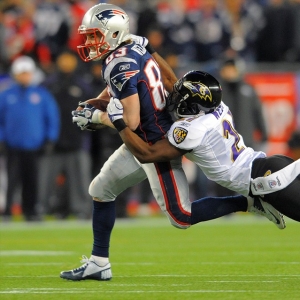 A – Austin Rivers. The older sister of Duke guard Austin Rivers, Callie Rivers, is dating North Carolina guard Dexter Strickland. This news surfaced just in time for the first Duke/UNC game this season. Rivers drilled the game winning three-pointer Wednesday night in the rivalry game so apparently he is not affected by his sister's dablings in Carolina Blue. A quick search of Callie Rivers shows you that she has quite the "donk" and she is a fan of the "duck face".
B – Butterfingers. Eli Manning got to go to Disney World, Wes Welker got 900 butterfingers dropped in Boston's Copley Square in his honor with a note reading, "Thank you Wes Welker." Welker is receiving a lot of heat for his critical dropped pass in the waning moments of Super Bowl XLVI. Pawngo.com took credit for the stunt and the company was promptly fined for illegal dumping. Welker was not fined for the dropped pass, by the way.
C – Can't shoot. Seton Hall Basketball Coach Kevin Willard was being as honest as possible when he angrily told a reporter, "I don't think we don't have one guy who's not in a slump…I'm the only coach who has white guys that can't shoot." Apparently Willard has never watched an Ivy League game. To be fair, his mostly white team had just shot 25 percent from the field including 5-of-26 from three-point range. The best part about Willard's comments is that Seton Hall is a catholic school.
D – Disliked. Detroit Lions tough guy Ndamukong Suh has gone from one of the most liked players in the NFL just four months ago to the fourth most disliked guy, according to a poll by Forbes. If he wants to crack the top three he is going to have to step his game up. The top three is held down by such hated veterans as Tiger Woods and Michael Vick, who tied as being 60 percent disliked. Plaxico Burress is still somehow the third most disliked athlete. (see F for full list).
E – Eli Manning. There may be nothing more unintentionally funny than the Eli Manning "I'm going to Disney World" commercial that is airing. Manning is likely the first Super Bowl MVP to literally be more excited about going to an amusement park than winning a Super Bowl.
F – Forbes. In the annual list of most disliked professional athletes there are some surprises after the fantastic four of Tiger Woods, Michael Vick, Plaxico Burress and Ndamukong Suh. Rounding out the top 10 is No. 5 Kris Humphries, No. 6 LeBron James (finally a ranking James is ahead of Kobe Bryant in), No. 7 Kobe Bryant, No. 8 Terrell Owens (somehow still this disliked despite not even playing last year), No. 9 Alex Rodriguez and No. 10 Kurt Busch (hey I thought this list was for athletes).
G – Gronkowski. Rob Gronkowski was unable to dive to catch a deflected Hail Mary and win the Super Bowl for the Patriots, but a shirtless Gronkowski was able to jump around on stage at a Super Bowl post-game party. The party at the terribly named Victory Field featured LMFAO, Maroon 5, Steven Tyler and a shirtless Gronkowski and a shirtless Matt Light jumping around on stage acting like they didn't just lose a Super Bowl.
H – Hipsters. Soon Seattle hipsters may have two more professional sports teams to ignore. Rumors are circulating that an arena can be built to house an NBA and NHL team in Seattle. The teams up for relocation are likely the Sacramento Kings and the Phoenix Coyotes.
I – Inappropriate "Yo Mama" Jokes. A youth hockey coach in Canada (where else) made some incredibly funny and incredibly lewd comments about a 12-year-old player's mother during a pregame locker room speech. Some coaches use pregame speeches to fire up the squad, this coach used the pregame speech to tell the player his mother was wearing too many different shades of lipstick and that his penis was starting to look like a rainbow.
J – Jacobs, Brandon. New York Giants running back Brandon Jacobs spoke for all of America when he told reporters that Gisele Bundchen needs "to continue to stay cute and shut up."
K – Kendrick Perkins. The Oklahoma City big guy is fed up with LeBron James. Perkins says James is always looking for attention and is really upset about his Tweeting habits. James, of course, Tweeted that the dunk of the year was when Blake Griffin threw it down on Perkins' head. Perkins said you don't see the great ones like Kobe Bryant and Michael Jordan Tweeting. The only problem with that statement is that the guy who invented Twitter probably wasn't even born yet when MJ was playing.
L – Las Vegas. Most spreads emanating out of Las Vegas are spot on. Baseball season win totals are not most spreads. Last season only six teams' final totals were decided by three games or less. The easiest wins were the Arizona Diamondbacks, who won 94 games to go 22 over the total, and the Minnesota Twins, who won 63 games to stay 23.5 games under the total.
M – MLS. Two Houston Dynamo players (that is an MLS franchise by the way) were arrested over the weekend after a skirmish with officers outside a Houston area night club. The soccer players claim they were denied entry to the club because they were black. African-Americans Warren Creavalle and Alex Dixon were with their white but equally unknown teammates, Tyler Deric and Will Bruin, when they claim the club said no because of their race. The club contends it was because the players were drunk. I contend it was because they were soccer players.
N – New York Jets. For an unbeknownst reason, the New York Jets took out a full page ad in the New York Daily News congratulating the New York Giants for winning the Super Bowl. The ad said "You played with passion and toughness (unlike us)." I added that last part. The Giants should have taken out a full page ad thanking the New York Jets for not showing up back in Week 16 with the Giants season on the line. The Giants rolled over the Jets, 29-14, to begin their six-game winning streak that won them a Super Bowl.
O – Overrated. The new most overrated thing in sports is the NFL first-round bye. Five of the last seven Super Bowl champions did not have a bye, Giants (2011), Packers (2010), Giants (2007), Colts (2006) and Steelers (2005).
P – Phillies. Angry that their ballpark is invaded annually by Philadelphia fans, the Washington Nationals have launched an ill-advised "Take Back the Park" campaign. The Nationals released single game tickets for the series against Philadelphia, but only Maryland, Virginia and Washington DC-area credit cards were allowed to make purchases. To the surprise of absolutely no one this strategy blew up like Stephen Strasburg's elbow. After one day of ticket sales, over 9,000 popped up on secondary sites and were available to anyone.
Q – Questionable Color. One of the most popular Super Bowl prop bets was a "no action" this year when Giant players somehow found some riptide rush and dumped purple Gatorade on Tom Coughlin. Even though purple Gatorade was dumped on Jon Gruden after the Super Bowl in 2003, purple was not one of the available colors to choose from (clear/water, blue, yellow, red and orange were), and there was no "field" bet.
R – Rangers-Devils. If you were late to your seat for the Rangers-Devils game on Tuesday, you missed all there was to see. As soon as the puck dropped a tag-team fight broke out between New Jersey's Cam Janssen and Eric Boulton and New York's Mike Rupp and Brandon Prust. After the fight David Clarkson scored a first period goal to give the Devils a 1-0 lead. After that it was typical hockey, nothing happened. The Devils would win 1-0.
S – Sportsbooks. The official handle for Nevada sports book for Super Bowl XLVI was $93,889,840 topping Super Bowl XLV ($87,491,098). The overall handle still fell short of the record Super Bowl XL which brought in $94,534,372 in bets. That game featured the Steelers and Seahawks but, more importantly, a robust economy.
T – Taco Bill. Buffalo Bills offensive lineman Eric Wood Tweeted a picture of his $73.74 receipt from Taco Bell that featured 12 chalupas, one taco party pack (six crunch tacos, six soft tacos), six chicken quesadillas, six beefy crunch burritos, one crunch wrap supreme, three cinnamon twists, one cheesy rollup and one apple empanada. First of all, how do you only order one crunchwrap supreme?? Secondly, how much dope do you need to smoke to top off your taco party pack with cinnamon twists and a cheesy rollup? The best part about the receipt is you can clearly see when it was from, Feb. 5, at 3:18 a.m. aka Super Bowl Sunday. So one plus about playing for the Bills is instead of having trouble sleeping the night before the Super Bowl, you can spend $73 at a Taco Bell in the middle of the night.
U – "Under" and "Over". When you're on, you're on and the oddsmakers were on when it came to this year's Super Bowl "National Anthem". Half of the sportsbooks posted a total of 1:34 and the others posted 1:35, no big deal right? Well Kelly Clarkson managed to finish in 1:34.5.
V – Vegas. Last time the Giants won the Super Bowl, Vegas took it on the chin to the tune of $2.5 million. This year the 184 legal sports books in Nevada made $5 million.
W – Wynn. A giant fuss was made about the guy who won $50,000 by wagering on a safety for the first score in Super Bowl XLVI. Some even luckier guy inexplicably threw $50,000 on the Giants to win the Super Bowl at the Wynn in Las Vegas back when they were 7-7 and had 20 to 1 odds to win the Super Bowl.
X – XX Dos Equis. Eli Manning might be the most uninteresting man in the world, but this week a mashup of a popular Dos Equis ad started making the rounds on the Internet. It featured Manning in place of the most interesting man in the world with the phrase, "I don't always win Super Bowls, but when I do, I beat Tom Brady."
Y – "Year of the Dragon". The San Francisco Giants might have run out of active players to make bobbleheads out of because this season they announced Bruce Lee bobblehead night to commemorate the "Year of the Dragon".
Z – Zero buyers. Someone managed to capture a sex tape between Texas Rangers outfielder Josh Hamilton and some Dallas area whore who went at it in the bathroom at Sherlock's a Dallas bar during Hamilton's famous relapse. A local television station was offered the tape for $41,000. They said no and had to wonder why it was such a random number. The sex apparently did happen as about 10 people have claimed to see Hamilton and a female enter the restroom together.