Usain Bolt vs. Yohan Blake Olympic Props Odds and Predictions
by Alan Matthews - 8/1/2012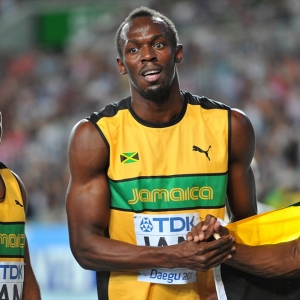 With all due respect to the Michael Phelps-Ryan Lochte duel, the great story of 17-year-old American swimmer Missy Franklin and the U.S. men's basketball team laying waste to every team in its path, the biggest and most-anticipated single event in the 2012 London Olympics is the men's 100-meter dash to anoint the fastest man on earth.
Phelps obviously was a massive star in Beijing four years ago in winning his record eight golds. But the bigger star worldwide became Jamaican sprinter Usain Bolt in winning the 100- and 200-meter dashes in world-record time (since broken again by Bolt). He was also part of Jamaica's 4x100m relay gold medal and world-record-setting team in Beijing (also since broken by Jamaica).
For better or worse, Bolt is track and field at the moment. But he's also not even the best sprinter on his own team right now – that would be teammate Yohan Blake. And their duel in the 100 meters looks to be the most anticipated in that event since American Carl Lewis and Canada's Ben Johnson faced off in Seoul in 1988. (This year's 100-meter prelims and first round are Saturday with the semifinals and finals on Sunday).
That's because Blake won the 100 meters at last year's world championships when Bolt was disqualified because of a false start. And to prove that was no fluke, Blake beat Bolt in the 100 and 200 at the Jamaican trials for the London Olympics.
The 6-foot-5 Bolt still holds personal bests and the world records in the 100 (9.58, set at 2009 worlds) and 200 (19.19, also at 2009 worlds), but he mostly hasn't been the same runner since '09. Injuries have been a problem and some think Bolt's superstardom and commercial commitments have hindered his focus and training.
Blake, 5-foot-11, holds personal bests of 9.75 in the 100, set in winning the Jamaican trials, and 19.26 in the 200 (last year), which is the second-fastest time ever. But Blake, nicknamed "the Beast" by Bolt, has the better times in both this year than Bolt: that 9.75 (tops in the world in 2012) to Bolt's 9.76 in the 100 and 19.80 in the 200 to Bolt's 19.83. Blake is a beast for training, hence the nickname, and appears to be peaking at the right time. The only question is if he will melt under the pressure of competing in the Olympic stage. At 22, he is three years younger than Bolt.
"I was at home watching the Olympic 100 m final four years ago," Blake said. "I was nervous because I knew what Usain could do. In 2008, when that happened, I'd just left school. I tried out for the Olympic team and I didn't make it because I was young and I wasn't that strong.
"But now we are four years down the road. I'm stronger now. I'm confident. Everybody talking about 'experience this' and 'experience that.' For me, it's all about going out there and keeping focused and getting the job done. It's not about beating Usain."
(Blake does have a mark on his record. Prior to the 2009 World Championships, he tested positive for the stimulant 4-Methyl-2-hexanamine and received a three-month ban from the Jamaican Anti-Doping Commission even though it wasn't on the WADA banned list.)
So let's look at some props from Bovada matching Bolt and Blake as well as the 100-meter and 200-meter odds:
Men's 100 meters Blake vs. Bolt: This isn't necessarily stating that either guy has to win but just which sprinter finishes ahead of the other. Bolt is at -175 and Blake at +135.
Men's 200 meters Blake vs. Bolt: Many believe that Bolt is better suited for the 200 than the 100 because he is so tall and his strides are so long. He is -200 and Blake +160.
Will Bolt win both the 100 and 200 gold medals: "No" is -175 and "yes" at +125. Of course, Bolt did so in 2008 but this is a rare feat. The previous guy to do it was Lewis in 1984. Just for comparison's sake and to show how faster athletes are becoming, Lewis ran 9.99 in the 100 and 19.80 in the 200.
In the 100, Bolt is the -143 favorite with Blake at +150. Tyson Gay is the top American at +1000, followed by Justin Gatlin at +2000. Gatlin has the third-fastest time in the 100 this year, a personal-best 9.80 in winning the U.S. trials, 0.06 seconds ahead of Gay. Gatlin won gold in the 100 in Athens eight years ago (time of 9.85) but then served a four-year ban from the sport due to a positive test for performance-enhancing drugs.
In the 200, Bolt is the -175 favorite with Blake at +163. The top American is Wallace Spearmon Jr. at +1200. He won the 200 at the U.S. trials with a time of 19.82. Spearmon lost the bronze medal at the Beijing Games because of a lane violation.
So what are my suggestions? I don't think Bolt wins two golds but do believe he is a lock in the 200 meters, with the finals of that event on Aug. 9. Take Blake to win the 100 gold and obviously to finish ahead of Bolt in that event.