This Week in NFL Betting by the Numbers
by Ricky Dimon - 11/29/2012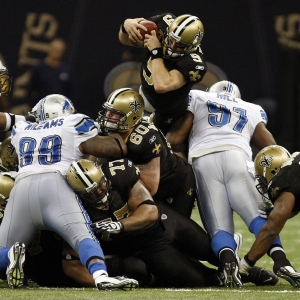 Only five weeks remain in the NFL's regular season. For some, that's good news. For others, that's great news. It's a good thing for leaders of every AFC division other than the South (New England, Baltimore, and Denver) and Atlanta in the NFC North. All four of those teams can mathematically clinch division titles. It's a great thing for cellar-dwellers like the Chiefs and Eagles, who can begin their driving-range sessions and start setting up tee-times.

A look at the Week 13 numbers (all odds provided by Sportsbook.ag):

11-2 – New Orleans' record in its last 13 games against NFC South rival Atlanta. The Saints have won four straight in the series (4-0 against the spread in that span), including a 31-27 home victory in Week 10. Atlanta is 0-3 (0-3 ATS) in its last three against New Orleans inside the Georgia Dome. The Falcons are tied with Houston for the best record in the league, and they have a 1.5-game lead over San Francisco in the NFC. They are 10-0 against everyone other than the Saints and 0-1 against the Saints. Atlanta is a -3.5 home favorite on Thursday night.

0 – Number of San Francisco quarterbacks since the 1970 merger who have won their first three starts with the franchise. Colin Kaepernick will get a chance to do just that after it was announced on Wednesday that he will start on Sunday at St. Louis. Kaepernick led the 49ers to a blowout of Chicago in Week 11, and he won at New Orleans last Sunday. He has three passing touchdowns (five total) and just one interception this season. San Francisco is a -7.5 favorite over the Rams.

2 – Number of Chiefs players who sought out Denver quarterback Peyton Manning following the Broncos' 17-9 victory last Sunday. Dwayne Bowe had his picture taken with the future Hall of Famer and Jamaal Charles got Manning's autograph, allegedly for his mother. The 36-year-old turned in a solid-but-unspectacular performance, completing 22-of-37 passes for 285 yards, one touchdown, and one interception. Denver is a -7 home favorite over Tampa Bay in Week 13.
4 – Length of suspension, in games, being faced by Seattle starting cornerbacks Brandon Browner and Richard Sherman for violating the NFL's substance-abuse policy. Naturally, they have appealed the suspensions and should be able to suit up for this week's showdown at Chicago. "This is issue will be resolved soon and the truth will come out. Not worried," Sherman tweeted on Monday. He's probably wrong, but at least he isn't (yet) making Ndamukong Suh-esque excuses (well, see, I stomped on him and dug my cleat into his arm because I was trying to get up and he was in my way). The Seahawks are +4 underdogs against the Bears.

8 – Turnovers committed by the New England Patriots this season. That's as many as the Pittsburgh Steelers had in one game alone last weekend! Tom Brady has thrown three interceptions in 421 attempts. Matt Ryan, a fellow MVP candidate, threw five alone in one game! No other team has thrown fewer than six! Brady is going up against a Miami squad that is 26th in the NFL in pass defense at 261.7 yards per game. The Patriots are -9 road favorites on Sunday.

1,000,000,000 – Dollars at which the Toronto Maple Leafs franchise is valued by Forbes. They are the first in the NHL to reach the $1 billion mark, and…well, where are we going with this? Does the NHL even exist right now? No. But, alas, one billion (to one) should be Arizona's odds to win the Super Bowl. The Cardinals, who are really +100,000, are 4-7 after starting the season 4-0. You don't have to be a math major to deduce that they've lost seven in a row. It's like the Eagles' 3-8 mark: as bad as those records are, both are nowhere near indicative of how just how terrible those two teams are. Arizona is a +4.5 road underdog at the Jets in Week 13.

28,000,000 – Dollars in Jason Babin's five-year contract that he signed with Philadelphia prior to the 2011 season. The Eagles released Babin one day after losing their seventh game in a row, a 30-22 home decision to the Panthers on Monday night. He had 18 sacks last year, but so far in 2012 he has recorded only 5.5. Philly, which started its campaign 3-1, is a +10 road underdog against Dallas on Sunday night. It is the largest spread in Week 13.
5 – Consecutive games in which Giants' running back Ahmad Bradshaw has not rushed for more than 78 yards. He's had fewer than 59 yards in four of those five contests. However, that has mainly been due to a lack of carries as opposed to a poor yards-per-rush average, and things are about to change with Andre Brown (broken fibula) on the sidelines. Bradshaw will get the bulk of the backfield work in a Monday night, NFC East showdown with Washington. The Redskins are third in the NFL in rushing defense at 89.2 yards per game. New York, which beat the Redskins 27-23 on Oct. 21, is a -2.5 road favorite.

RAPID FIRE

6.8 – NFL-best yards per rush, being averaged by Bills' running back C.J. Spiller, who is going up against a Jacksonville defense that picked up Babin off waivers on Wednesday.

10.4 – Points per game being averaged by Kansas City in its last seven games, all of which have resulted in losses.

13 – Days separating the two regular-season meetings between AFC North rivals Pittsburgh and Baltimore. Sunday's spread is still off due to the status of Ben Roethlisberger.

525 – Yards allowed by the Texans to Detroit on Thanksgiving, their most of the season after giving up a previous season-high 458 to Jacksonville in Week 11.