Weekly Football Betting Public Action Report
by T.O. whenham - 11/8/2012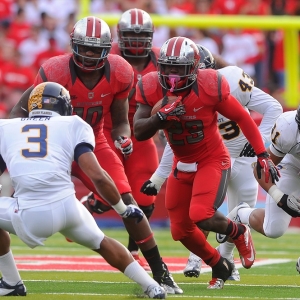 It has been a frustrating time for the Public Action Report the last few weeks, and that frustration certainly continued last weekend. Things looked strong in early action on Saturday, but the right teams faded at the end of their games, and the later games were just plain ugly. In the end it was a 2-5 ATS weekend. If sports betting didn't regularly test your patience and faith then everyone would do it, though, so all we can do is keep on keeping on. At 24-28 ATS all is not lost for the year — a couple of strong weeks and we are right back where we want to be. There are four games that fit the criteria this week — three in college football, and one in the NFL.
What is that criteria? Basically, what we are looking for are situations where the line movement doesn't make sense. If more than 70 percent of bets on a game have been made on one team then the odds for that team would usually get less attractive because the sportsbooks will be looking to get more balance to the action. There are times, though, when you'll see situations in which the odds are moving to become more attractive for a team despite the lopsided action.
That's what we are looking for. When we see that we know that either the smart money is heavily betting against the public or, for some other reason, the sports books aren't afraid of heavy action on the popular side. Either way, the team that is less popular to the public is worth a close look for us.
College football
Army (-17) at Rutgers (Saturday, Nov. 10, 12 p.m. ET)
More than 70 percent of bets have been on Rutgers here, yet the line has dropped from 19 to 17. That means that Army is worth a look. Previously unbeaten Rutgers was beaten up by Kent State last time out and then has had two weeks to think about it. When a team was clearly overachieving, as Rutgers was, a loss can shake the confidence and often leads to another one — or at least a sub-par performance. Air Force played by far their best game of the year in a dominating win over Air Force last week and will have no shortage of confidence. Rutgers has a very strong run defense, but they haven't been tested by a team nearly as devoted to the run as Army — the top rushing team in the country with more than 375 yards per game — and could be vulnerable.
Virginia (-1) vs. Miami (Saturday, Nov. 10, 12 p.m. ET)
Miami has drawn 80 percent of the bets in this one, yet though they started as one-point favorites they are now one-point underdogs. That surprising move means that Virginia is worth a close look. The Cavaliers had been terrible all year, but a dominating win at N.C. State last week could have woken them up and gotten them back on track. Miami beat up on Virginia Tech last time out, but that's not much of an accomplishment given how the Hokies have played in this wasted season. They have not been strong on the road, and they had lost three in a row before their last win. Therefore, they are certainly vulnerable.
Arizona State (+9) at USC (Saturday, Nov. 10, 3 p.m. ET)
USC, a very public team, has drawn 80 percent of bets in this one, yet the line has dropped from 11 points to nine. That means that the Sun Devils are our team here. USC came into this season with very high expectations — like National Championship dreams — but they are just 6-3, and they have lost two humiliating games in a row. Confidence is at a low point, and it could be easy for this team to spiral out of control the rest of the way — especially with such a volatile coach at the helm. Arizona State hasn't been as strong recently as they were earlier, but this play is more about how the Trojans have struggled than anything else.
NFL
Carolina (+3.5) vs. Denver (Sunday, Nov. 11, 1 p.m. ET)
Denver opened as 4.5-point favorites, and as high as 5.5 in some spots, but now are just favored by 3.5 in many places. Peyton Manning and company had drawn nearly 85 percent of the bets in this one, so that movement is striking, and a clear sign that Carolina is worth a look. Carolina has been terrible for most of the season, but they played by far their most complete and solid game of the year in winning in Washington last week. They still have a lot of work to do, but for the first time all year they looked focused and effective. Now they are home after two weeks on the road and should get a boost from that as well. Denver has been playing very well recently, but this is their fourth road game in their last five, so they could be weary. Denver's losses have all been to top-level quarterbacks having good days, so if Cam Newton plays as well as he can — and he was closer to that last week than he has been all year — then he could cause some problems and keep this one close.