Weekly Philadelphia Eagles Betting Picks: Week 16 vs. Washington
by Dave Schwab - 12/17/2012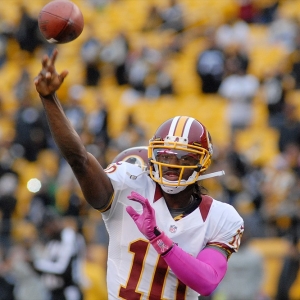 The division-leading Washington Redskins will look to take one step closer to their first NFC East title since 1999 this Sunday when they travel to Lincoln Financial field to face the 4-10 Philadelphia Eagles. The game is slated to get underway at 1 p.m. (ET) and it will be broadcast on FOX.
This Eagles weekly betting preview is part of a season-long series where I utilize my years of experience covering the team to preview their next matchup and offer a free NFL pick utilizing Doc's Sports Unit Betting System. As part of any successful NFL betting strategy, you should always try to concentrate your handicapping efforts on what you know best when it comes making your actual picks.
Betting Lines by BetOnline
Pointspread: Washington -4
Total Line: 44.5
Game Overview: Washington
Much of Washington's success this season has been attributed to the play of rookie quarterback Robert Griffin III. However, even with him reduced to the roll of cheerleader this past Sunday with an injured knee, his team overcame a slow start to roll to a 38-21 victory over Cleveland as a four-point road underdog. The win actually put the 8-6 Redskins in the lead in the NFC East by virtue of current tie-breakers over New York and Dallas, which are also 8-6. Washington is now 9-5 against the spread this season with the total going "over" in three of their last four games.
Look for RG III to hopefully be back under center in this Sunday's game. However, even if their other rookie quarterback Kirk Cousins has to make another start the Redskins' offense should be able to move the ball fairly easy against a deflated Eagles' defense that has had major trouble this season keeping opposing teams out of the end zone. Philly really struggled to stop Griffin the first time they met this season as he lit-up the secondary in a 31-6 rout in Week 11 with four touchdown passes.
Game Overview: Philadelphia
The true sign of a really bad team is when they get blown out in games where, as a whole, they still played pretty well. Last Thursday night against Cincinnati at home, the Eagles completely controlled the second quarter and took a three-point lead into halftime. Once again the wheels came completely off the bus with an onslaught of second-half turnovers and a close game suddenly turned into a 34-13 rout as 4.5-point road underdogs. The loss dropped the Eagles to a very costly 3-10-1 ATS and the total has now gone over in four of their last six games.
This will undoubtedly be Andy Reid's last home game as the Eagles head coach, so emotions will be running high with both himself and his players. While normally this kind of situation would set the tone for an emotional upset victory, this team already quit on its coach weeks ago. Last Thursday's debacle against the Bengals was a perfect example of this. The same mistakes that plagued this team on opening day cost them their 10th loss of the season in Week 15. The total lack of discipline in every phase of the game makes it almost next to impossible to win games, even if you are trying to knock a bitter divisional rival out of the playoffs.
Game Betting Trends
The Redskins are 4-1 ATS in their last five road games this season and a perfect 4-0 ATS against the NFC East this season. The total has gone over in five of their last seven road games.
The Eagles are 2-7 ATS in their last nine games overall and 0-5 ATS in their last five home games. The total has gone over in each of those five games at home.
Head-to-head, Washington is just 2-5 SU in its last seven trips to Philadelphia but 4-1 ATS in the last five games there. The total has stayed under in five of the last six meetings at the Linc.
Game Prediction
This matchup can be summed up rather easily: the Redskins continually find ways to win games while the Eagles pull out all the stops in an effort to lose them. There is far too much on the line for Washington to come out flat and if RG III returns to the lineup that would be just an added bonus. Utilizing Doc's Unit Betting System it is time to go big on the ever-widening gap between these two teams by wagering 6 units on Washington covering the 4.5 points.
Take #117 Washington (-4.5) over Philadelphia for 6 Units
YTD Record: -23 Units (-$2600)