2012 World Hockey Championships Betting Advice and Predictions
by Trevor Whenham - 5/9/2012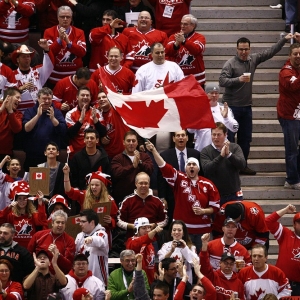 The 2012 World Hockey Championships are underway in Finland and Sweden right now. We are almost halfway through the preliminary rounds, but the new format they have adopted is so ridiculously drawn out that it's only now starting to be worth paying attention to.
For the first time this year the 16 teams in the tournament have been split into two pools, and each team plays the seven others in their group. From there the top four in each group will advance to the quarterfinals. The format makes it far more likely that the best teams advance, but it makes for a whole lot of hockey in this tournament.
Why should you care about this tournament? Simply because of the level of competition among the elite teams. Teams are stocked mostly — or entirely in the case of the North American teams — with NHL players from teams that did not make the playoffs. There is always an interesting mix of veteran guys willing to make a sacrifice for their country as well as young guys looking to enhance their reputations and gain valuable experience. It makes for good hockey — not necessarily polished hockey, but good.
The two groups are named Group H because their games are in Helsinki and Group S for the teams playing in Stockholm. Group H should be a proving ground for Finland, Canada, the U.S. and Slovakia. Switzerland is off to a surprising start so far despite a roster of players from domestic leagues, and Belarus has struggled so far, but always seems to have international upset potential. In Group S Sweden, Russia, and the Czech Republic should have a free pass to the elimination rounds, with Latvia and Germany likely battling for the final spot.
While the preliminary rounds seem endless the elimination rounds will go by in rapid fire succession. All four quarterfinals are played on May 17. The teams from Stockholm will move to Helsinki on the 18th, and the semifinals will go on the 19th with the gold medal game taking place the next day. It's those four days when things should get really exciting for bettors.
If you decide to seek out profits betting on the World Championships here are four good tips to keep in mind:
Blowouts are likely early on
There is a huge gap in talent between the truly elite teams and the ones lucky to be playing in this championship. Guys who play in the NHL are going to badly outclass guys who play in domestic leagues — especially if those leagues are in a country without a strong hockey tradition. That means that there are some major mismatches in the preliminary rounds of this tournament. For example, this year France — a country that doesn't really excel at the sport — have lost 7-2 to both Canada and the U.S. in their first three games. Because those blowouts are out there and are very likely to happen bettors need to look not at picking winners, but rather in figuring out how best to draw the profit out of the situation. Aggressive puckline betting or parlays are two good ways to potentially do so.
Watch for added players
Teams will occasionally add players to their roster after teams get eliminated from the playoffs in the first or even second round. That can be in response to injuries, lack of depth, a clear need in a position, or just an obvious upgrade in talent. Players who join later on can change the look and feel of a team. They are going to be banged up and worn down, but they are also going to be hungry or they wouldn't have bothered to make the trip.
Chemistry is huge
These players have to come together and quickly learn to play with new linemates and unfamiliar coaches. Practice time is limited, and some players have to get used to playing a different role than they do with their own teams.
Most players are typically among the best on their regular teams, too, so they need to figure out how to let their egos co-exist. That means that any of the elite teams that can quickly develop chemistry have a nice early edge. That chemistry doesn't need to be team-wide — even one strong offensive pairing can make a big difference for a team.
Look for players that are playing together that have played together successfully in the past — on previous NHL teams, in junior hockey, or internationally. Players that play for the coach of the team now or have in the past can have a big edge as well. When those don't exist then signs of quickly-developing chemistry among players can include abnormally high amounts of ice time in early games, involvement in every point the other scores, and so on.
Familiarity can trump talent
The most talented teams aren't always the ones that win this tournament.
Canada has won gold in two of the last three Olympics and has dominated the World Junior championships for years, yet they haven't won gold at a World Championships since 2007, and they have just one in the last seven years and three in the last 14.
The Americans have been a strong force internationally, but they have just one medal — a bronze — at World Championships since 1996.
One of the reasons those teams have underachieved expectations is that the national team program is more firmly entrenched in some European powers. Players are more likely to agree to play for their national teams in this tournament, the rosters more closely match the Olympic roster, and players spend more time practicing together throughout the year as part of the national team. That means that they are more familiar with each other, and more comfortable in their roles as international representatives of their countries. That can give them a big edge — even if they are less talented than their opponents.