Back to the Futures: With Brady Booted, No Odds-On Favorite for SB MVP
by Ricky Dimon - 1/25/2013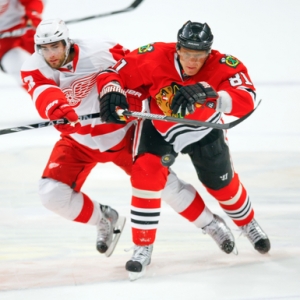 We have a pretty good idea who will win the Super Bowl. After all, it's finally narrowed down to two — the Baltimore Ravens and the San Francisco 49ers.

But who will lead his team to victory as the MVP? That's a different story. There's no Tom Brady. No Peyton Manning. No Eli Manning. No clear-cut favorite. Only one participating player (Ray Lewis in 2001) has ever won the award. So who's it going to be?

Odds provided by Sportsbook.ag.

Super Bowl MVP

Colin Kaepernick (+140) – Kaepernick didn't run roughshod all over the Falcons like he did the Packers, but he still got the job done. As the quarterback of the team that is favored by 3.5 points to win, Kaepernick has to be a slight MVP favorite — and he is.

Joe Flacco (+200) – Flacco is a rich man's Trent Dilfer, who was under center when the Ravens won Super Bowl XXXV. He's not flashy (well, aside from that miracle home run in the divisional round at Denver), but all he does is win. Flacco already has eight career playoff wins, including six away from home. In his three 2013 postseason games, he has eight touchdowns and just one interception.

Frank Gore (+600) – Gore didn't do much at the end of the regular season, but he has been stellar in two playoff games. San Fran's feature back rushed for 119 yards and a score against Green Bay, and he found the end zone twice against Atlanta while gaining 90 yards on 21 carries.
Ray Lewis (+600) – Regardless of the outcome, Lewis' last game will be the Super Bowl. If he comes anywhere close to being the best player on the field and the Ravens win, he will snag MVP honors simply as the sentimental favorite. And he could do it. After all, Lewis recorded a game-high 14 tackles in the AFC Championship upset of New England.

Stanley Cup

Pittsburgh Penguins (+600) – Pittsburgh is off to a solid start, having won two of its first three games. Evgeni Malkin is picking up right where he left off in 2012, already with four assists.

New York Rangers (+700) – Four games does not a season make, but the Rangers are not off to a good start. They have lost three of four while allowing more goals than any other team (tied with Washington).

Chicago Blackhawks (+800) – The Blackhawks are averaging 4.7 goals per outing, and Marian Hossa already has four lamp-lighters. An overtime win over Dallas on Thursday has the Blackhawks at a perfect 4-0.

Boston Bruins (+1000) – The 2011 Stanley Cup Champions are off to a fine start in 2013 with a 2-0-1 record. Boston has been shorthanded 14 times through three games, and it has not allowed a single power-play goal. This team will be tough to beat if that continues.

NBA Western Conference

Oklahoma City Thunder (+170) – It appears to be a three-team race in the Western Conference, according to both the odds and the standings. Even without James Harden, OKC is leading the NBA in scoring at a ridiculous 105.9 points per game.

Los Angeles Clippers (+240) – L.A. is "Lob City" now, and the Lakers are doing nothing about it. If the Clips were told they would be 14.5 games ahead of the Lake Show at the midway point, they probably would have thought they'd be undefeated. That isn't the case, but the Clippers are at least keeping pace with the Thunder.

San Antonio Spurs (+300) – San Antonio owns the longest current winning streak in the league at six games, allowing it to tie Oklahoma City atop the standings. The Spurs are once again playing solid team ball, averaging the most assists per game (25.2).

Memphis Grizzlies (+1000) – There's OKC, L.A., and San Antonio, and then there's everyone else. Memphis may be the best of the rest, but Zach Randolph has to stay healthy in order for the team to have any kind of chance.

Los Angeles Lakers (+1000) – It's the same story every week. The Lakers are bad and getting worse. Carry on.
The Masters

Rory McIlroy (+600) – Golf season is underway, and while a commercial (the Tiger-Rory Nike ad) has generated more headlines than on-course activities, it's never too early to start thinking about the Masters. McIlroy "only" has two major titles, but he dominated both of those tournaments by eight strokes. As the rankings reflect, he is far and away the best player in the world right now.

Tiger Woods (+650) – Tiger, however, is a close second-favorite due to his past history at the majors — especially Augusta. The 14-time major champion owns four green jackets. Although he has donned none since 2005, he has finished in the Top 6 in seven of the last eight installments. With his game back in shape for the most part, Tiger can expect more of the same.

Phil Mickelson (+1200) – Mickelson has been making a lot more noise off the course (see: complaining about California taxes) than on, but he is money at the Masters. Lefty has won it three times and has four more third-place finishes (including in 2012). You can be sure he'll find his game on his old stomping grounds down Magnolia Lane.

Luke Donald (+2000) – The third-ranked player in the world is one of the best never to win a major. He vows to focus on the slams in 2013 (as if that isn't always the focus) in an attempt to end the drought. Donald has seven career Top-10s at the four biggest events, including three in Augusta.

Read more articles by Ricky Dimon