Case of the Mondays: Ducks Not Starting a Dynasty
by Ricky Dimon - 11/11/2013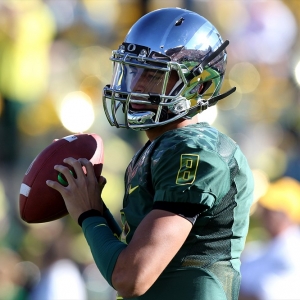 Barring a miracle—or several—Oregon will not be winning a BCS National Championship this season. Previously on course for a potential date with Alabama in Pasadena, the Ducks suffered their first loss to Stanford last Thursday. Perhaps no setback on the gridiron was as crippling, but other teams turned in far worse performances than that of Oregon.

All odds provided by Sportsbook.ag.

Oregon. Oregon had scored at least 42 points in every game, more than 60 twice, and more than 50 on four other occasions. That was until Mark Helfrich's squad paid a visit to the farm last Thursday. The Ducks did not even find the scoreboard for three full quarters against Stanford. They finally rallied for 20 points to cut a 26-0 deficit to six with more than two minutes remaining, but the Cardinal survived, 26-20. Oregon plunged from third to sixth in the BCS standings behind Alabama, Florida State, Ohio State, Stanford, and Baylor. The Ducks are the fifth choice at +1500 to win the BCS National Championship.

Florida. Losing the World's Largest Outdoor Cocktail Party to arch-rival Georgia for a third straight year is bad. Watching in-state foe Florida State dominate its way into championship contention—and having a date with the Seminoles later this month—is difficult. Nothing, though, is worse than what transpired over the weekend. Florida didn't just lose to Vanderbilt; it got clobbered by Vanderbilt at home. The Gators trailed 24-3 early in the third quarter and 31-10 in the fourth as the Commodores cruised to a 34-17 victory. Will Muschamp and company are 4-5 (3-4 SEC) and in serious jeopardy or missing out on bowl game with two of their three remaining games against South Carolina and FSU. Florida is a +14 road underdog on Saturday at the Gamecocks.

Indianapolis Colts. Everyone knew Reggie Wayne was good, but who knew he made this much of a different for the Colts? And even on defense! In its first game without Wayne, Indy survived 27-24 against a Houston team that has currently lost seven in a row. Its second contest sans Wayne saw previously 6-2 Indianapolis get blown out by previously 3-6 St. Louis at home by a shocking score of 38-8. The Colts trailed 38-0 in the third quarter before Andrew Luck threw a meaningless touchdown pass and two-point conversion. If there's any good news for Indy, it's that a team that just lost to the Jacksonville Jaguars is next up on the schedule. Indy is a -3 road favorite at Tennessee on Thursday.

Tennessee Titans. That aforementioned team is Tennessee, which helped Jacksonville find the win column for the first time in 2013. The previously 0-8 Jaguars amassed a mere 214 yards of offense, but they benefited from four Titans' turnovers. Jacksonville returned one for a touchdown (after a fumble recovered by Will Blackmon late in the fourth quarter) and also had a safety. To make matters worse for Tennessee, quarterback Jake Locker suffered a foot injury and is expected to miss the rest of the season. The Titans are +800 to win the AFC South, while the Colts are still massive -2000 favorites for the division crown.

Sacramento Kings backers. If you've taken Sacramento against the spread in all of its games this season, you are still yet to cash in. Hey, at least you've pushed once. The Kings are 1-5 overall and 0-5-1 ATS through six contests. Sac-Town has lost five in a row and it is coming off a week in which it went 0-3 and 0-3 ATS. The Kings were favored by two points in two of those three contests but fell at home to both Atlanta and Portland. Their home setback against the Trail Blazers came on the back end of a home-and-home series on consecutive days, both of which resulted in Portland victories. Sacramento is +10000 to win the Pacific Division; the Clippers are favored at -240.

Arsenal. Arsenal had enjoyed a stellar week during which it took care of business in both Premier League and Champions League matches. Sunday was not as kind, however, to the Gunners. Facing former teammate Robin Van Persie, they fell to Manchester United 1-0 at Old Trafford. It was RVP who scored the only goal, converting off a corner kick from Wayne Rooney in the 27th minute. Arsenal is still atop the Premiere League standings, but it is now just two points ahead of Liverpool. Man U moved into a tie for fifth place, five points back of the lead. Arsenal is +333 to win the title, tied for second with Chelsea behind Manchester City (+275).

Matt Kenseth. Kenseth had finished worse than 23rd only four times this season. He picked a bad time for a fifth borderline disastrous race, in which he was 23rd. It came on Sunday at Phoenix International Raceway, where Kenseth had arrived trailing Sprint Cup leader Jimmie Johnson by just seven points with two races remaining. While the No. 20 struggled throughout the day, Johnson turned in a solid third-place showing behind Kevin Harvick and Kasey Kahne. JJ, looking for his sixth championship, expanded his lead to 28 points over Kenseth and 34 clear of Harvick.

Read more articles by Ricky Dimon