Case of the Mondays: Big-Time Meltdown in Big 'D'
by Ricky Dimon - 12/16/2013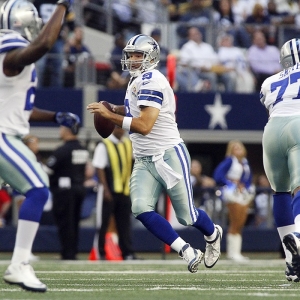 The Dallas Cowboys were well on their way to a home win over the Green Bay Packers on Sunday, leaving them tied atop the NFC East with Philadelphia and assured of no worse than a winner-take-all scenario against the Eagles in Week 17. Thirty minutes of football and two Tony Romo interceptions later, the 'Boys found themselves one game back and at risk of being eliminated by this coming Sunday. No other team can be feeling so bad on this Monday, but the Patriots and Saints could be close.
All odds provided by Sportsbook.ag.

Jerry Jones. Jones called the Cowboys' 37-36 home loss to Green Bay "a serious step back." Really, though, it was just another step in the same direction for America's Team (uh, about that….). While the collapse following a 26-3 halftime lead was hard to believe by Dallas' December standards, Romo was simply up to his usual late-game tricks. Having committed no turnovers throughout the game, Romo was picked off first with 2:46 remaining while trying to ice a 36-31 lead and again with 1:24 left while hoping to engineer a game-winning drive. The Cowboys are -3 favorites at Washington in Week 16.

Patriots and Saints. The Patriots and Saints have more than just disappointing Week 15 losses in common with Dallas. On the bright side, they also control their own destinies in their respective divisions. New England, however, was the master of its own fate in the AFC race for home-field advantage throughout the playoffs. Sunday's 24-20 setback at Miami now puts Denver back in the driver's seat for that distinction. New Orleans' road woes (which are very real, contrary to what Drew Brees may argue) continued in a 27-16 loss at St. Louis in a game that was not as close as the score indicated. The Saints are now tied with Carolina in the NFC South and face a winner-to-take-all showdown against the Panthers in Week 16—on the road. New England is +550 to win the AFC, and New Orleans is +900 to win the NFC.

Texas. Texas did not get Nick Saban, and now it doesn't even have Mack Brown. Amidst wide speculation, the 16-year head coach announced his resignation on Saturday. The school president and athletic director reportedly gave Brown the option of returning next season, but Brown decided to step down—effective after the Alamo Bowl on Dec. 30. Saban, meanwhile, signed an extension with Alabama that will pay him $7 million annually through the 2020 season. If there is any immediate good news for Texas, it's that it at least has a nice bowl matchup on its hands against Oregon. Of course, if the spread is any indication, that could work both ways. The Longhorns are +14.5 underdogs against the Ducks.

Kentucky. Last year's installment of the Wildcats' annual freshman influx ended up not even making the NCAA Tournament. The 2013-14 version is not exactly on its way to doing the same, but it also is not coming anywhere close to living up to its preseason No. 1 ranking. John Calipari's crew suffered its third loss of the season on Saturday, going down 82-77 at North Carolina. The Cats' other setbacks came against Michigan State on Nov. 12 and to Baylor on Dec. 6. Kentucky is 0-3 against Top 25 opponents, and arguably its best win so far is over Boise State. A Dec. 28 date with Louisville at Rupp Arena is the team's next statement opportunity. UK is +650 to win the National Championship.

Michael Carter-Williams. Remember that time the Philadelphia 76ers started the season 3-0? Actually, you probably do—because it was so unbelievable. But it seems like a long, long, long time ago for a team that is now 7-18 and is second to last in the Eastern Conference and third to last in the NBA. Carter-Williams has missed the last six games and has watched Philly lose all six of those contests. Not coincidentally, the Sixers won the last time MCW took the court—edging Orlando 126-125 in double-overtime on Dec. 3 after their star rookie notched a triple-double with 27 points, 12 rebounds, and 10 assists. Philadelphia is +4000 to win the Atlantic Division.
Detroit Red Wings. Detroit's bizarre season may not ever end. The Red Wings have three losing streaks of at least four games, including one that spanned seven games and another five-gamer that is currently in progress. They also have two four-game winning streaks and another run of three straight wins. The result is a 15-11-9 record and 39 points that leaves the Wings in a decent fourth position in the Eastern Conference. However, they cannot be feeling good right now having scored five goals in their last five games. Detroit is +800 to win the Eastern Conference and +2000 to win the Stanley Cup.

Arsenal. Last weekend could not have gone much worse for Arsenal, on or off the pitch. The Gunners gave up not one, not two, not three, not four, not five, but six goals on Saturday to a Manchester City rival that is now within three points of the top spot in the Premier League. Liverpool and Chelsea are now just two points behind the first-place Gunners. On Sunday, the round of 16 Champions League draw was held, and Arsenal has to go up against defending champion Bayern Munich. Meanwhile, Man City may have come down from its high when it saw a Champions League battle against Lionel Messi and Barcelona appear on the immediate horizon. Arsenal is +1800 to win the Champions League; Bayern is a +225 favorite.
Read more articles by Ricky Dimon