Case of the Mondays: Dogs Bit by Tigers, Bettors Snake Bitten
by Ricky Dimon - 11/18/2013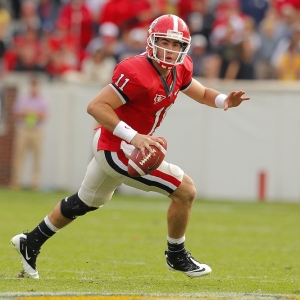 If you had big money on Georgia either straight up or against the spread versus Auburn over the weekend, you're not getting over it anytime soon. The Dawgs had that game…. And then they didn't. To say they (especially Aaron Murray) left it all on the field would be an understatement. Other teams (ahem, New York Knicks) have been losing in far less dramatic fashion and without the same fight.

All odds provided by Sportsbook.ag.

Anyone who had Georgia +3. First the Bulldogs were getting blown out. Then they had the game won and the spread covered. Then they lost—both straight up and against the spread. Then they almost won again. All told, Saturday's Auburn-Georgia showdown featured one of football's wildest fourth quarters in recent memory. After Murray scored on a gutsy fourth-down run to put his team ahead 38-37, a Tiger miracle came in the form of a 73-yard touchdown pass on fourth down from Nick Marshall to Ricardo Louis. Auburn just barely stopped one more last-ditch effort by the Dawgs to win 43-38...and break the hearts of Georgia backers who took their squad and the three points. UGA is a -24 home favorite over Kentucky on Saturday.

Anyone who's been taking the Cavs ATS. A lot of people thought Cleveland was going to be good this season. Of course, enthusiasm always has to be tempered when you are talking about a team that was dumb enough to think Andrew Bynum had semi-functional knees. The Cavs are 2-9 against the spread (worst in the Eastern Conference and third worst in the NBA), and their overtime win at Washington on Saturday ended a streak of three straight losses and nine failures to cover the spread in a row. They are +4000 to win the Central Division and also +4000 to win the Eastern Conference.

Stanford. The Cardinal had bounced back nicely from a shocking loss to Utah with three consecutive Top-25 wins. Nine days after handing Oregon its first setback of the season, however, Stanford got bounced at USC on Saturday night. The Trojans scored only three points in the second half, but those three were enough to hang on for victory. They came in the form of an Andre Heidari 47-yard field goal with 19 seconds remaining to break a 17-17 tie. Hey, at least Stanford did not lose to the Lane Kiffin-coached version of USC. Now that would have been bad. The Cardinal are -31.5 home favorites over California this weekend.
North Carolina. At one Tobacco Road destination, UNC's basketball team is still without P.J. Hairston and Leslie McDonald, and it is going around losing at home to teams like Belmont (83-80 on Sunday). To make matters worse, all systems are go at another Tobacco Road location. Jabari Parker looks like the real deal for Duke, and the Blue Devils just signed two top-five 2014 recruits. On the football field, Duke topped Miami on Saturday and controls its own destiny to win the ACC Coastal Division and play for the conference championship. The Devils should be favored in each of their last two, including at North Carolina on Nov. 30. UNC is +3000 to win basketball's National Championship; Duke is the fourth choice at +700.

Anaheim Ducks. What a difference a week makes. The Ducks had won five in a row from Nov. 2 through last Sunday. Now, however, they have lost three consecutive games. It started to go downhill with a 3-2 loss at Florida on Tuesday. Anaheim's offense continued to struggle in setbacks against Tampa Bay (5-1) and Carolina (3-2 after a shootout). A four-game road trip ends on Monday night at Pittsburgh. The Ducks are still atop the Pacific Division, but they now have company from Chicago as the current top seed in the Western Conference. Anaheim, which is +1600 to win the Stanley Cup, is a +140 underdog against the Penguins.

New York Knicks. In the Knicks' case, however, a week did not make much difference. Last time around it was head coach Mike Woodson blasting his team's effort. Now it's Carmelo Anthony doing the same. 'Melo questioned New York's desire after it fell at home to Atlanta 110-90 on Saturday. If there's any good news for the 3-6 Knicks, it's that every single team in the Atlantic Division has a losing record. NY is +3500 to win the Eastern Conference and +6000 to win the NBA Championship.
France. The Blues were terrible in last year's World Cup. They may not even make it to the 2014 installment of sports' biggest event. France is likely to miss a major tournament for the first time in 20 years after losing to the Ukraine 2-0 in the first leg of their home-and-home playoff last Friday. Playing the second match at home on Tuesday, France will have to win by at least two goals and will have to win by at least three goals if the Ukraine scores one goal or more. That scenario sounds a lot more complicated than it is. To simplify, France is bad. It is a -277 favorite to win the second leg on Tuesday; a draw is +300.

Read more articles by Ricky Dimon