Case of the Mondays: Bedlam on the Football Field and the Golf Course
by Ricky Dimon - 12/9/2013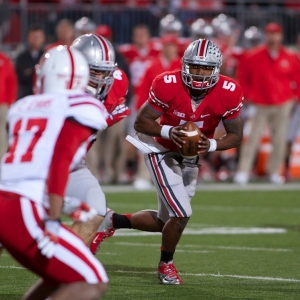 Here's hoping you have the Red Zone channel, because the finishes of Sunday's 1 p.m. NFL games were out of control. Among them was a miracle comeback by New England (and spectacular choke by Cleveland). The back-nine showdown between Tiger Woods and Zach Johnson out in Thousand Oaks, Ca. was equally wild and hard to believe. All of it has people wondering just what the heck happened over the weekend.
All odds provided by Sportsbook.ag.

Ohio State. The Buckeyes had won 24 straight games under head coach Urban Meyer. A 25th would have secured a berth in this season's BCS National Championship. Even after trailing Michigan State 17-0 in the Big Ten Championship, all the pieces were in place for such a victory when Ohio State stormed ahead 24-17 midway through the third quarter. However, a momentum-shifting game saw the Spartans post the first three scores, the Buckeyes notch the next four, and the Spartans finish with three in a row—a field goal followed by two fourth-quarter touchdowns. The loss booted OSU from Pasadena to the Orange Bowl, in which it will face Clemson. As for the title game, Florida State has opened as a -7.5 favorite over Auburn.

Anyone who had the Bedlam under. With Oklahoma leading Oklahoma State 27-24 with one second remaining and the Cowboys on their own 30-yard line, it looked like the rivalry game would finish with 51 total points. Most sportsbooks had the "over/under" at either 56 or 56.5 points, so bettors on the under seemed all set to cash in. Three razzle-dazzle laterals later, those bettors were in world of hurt. Eric Striker of the Sooners picked up an errant backwards pass and waltzed into the endzone, giving his team a 33-24 victory and pushing the total to 57 points—thus tipping the over/under scale. OU is headed to the Sugar Bowl to face Alabama (odds not yet posted).
Cleveland Browns. At 4-8, the Browns likely weren't going anywhere this season regardless of Sunday's outcome against New England. Still, with a third-quarter lead of 19-3, they had a golden chance to pick up a signature win while playing spoiler to the Patriots' bid for either home-field advantage throughout the AFC playoffs or at least a first-round bye. Somehow, though, Cleveland managed to squander its opportunity for what would have been a shocking road upset. It surrendered five straight scoring drives, including two touchdown drives of at least 72 yards, and also failed to recover an onside kick with one minute left in the game. Of course, New England—which survived 27-26—is not feeling too great, either. Tight end Rob Gronkowski is out for the season with a torn ACL and MCL. The Pats are +350 to win the AFC Championship.

Robert Griffin III. There are some really bad teams in the NFL who are fighting admirably to the finish line; among them the Browns, Bucs, Falcons, and Vikings. One is not the Redskins, who have lost five in a row (none by less than a touchdown) after Sunday's humiliating 45-10 home loss to Kansas City. RG3 accounted for just 193 total yards, threw one interception, and was benched for Kirk Cousins. Washington's talent may not be quite as terrible as its 3-10 record suggests, but the fractured love triangle featuring RG3, Mike Shanahan, and Daniel Snyder is not helping matters. The 'Skins are +6 underdogs at Atlanta in Week 15.
Kobe Bryant. Just being back on the court was a victory of sorts for Kobe on Sunday night, but it was not the storybook kind of return for which Lakers' fans were hoping. The 35-year-old made only two of nine field goals, including none of three attempts from beyond the arc, finished with nine points, and turned the ball over a ridiculous eight times in a 106-94 home loss to Toronto. Kobe said his body felt good during his first game action since tearing an Achilles' late last season, but he gave himself an 'F' for his performance. Los Angeles dropped to an even 10-10, 1.5 games back of Golden State for the eighth and final playoff spot in the Western Conference. The Lakers are +1800 to win the Pacific Division.
Tiger Woods. Tiger's annual December event (formerly known as the Chevron World Challenge and now sponsored by Northwestern Mutual) is no stranger to the dramatic finish, and this year's installment was no different. Tiger had a two-shot lead over Johnson going into the final round, but it was Johnson who had control on the 72nd hole. Tied with the world No. 1, Johnson found the water only to hole out his fourth shot before Tiger answered by getting up and down from a bunker for par. Tiger seemed to be on course to do the same thing on 18 in the ensuing playoff, but Johnson's more routine par proved to be a winner when Tiger surprisingly failed to convert a five-foot putt for his four. Masters odds have Tiger as a +650 favorite to don the green jacket in 2014.
U.S. Men's National Team. Not everyone will admit it, but the United States' worst nightmares were realized when the draw ceremony for the 2014 World Cup took place last week. The USMNT's 2010 group consisting of it, England, Algeria, and Slovenia is chump change to the result of Friday's proceedings. If Group G is not a singular Group of Death, it's Group of Death 1-A. Joining the Americans in the four-team pod are Germany, Portugal, and Ghana. Three-time champion Germany has reached at least the quarterfinals eight straight times. Portugal has Cristiano Ronaldo. Ghana beat the USA in both 2006 and 2010. The USMNT is +900 to win Group G; host Brazil is a +300 favorite to win the World Cup.
Read more articles by Ricky Dimon