Case of the Mondays: Death March of the Penguins
by Ricky Dimon - 6/10/2013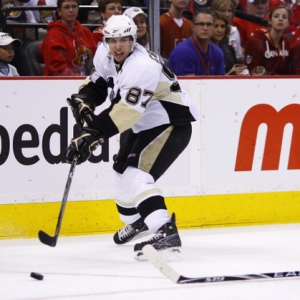 While the Miami Heat avoided the doom and gloom of a 2-0 NBA Finals deficit heading to San Antonio for three games, the Pittsburgh Penguins marched right out of the Stanley Cup Playoffs over the weekend. They won as many games in their series against Boston as Sidney Crosby had points. Then again, that's not always a terrible thing…except when that number is a big fat zero. While seasons remain ongoing or on the horizon for many others, it was still a rough week for a handful of teams and players.

(All odds provided by Sportsbook.ag unless otherwise indicated).

Pittsburgh Penguins. It was all right there for the Stanley Cup Finals to feature a blockbuster showdown between the Blackhawks and Penguins. They had dominated the regular season with 77 and 72 points, respectively, and advanced to their conference finals to pull within a combined eight games from the finals. While Chicago held up its end of the bargain, Pittsburgh did not come close. The Pens got unceremoniously swept by Boston while scoring a total of two goals in four games. Prior to their four-game slide, they had not lost more than two consecutive contests all season long. The Bruins, meanwhile, have won five in a row and nine of their last 10 dating back to Game 7 of the first round. They are +125 underdogs against the Blackhawks both on Wednesday (in Chicago) and in the series as a whole.

San Antonio Spurs. A road split in a playoff series is not bad…except when you're already up 1-0 after Game 1 and you get blown out by 19-feels-like-90 points with a chance to go up by two games. That's exactly what happened to the Spurs, who edged Miami in the 2013 NBA Finals opener before succumbing 103-84 on Sunday night. While San Antonio quadrupled its Game 1 turnover output (four to 16), the Heat turned the ball over a mere six times in Game 2. Tim Duncan went a horrendous 3-for-13 from the field for nine points. The Spurs are -2.5 home favorites on Tuesday.

Cleveland Indians. Last Sunday, the Indians were a half-game back of AL Central-leading Detroit. Just seven days later, they are 5.5 games out of first place. For those counting, that is the second biggest margin — with room to spare — between first a second in any MLB division (only the Atlanta Braves in the NL East have a bigger lead than the Tigers). Cleveland has now lost seven in a row after consecutive road sweeps at the Yankees and at the Tigers. Thanks in part to an additional five-game losing streak in late May, the Indians have lost 13 of their last 16 contests. They are +130 road underdogs on Monday with Scott Kazmir taking the mound at Texas (Josh Lindblom).

Josh Gordon. The Indians are not the only Cleveland team coming off a bad week (but hey, at least the Cavs won the NBA Draft Lottery!). The Browns will be without Gordon for the first two regular-season games of their 2013 campaign. Gordon, who caught 50 passes last year as a rookie and led Cleveland with 805 yards and five receiving touchdowns, was suspended without pay on Friday for violating the league's substance-abuse policy. This appears to be a recurring nightmare for the Browns, who saw cornerback Joe Haden docked four games of the 2012 season due to the exact same reason. Cleveland is +650 to win the AFC North and it is a +1 home underdog against Miami in Week 1.

Merion Golf Club. The site of the upcoming U.S. Open got hammered by the outskirts of Tropical Storm Andrea late last weekend. According to various sources, some fairways sustained considerable damage, and there were conflicting reports about the status of certain greens. Because the East Course has a history of flooding, there was already a contingency plan in place to use two holes on the West Course if necessary. It is not yet known if such a move is a realistic possibility, but more rain in the forecast for tournament rounds on Thursday and Friday does not help matters. Tiger Woods is an overwhelming +400 to win. No other player is better than +2000 (Matt Kuchar, Rory McIlroy, and Adam Scott are all tied for second with that value).

Jo-Wilfried Tsonga. To be fair, Tsonga had a great French Open that included a quarterfinal upset of Roger Federer. That being said, this was the Frenchman's best chance to reach the final of his home Grand Slam and make it back to a major title match for the first time since the 2008 Australian Open. David Ferrer is a terribly tough opponent on clay, but he is not Rafael Nadal, Novak Djokovic, Roger Federer, or Andy Murray. A semifinal against Ferrer is a winnable match for Tsonga. Instead, the world No. 8 (now up to seventh) got blown out by the eventual runner-up 6-1, 7-6(3), 6-2. Tsonga is +1400 to win Wimbledon, which begins later this month, while Ferrer is +8000. Djokovic is a +180 favorite to triumph at the All-England Club, ahead of Murray (+275), Nadal (+350), and Federer (+450). Odds provided by Bovada Sportsbook.
Read more articles by Ricky Dimon