Case of the Mondays: Fail to the Redskins
by Ricky Dimon - 1/7/2013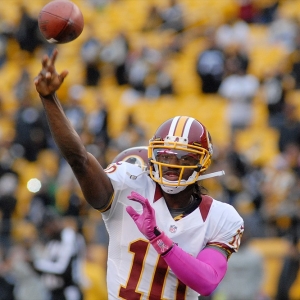 All four wild-card favorites advanced out of Round 1, so it's not like any of the four losers had some kind of monumental meltdown, epic collapse, or devastating defeat. Indianapolis' feel-good story with Andrew Luck and Chuck Pagano came to an end, Cincinnati did what it usually does whenever it actually gets into the playoffs, and Minnesota got blown out in the Frozen Tundra — as expected — with a backup quarterback.

And then there's the Redskins. All four teams naturally have a Case of the Mondays, but some cases are far more severe than others…. (all odds provided by Sportsbook.ag).

Mike Shanahan. That the Redskins lost was not exactly a surprise; they were expected to do so according to the odds. But the way in which it happened was a veritable disaster. Washington led 14-0 before getting 24 unanswered points pinned on it in a home loss to Seattle. RG3 went from being hurt, to being more hurt, to being injured. Shanahan, meanwhile, is taking more heat than when he waived the white flag after his team dropped to 3-6 following Week 10 of the regular season. He should have done this…he should have done that…he disobeyed doctors' orders…etc., etc., etc. This is of no consolation, but RG3 is even money to win NFL Rookie of the Year, just behind Andrew Luck (-110) and ahead of Russell Wilson (+400).
Chris Clemons. It may have been a good day for Seattle, but it wasn't perfect. Clemons, the team's top defensive end, went down with what is feared to be a torn ACL. For whatever it's worth, Clemons' agent — Donal Henderson — blamed the injury on Washington's "crappy" field. Needles to say, Clemons will miss Sunday's divisional showdown at Atlanta, and every game the Seahawks have forthcoming, if the ACL fears are confirmed. Seattle is a +2.5 road underdog against the Falcons.
Atlanta Falcons. For a moment it looked like it was all going to set up perfectly for Atlanta. The Redskins led Seattle 14-0 in the first quarter and RG3 was less than 100 percent and getting lesser. You can be sure the Falcons had visions of facing a Washington team with an injured RG3 or without any RG3 at all. It's also a Washington team that ranked 30th against the pass — Atlanta's strong sui t— during the regular season. Instead, Matt Ryan and company now have to face the Seahawks — the hottest team in the NFL outside of Denver. They won't be required to deal with Clemons, but they do have to go up against cornerbacks Brandon Browner and Richard Sherman. The "over/under" for the game is 45.5.

Joe Webb. Making your first career playoff start is always tough. Making it in Lambeau Field is even tougher. But nothing could have suggested that Webb would be as bad as he was on Saturday night. Minnesota's backup signal-caller completed only 11-of-30 passes with an interception and a lost fumble. His only touchdown came after the outcome had already been determined. What, however, is most glaring about Webb's futility? Adrian Peterson managed only 99 rushing yards. Yes, the Packers were able to stack so many in the box that AP did not even reach the century mark. Green Bay is now a +3 road underdog at San Francisco.

Cincinnati Bengals. The "Bungals" haven't won a playoff game since the 1990 season, and they are now 0-4 since 2005. Two straight setbacks have come to Houston after Saturday's 19-13 loss. At least this one wasn't a blowout like last year's 31-10 decision, but perhaps this one is tougher to stomach due to so many chances squandered by Cincinnati. Andy Dalton completed only 14-of-30 passes and he connected with A.J. Green on a mere 5-of-11 targets. More than a few of those six misguided attempts to Green were potential game-changing plays. Alas, the Bengals go home — as usual — while the Texans advance as +9 road underdogs against New England.

Anze Kopitar. Nobody in the NHL is feeling particularly down today, because the league has a tentative collective bargaining agreement that would save the season and put it back in action later this month. Of course, it must be bittersweet when you go down with an injury the same day your league puts itself on the brink of a return. Kopitar, who tallied 76 points for the champion Los Angeles Kings last season, injured his knee while playing in Sweden. He is not expected to miss more than three weeks. L.A. is +900 to defend its Stanley Cup title.

North Carolina. It's bad enough that a certain team located eight miles down the road is 14-0 and No. 1 in the nation. Adding insult to injury, the Heels are in brutal early-season form. Their 10-4 record doesn't look so bad, but three of their losses have come in blowout fashion (to Butler, Indiana, and Texas) and on Sunday they lost their ACC opener at Virginia, 71-62. UNC is +4000 to win the National Championship.

Los Angeles Lakers. Kobe is mad. Dwight is mad. The Lakers are bad. What more do you need to know? Another week gone by and L.A. (the far worse L.A. team, it must be noted) is still no closer to a Western Conference playoff spot. A three-game losing streak has the Lakers three games back of Portland for the No. 8 spot, and there are still two teams in between the Lakers and Blazers. Remember that time when the franchise tried to blame its poor start on Mike Brown? Hahahaha. The Lakers have ballooned to +600 to win the West and +1200 to win the NBA Championship.