Case of the Mondays: Rondo Injury Puts a Dent in Celtic Pride
by Ricky Dimon - 1/28/2013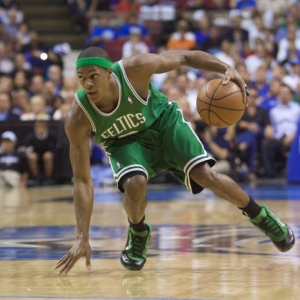 What the hell? The Los Angeles Lakers are winning basketball games?

Well, two to be exact. But by their standards, that is a veritable winning streak. Just when it looked like Kobe Bryant and friends were in for another disastrous week (another losing skid had reached four with a loss at Memphis last Wednesday, 106-93), they won two in a row on Friday and Sunday. After taking care of Utah in the Staples Center, L.A. scored its biggest victory of the season by upsetting Oklahoma City, 105-96.

Mike D'Antoni's squad is still a horrid 19-25 and four games out of the Western Conference playoff picture, but for once, it left a case of the Mondays for others to "enjoy" (all odds provided by Sportsbook.ag):

Rajon Rondo. A hyperextension is sounding really good right about now. That was the initial diagnosis after Rondo suffered a knee injury in last Friday night's overtime loss at Atlanta. On Sunday, however, an MRI revealed that Boston's all-star point guard has a torn ACL and will miss the rest of the season (and likely a considerable amount of the next). The Celtics managed to beat Miami in OT on Sunday, but they already are without any breathing room in the Eastern Conference (eighth place, 2.5 games ahead of Philadelphia). Boston is +2500 to win the Atlantic Division and +3500 to win the East.
Atlanta Hawks. Speaking of ACL injuries, the Hawks are a respectable 3-2 since Lou Williams was lost for the season earlier this month — and the mark could easily be 4-1, but they lost at New York in the final seconds on Sunday. Atlanta has more leeway than Boston in the standings (sixth in the East and 6.5 games clear of ninth-place Philly), but it's still not a lot. Williams was third on the team in scoring at 14.1 points per game while shooting 42 percent from the field and dishing out 3.6 assists per outing. The Hawks are +5000 to come out on top of the Eastern Conference.
Michael Drysch. Okay, this guy doesn't really have a case of the Mondays. Quite the contrary, in fact. The 50-year-old Miami Heat fan had the night of his life last Friday when he drained a half-court hook shot for $75,000. It only got better seconds later, when a euphoric LeBron James gleefully tackled Drysch. It did, however, get a little bit worse. Twenty-five percent of the winnings were withheld for federal income tax and another five percent was docked in state tax because Drysch is a resident of Illinois. Still, the dude goes home with $52,770…and a moment with LeBron that will live on YouTube forever. Not too shabby. The Heat, meanwhile, are +240 favorites to repeat as NBA Champions.
Anyone who has to play the Blackhawks. The Blackhawks are off to the best start in the history of their illustrious franchise. They are 6-0-0 after edging Detroit on Sunday, 2-1, in overtime. Net-minder Corey Crawford boasts a 1.78 GAA and a .933 save percentage. A balanced scoring attack already has five players with at least five points — led by Patrick Kane with nine and Marian Hossa with five goals. Opponents this week include Minnesota, Vancouver, and Calgary — all of whom will be playing at home. None of those teams is above .500. Chicago is a +350 favorite to win the Western Conference and is +700 (second behind Pittsburgh) to win the Stanley Cup.

Florida Panthers. At the other end of the spectrum is Florida, which is 1-4-0 and tied for last in the entire NHL with two points. The Panthers actually won their season-opener, but they have lost four straight after getting blown out at home by Philadelphia on Saturday, 7-1. It's somewhat amazing that Florida isn't even worse than it is. It is second to last in scoring at a wretched 1.6 goals per game and third to last in goals against at 3.8. The Panthers are +3000 to (insert LOL here) win the Eastern Conference and +6000 to (insert a louder LOL here) win the Stanley Cup.

Louisville. Perhaps even more surprising than the Lakers winning basketball games is Louisville losing basketball games. The Cardinals started the season 16-1 and briefly surfaced at No. 1, but they have suddenly dropped three in a row. Setbacks last week came at Villanova and at Georgetown and those were preceded by a home loss to Syracuse. Rick Pitino's club was favored by at least 5.5 points in all three of those contests. It is 4-6 against the spread in its last 10 overall. The Cardinals, who have plummeted to No. 12 in the AP rankings, are -6.5 home favorites over Pittsburgh on Monday night and they are +1000 to win the National Championship.
Andy Murray. This one was at least somewhat different, because Murray already has a Grand Slam title in the bag. Still, the Scot's loss to Novak Djokovic on Sunday in the Australian Open final leaves him with a dismal 1-5 record in major finals. Djokovic, on the other hand, is 6-4 lifetime in slam title matches, including 4-0 Down Under. While Murray will take a brief break from action, Djokovic will be back on the court this weekend for a first-round Davis Cup tie at Belgium. Serbia, which captured the trophy in 2010, is a +200 favorite to win it all again in 2013.
Read more articles by Ricky Dimon