2013 NBA Finals Predictions with Futures Odds
by Alan Matthews - 6/22/2012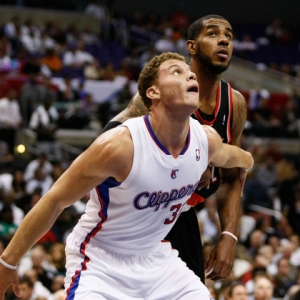 LeBron James and the rest of the Miami Heat are no doubt still partying hard on South Beach less than 24 hours after the Heat won the franchise's second NBA title and LeBron's first in three Finals tries by beating the Oklahoma City Thunder in a surprising five games. OKC had been around a -170 series favorite heading in and that jumped to around -250 when it won Game 1. But the Heat won the final four, and Game 5 was never really in doubt.
I would argue that a superstar can have more of an effect in the NBA than the NFL, MLB or the NHL, and that it is thus easier to repeat in the NBA.
In football, a team can certainly be excellent for years with a stellar quarterback but there are 22 starters there, not even including special teams, and injuries play a huge role. Plus, anything can happen in only a 16-game regular season. Thus, no team has repeated since Tom Brady's Patriots in 2003-04.
In baseball, if you are a great hitter you still get a hit only three out of every 10 times, so no batter is likely to carry a team to multiple titles. Ditto a starting pitcher, as he goes only every five days. Really, the superstar in MLB is payroll, the one league of the Big 4 without a salary cap. No team has repeated there since the 1999-2000 Yankees.
And in the NHL, having a Sidney Crosby is nice but it really all comes down to goaltending. In a sport with such low scoring, it's hard for one offensive player to dominate and carry a team to multiple Cups. And since the lockout canceled the 2004-05 season and a hard cap was instituted, seven different teams have won the Cup.
The NBA, meanwhile, has dealt with a salary cap longer than the other sports and also has the tool to keep your own players in place in the Larry Bird Rule, which essentially means a team can pay its players more than any other. Unfortunately, that didn't work for Cleveland or Toronto as they lost LeBron and Chris Bosh, respectively, to the Heat two offseasons ago. But superstars usually stay in place, and with just five men on the court, not to mention preferential treatment from the refs, superstars dominate the NBA. It's why the Bulls twice three-peated with Michael Jordan and Scottie Pippen. Why the Lakers three-peated and also went back-to-back with Kobe Bryant and Shaquille O'Neal (for the first three)/Pau Gasol (the other two). Why the Spurs have won four titles with Tim Duncan and David Robinson/Tony Parker (you generally need at least two stars to win a title).
Will the new NBA cap and luxury tax change things going forward? Perhaps, but the Heat got their Big 3 together before that came into play and, thus, should be a dominant force for the next five years as long as they stay healthy.
So it's no surprise Miami is a 11/4 favorite on Bovada to win the 2013 Finals – the Heat were preseason favorites two seasons ago as well as this season. It seems like LeBron is now so dominant thanks to an added post game that the Heat won't be stopped unless the 30-year-old Wade starts slowing down, and he did show some signs of that this year. But Bosh and James are in the prime.
The only thing working against the Heat next year is that they won't have any cap room, other than an exception, to bolster the frontcourt. But don't rule out a veteran player wanting to sign with the Heat for only the exception like Shane Battier did last year – there have been some rumors that Steve Nash might be one of those guys. Miami also is set to get a new local cable deal that will quadruple what the team is currently getting, so Owner Micky Arison might be willing to pay the luxury tax.
The Thunder are the second-favorites and should only get better with Kevin Durant and Russell Westbrook each only 23 and locked-up long term. The problem with OKC is that it finances are going to catch up to it. Being in a small market will mean a small-time local cable deal compared to the Heat, for example. And Serge Ibaka and James Harden are restricted free agents this offseason. OKC can match any offer, but can it afford both? Harden probably cost himself millions with his Finals performance. If you throw out the star-studded Lakers, no team from the Western Conference has reached back-to-back Finals since the Utah Jazz in 1997 and 98.
The Bulls, who had the NBA's best regular-season record again this year, are at 6/1 but I wouldn't touch them. Chicago was ousted in the first round of the postseason by the Sixers after Derrick Rose tore up his knee. He's not likely to be back before next season's All-Star Game, if then. And who is to say he's the same player? It often takes players two full years to get back to 100 percent. In addition, Luol Deng has a wrist injury that needs surgery, and he is putting it off until after the Olympics so he can play for Great Britain. The Bulls are not happy about that but can't stop him. Thus, Deng is expected to miss at least the first few months of next season.
The Lakers and Spurs are both 10/1, but obviously they have the Thunder in their way out West, with OKC beating both in this year's playoffs. The big question on L.A. is Pau Gasol. Could the Lakers use him to get a point guard they desperately need? Almost everyone thinks he's a goner. It's not out of the question the Lakers also make a run at Dwight Howard.
As for the Spurs, I think their window is closed. Yes, they were brilliant at the end of the season with that 20-game winning streak, but San Antonio was then exposed in the final four games of the West Finals by the younger, more athletic Thunder. Tim Duncan showed his age this year (36) and Manu Ginobili is 34.
A team that intrigues me at 25/1 is Memphis. The Grizz blew their first-round series vs. the Clippers, but there's talk they may try to bring Gasol back to play with brother Marc. Supposedly the expected new owner will infuse cash into the team, although there are some reports he's not worth anywhere near what he was after a big loss in the stock market. It's not a done deal he buys the team. Don't be surprised if the Grizz deal Rudy Gay this offseason.
It might be worth rolling the dice on the Clippers at 18/1. They need to go all-in to keep Chris Paul beyond next season and that could mean somehow swinging a trade for Howard. The Clips would offer Orlando anyone on the roster other than Paul and Blake Griffin. L.A. should probably focus more on upgrading at shooting guard.
But I simply don't seeing any team beating the Heat unless the Lakers or Clippers get Howard. The only other club I would give a realistic chance to is Dallas (14/1) if the Mavs can land Howard and free agent Deron Williams to add to Dirk Nowitzki. With Mark Cuban, anything is possible.
Here are the full 2013 NBA Finals odds to win from Bovada:
Miami Heat 11/4
Oklahoma City Thunder 5/1
Chicago Bulls 6/1
Los Angeles Lakers 10/1
San Antonio Spurs 10/1
Dallas Mavericks 14/1
Los Angeles Clippers 18/1
Indiana Pacers 20/1
Boston Celtics 25/1
Memphis Grizzlies 25/1
Denver Nuggets 30/1
Orlando Magic 30/1
New York Knicks 35/1
Philadelphia 76ers 40/1
Atlanta Hawks 50/1
Houston Rockets 50/1
Portland Trailblazers 50/1
Utah Jazz 50/1
Golden State Warriors 75/1
Milwaukee Bucks 75/1
Minnesota Timberwolves 75/1
Phoenix Suns 75/1
Brooklyn Nets 100/1
Cleveland Cavaliers 100/1
New Orleans Hornets 100/1
Sacramento Kings 100/1
Toronto Raptors 150/1
Washington Wizards 150/1
Charlotte Bobcats 200/1
Detroit Pistons 200/1
Doc's Sports is offering $60 worth of member's picks absolutely free – no obligation, no sales people – you don't even have to enter credit card information. You can use this $60 credit any way you please for any handicapper and any sport on Doc's Sports Advisory Board list of expert sports handicappers. Click here for more details and take advantage of this free $60 picks credit today.