Case of the Mondays: Big Names Coming Up Small
by Ricky Dimon - 5/6/2013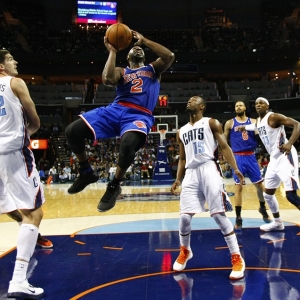 It was a rough weekend for some of the biggest markets and biggest names in sports. New York's momentum on both the hardwood and the ice came to a crashing halt on Sunday. On the other side of the country, the Dodgers continued to struggle both on and off the diamond. Phil Mickelson had a winner's trophy right there for him on a silver platter in Charlotte, but he could not grab it. Heck, even Rick Pitino of all people took an 'L' over the weekend.

(All odds provided by Sportsbook.ag)
New York sports. The Knicks at least did well to recover and oust Boston in Game 6 on Friday night, but it was a brutal Sunday in New York. Carmelo Anthony and company lost their series-opener at home to Indiana, 102-95, in a game that was not even as close as the score suggested. On the ice, meanwhile, the underdog Islanders had stolen one game in Pittsburgh and seemed poised for a surprising 2-1 series lead when they stormed ahead 2-0 in the first period. Instead, the Penguins — after blowing a two-goal lead of their own in the third period — bounced back for a 5-4 overtime victory. Pittsburgh is a +110 favorite to win the Eastern Conference. The Knicks, favored by 5.5 points in Game 2 on Tuesday, are +1000 to win the Eastern Conference behind Miami (-800) and Indiana (+800).

Walruses. From the tone of Brandon Prust's voice, you just know that being called a "bug-eyed, fat walrus" is not a compliment. No, not in the least. That's exactly what Prust called Ottawa head coach Paul MacLean last week, adding more spice to an already-heated series. It all started in Game 1 when Eric Gryba of the Senators sent Montreal's Lars Eller off on a stretcher with a crushing hit. MacLean deflected blame from his player and argued the incident resulted from a terrible pass by the Canadiens' Raphael Diaz that left Eller out to dry. Gryba was suspended for two games, which Ottawa and Montreal split. The Sens lead 2-1, having taken Game 1 and Game 3 — the latter by a 6-1 blowout on Sunday. Ottawa is +800 to win the Eastern Conference; Montreal is +1200.

Hanley Ramirez. It has been a trying start for the big-spending Dodgers, who have lost four in a row to fall four games below .500 at 13-17. They just finished getting swept by NL West rival San Francisco, leaving them 5.5 games behind the defending World Series Champions in the division. Furthermore, Ramirez is back on the 15-day disabled list after suffering a hamstring injury last Friday. The oft-injured shortstop started the season on the DL in the aftermath of thumb surgery, and he returned for just four games last week. From the sound of things, Ramirez may have to serve multiple stints on the 15-day list in order to complete the necessary rest required to recover from his current issue. L.A. is +350 to win the NL West, +650 to win the NL Pennant, and +1400 to win the World Series.

Daryl Washington. Amazingly enough, the Cardinals' defense was not terrible last year. In fact, it was better-than-average! Arizona finished 12th in the NFL in total defense, allowing 337.8 yards per game. It had to be a decent unit, too, because the Cards' inept offense was dead last with room to spare (263.1 per contest, more than 34 yards fewer than any other team). Now there's more bad news for a team that needed none of it, this time on the defensive side. Washington — who led Arizona in 2012 with 108 solo tackles, 134 total, and nine sacks — was arrested last Friday for allegedly assaulting his ex-girlfriend. He has already been suspended four games of the upcoming season for violating the NFL's substance abuse policy, so the linebacker will be on a short leash with commissioner Roger Goodell. The Cardinals are currently +6 road underdogs at St. Louis in Week 1.

Goldencents. Rick Pitino finally lost something, although he was arguably just five percent to blame for this one. Pitino, a five-percent minority owner of Goldencents, watched the horse stumble to a 17th-place finish at the Kentucky Derby. The plan had been for Goldencents to lead from the start despite not setting a blistering pace, such that he would still have enough left in the tank for a big finish. Instead, Palace Malice stormed to the front and made for a record-setting first half of the race, thoroughly exhausting the leaders (including Goldencents, who was third at the midway point) and paving the way for pre-race favorite Orb to surge from behind. Orb is a +150 favorite to win the Preakness Stakes in two weeks, while Goldencents is the second favorite at +700. As for a completion of the Triple Crown, Orb is +300.

Phil Mickelson. Lefty was at or near the top of the Wells Fargo leaderboard the entire week, and he even came close to a wire-to-wire victory. That was, of course, until a late-round collapse on Sunday. Prior the final round, Phil was 47 for 49 on putts inside 10 feet and he had recorded 32 one-putts. On Sunday, however, he could not throw it in the ocean. Mickelson's total length of putts made added up to fewer than 30 feet, the worst such mark in the entire field. He bogeyed 16 and 17 to throw away a one-shot lead and missed a playoff that featured Derek Ernst and David Lynn (won by Ernst). On the bright side for Phil, the golf season is approaching its zenith, and he has chances to make amends this week at the Players Championship and next month at the U.S. Open. Tiger Woods is favored to win the USO +1500, ahead of Rory McIlroy at +1000. Lee Westwood is next at +2200.
Read more articles by Ricky Dimon