Doc's Sports Fourth Down and Inches
by Max Powers - 10/15/2013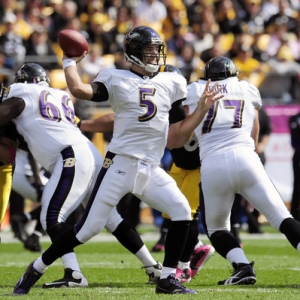 After enduring a couple of down weeks, things could not have gone better for our clients with last weekend's football picks. We previously mentioned that we would be cutting back on the number of selections last week. The plan was to release around 10 picks, with the goal of winning seven of those games. I am happy to report that we actually cashed in on seven of just eight selections for a net gain of 27 units. This translated to a healthy profit of $2,660 for our $100 bettors.

Those results include a perfect 3-0 record on our top plays in both the college ranks and the NFL. For the first time this year we showed a profit on our NFL picks with a perfect 3-0 record that netted +13 units or a $1,300 return on investment for our $100 bettors.

All three of our NFL games did not go as completely as planned, with Detroit, Baltimore and Jacksonville all trailing big at one point in the game. Both the Lions and the Ravens rallied with impressive fourth quarters, and Denver never really threatened to blow that game wide open to cover the enormous 27-point spread. The bottom line with wins and losses is that we never get too high or too low after the final results are in. We simply turn the page and move onto the next week of games. This philosophy has been a staple at Doc's Sports for the past 42 years since it provides the best opportunity for long-term success.
Our two top plays in college football both found the winner's circle on Saturday with Michigan State beating Indiana by 14 points and LSU finding its defense just in time to hold off Florida.
We did get off to a rough start in the Michigan State game after Indiana scored on their first possession to go up 7-0. The Spartans' defense stepped to the plate to keep the Hoosiers in check until quarterback Connor Cook and co. finally got Michigan State's offense in gear.

I stated last week in this article that MSU is my pick to win the Legends Division, and the Spartans' performance this past Saturday only further confirms my feelings about just how good this team really is. The Spartans continue to get better each week on offense as the season progresses, but they still have to avoid any mistakes that give their opponents a short field. There are very few college teams -- if any -- that can drive the length of the field on Michigan State's defense. This makes this team an attractive selection to use again down the road. However, it will probably not be this week since they are giving up a ton of points against an inferior Purdue team.
Indiana head coach Kevin Wilson is slowly making this team competitive behind a strong offense, but the Hoosiers' defense could easily keep them from qualifying for a bowl game this year. Unless something crazy happens, Indiana will need to beat Minnesota, Purdue and Illinois to get to the necessary six-win mark considering it still has to face Wisconsin, Ohio State and Michigan on the road.
Speaking of Michigan, it appears that the Wolverines luck in close games has finally ran out after falling to Penn State this past Saturday in a thriller. The Lions were able to jump out to an early lead, and even after the Wolverines dominated most of the second half, Penn State was able to come up with a key score to send the game into overtime. Michigan went on to miss two game-winning field goals and got tagged with the loss after Penn State finally scored a touchdown in the fourth overtime to earn a hard-fought win. Conservative play calling really worked against Michigan in overtime. Field goals in college football are never a gimmie, and the Wolverines got burnt playing not to lose as opposed to playing for the win by attacking Penn State's defense. This strategy also brought its six-game winning streak to an abrupt halt.
I still have to give kudos to the Lions, who continue to find ways to win games despite being at a severe disadvantage without a full complement of scholarships. They should remain a tough out for any team they face from here on in.

Another high-profile program that fell from the ranks of the unbeaten last week was Stanford in a shocking loss to Utah. I thought that the Cardinal were lucky to get by Washington the week before because of their conservative play. Stanford's offense is having trouble sustaining drives, and quarterback Kevin Hogan is struggling to find the end zone like he did earlier in the season. There is no reason that the Cardinal should have allowed the Utes to stay in that game, but they did, and it cost them dearly. Things only get tougher from here with UCLA, Oregon State and Oregon still on the schedule. The best-case scenario would be wins over the Bruins and the Beavers, but Stanford will not beat the Ducks this time around with the way they are currently playing. UCLA has a better-than-average shot at beating this team, especially if Stanford tries to go conservative. The David Shaw aura may be wearing off in Palo Alto.
Right now, everything points to our Big Ten Game of the Year getting released for a Nov. 2 matchup. For those of you that may be unfamiliar with Doc's Sports past track record with this 8-unit moneymaker, this world-famous play went an incredible 19-0 from the late 1970s to the early 1990s. While we have not come close to that kind of winning streak in recent years, there is a new team in place at Doc's for 2013, and we are more than confident that the start of another epic run is right around the bend, starting with this year's game.

There are a number of different selection packages available that will include the Big Ten Game of the Year, but the best value remains our Remainder of the Season package for just $475. This will give you every selection we release for college football and the NFL right through the Super Bowl.

One never knows when a winning streak will occur, so by signing on for every football selection that we release from now until the end of the season you are sure to be onboard when the next one does come along.
I would like to close out this week's article with a brief discussion about our NFL picks. After a rocky start, we cut back on our units for a few weeks to get a better handle on things before going back to our normal level these past two weeks. The timing on both changes proved to right, and despite Denver's inability to cover against Dallas back in Week 5, we still produced a highly profitable 5-2 record during this time span. We developed a much better feeling about our trends and stats over the last two weeks, so that is why we decided to increase the units to their old levels.

Time will tell if our instincts remain on track for additional winning weeks, but I just wanted to let you know that Doc's always has our client's best interest in mind with regards to successfully managing their bankroll. We never just force out games just to have a set number of plays. It still comes down to how we feel about the picks first, and then we go with a unit value that best reflects our confidence level for the projected outcome. That's it for this week, and best of luck with your betting next weekend.
Sincerely,
Max Powers