Doc's Sports Fourth Down and Inches
by Max Powers - 10/1/2013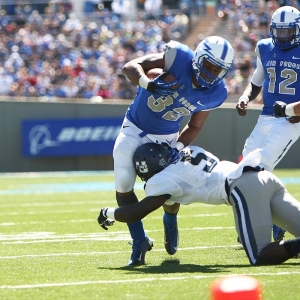 Week 5 of the college football season is in the books, and we are happy to report that it was another profitable weekend for our loyal $100 bettors who ended up netting $350 on a 5-3 record that was up five units on Doc's Unit Betting System. The bad news was our first loss of the season in one of our Game of the Year selections.
We went with Nevada (-11) against Air Force as our 7-Unit College Game of the Year, and it turned out to be a dud. Nevada did take an early 7-0 lead, but that was pretty much it for the highlight reel as we had no chance of covering the number after the first quarter. We did not anticipate the Wolf Pack having trouble stopping the triple option attack, but they gave up 375 yards rushing as the Falcons only had to punt the ball three times all day long. I am actually amazed that Nevada won the game, but it helped when an Air Force receiver dropped a pass late in the game that would have allowed them to run out the clock. If not for the elevated play of quarterback Cody Fajardo, Nevada would have lost this game by double-digits. He single-handedly kept the Wolf Pack in this contest with three passing touchdowns and two more on the ground, including the game winner with less than two minutes on the clock. You have to give credit to Air Force, which played the game of its life despite numerous injuries to key personal.
It will be interesting to see where these two teams go from here. The Wolf Pack should have better success against a traditional offense, but their defense is still the weakest part of their game. Air Force still has major issues defending the pass, which is sure to cost the Falcons a few more games this season. As we close the book on this GOY selection, I would like to reiterate that no pick is ever a "lock," and that is why we preach using the Unit Betting System. As long as you played all eight selections exactly as we recommended, you would have shown a profit on Saturday despite this 7-unit loss.
This is the time of the year when you have to keep an eye to the sky as weather affected the outcome of two of our selections last Saturday, and unfortunately we came out on the short end in both of those games. Texas was hit hard by severe storms, and this ended up causing long delays in both the Army vs. Louisiana Tech game in Dallas and the Wyoming vs. Texas State matchup.
Wyoming was affected the most by the delay as it kept its high-octane offense in low gear, resulting in a major struggle to get things going against an inferior team. As good as this offense looked last week against Air Force, it was a 180-degree turn this week against the Bobcats in the slop. The Cowboys are still a solid team to bet on, and we will be using them again in the future.
Last week in this very article, I mentioned how much I liked West Virginia getting a ton of points at home against an unproven Oklahoma State team. As part of a two-team play in Saturday's early games at four units apiece, the Mountaineers went on to win the game outright as 19-point dogs. This contest was never in doubt but still terrible to watch unless you are a diehard West Virginia fan. It lasted more than four hours and featured numerous three and outs by a pair of offenses that really struggled to complete a pass. The Cowboys are still a much better overall team than WVU and do not be surprised if we decide to go against the Mountaineers in the future.
The other early game in our selections was an absolute gift as Central Florida had no business covering against South Carolina. The Golden Knights dominated the first two quarters and took a 10-0 lead into halftime. A major upset was in the making with Gamecocks' quarterback Connor Shaw out of the game, but nothing went right for the Knights in the second half. Their defense had no answer for stopping running back Mike Davis, and to make matters worse they started turning the ball over on offense. UCF got within 10 points on a garbage score late in the fourth quarter, but South Carolina drove right back down the field and had a first and goal inside the five-yard line with about four minutes to play. A goal-line fumble prevented the score, and the Knights capitalized again with some late points to cut the lead to three. Things got hairy in the final seconds after South Carolina almost scored on an onside kick, but a touchdown-saving tackle at the 20-yard line preserved the cover.
Looking ahead to this week's games, we really like the card on Saturday and plan on firing out a 6-unit play from the Big Ten. Now that conference play is in full swing, we will most likely cut back on our total number of selections, but we still have every intention of producing plenty of winners each weekend. We have had a tremendous season in college football through the first five weeks, which has allowed our $100 bettors to earn a profit of $5,130 on a unit count of +56.

We still have our Big Ten Game of the Year in the works, which remains one of the most sought-after selections in the entire country. At one point during an incredible run from the late 70s to the early 90s we hit on 19 straight games. Our top selection for this week rates rather high, and I would encourage you to jump on board with a number of different packages that start at just $30.This selection involves a team that has been undervalued in its last few outings, and the current line is at least seven points off from where we think it should be.
The two best matchups on Saturday's schedule involve teams with Rose Bowl affiliations.
Ohio State is coming off a big win last week against Wisconsin, and it must now travel to Evanston to play the undefeated Northwestern Wildcats. This spread is not as wide as it was against the Badgers, and with the "College GameDay" crew in town, you can count on the Chicago faithful to be out in full force rooting for the Wildcats.
That might not be enough as Ohio State looked dominate on offense against Wisconsin with the return of Braxton Miller. One injury concern is the loss of Christian Bryant on defense, but I would still lean towards the Buckeyes in this game, and do not be surprised if we end up using them as a selection this week.
The other game takes place in Northern California and features a pair of unbeaten teams when Washington heads south to Palo Alto to face Stanford. Many people expected the Cardinal to struggle last week against Washington State, but I was not one of them. Looking back, the Cougars probably should have not given up a game in their home stadium to play this one in Seattle as that is quite a distance away from Pullman. Stanford has aced every test it has faced this year, and the only way the Huskies are going to be able to stay in this game is to protect the football. This will be a great game to watch, but we will not have a selection on it.
I would like to go on record as saying that the Pac-12 is the best conference in the country this season from top to bottom. This may anger some of you in SEC country, but traditionally strong defenses like LSU and Georgia have fallen apart this season. I also believe that this is the year that a team from outside the SEC will win the BCS Championship Game.
Robert Ferringo and I talk a great deal during the week, and we both feel that SEC is just living on its reputation this season. Mark my words, if Stanford or Oregon go on to run the table, they will be playing in the second bowl game in Pasadena, not the first!
As I mentioned before, we are set to pull the trigger on a 6-unit play from the Big Ten this Saturday, and we would love to have you board. We have numerous packages that can fit your needs, so please give us a call at our Wisconsin office (800) 356-9182 or our Las Vegas office (866) 238-6696.
Best of Luck and have a great weekend
Max Powers