Live Betting another Great Way to Challenge Las Vegas Sportsbooks
by Zack Cimini - 9/9/2013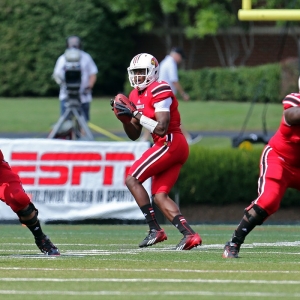 Offshore and UK sportsbooks offer many different options for wagering on a game, and Las Vegas has been somewhat lagging behind in that department apart from the standard side, total and prop bets offered on a particular matchup. However, Sin City bookmakers have recently taken a page from their overseas brethren by offering live betting at many establishments throughout Southern Nevada.
In Las Vegas, sportsbooks have to limit their exposure on a game. That is why they have low limits on certain high-risk betting options. However, in the ever-competitive sports betting industry, you have to keep up with the competition for wagering options offered.
And with the popularity of live betting in recent years overseas, Las Vegas had been forced to adapt. Live betting has been extremely popular with online sportsbooks such as Bovada and sportsbooks in the UK. In Europe, lines are always available by the minute. With Las Vegas sportsbooks and with online bookmakers, lines are reset during breaks in action – whether due to a timeout or a quarter change. Though the implementation of live wagering is still in its infant stages in Las Vegas, the usability is growing in popularity.
You can benefit from the many perks of live lines by being stringent. Reaction to a line is one area where you need to display your handicapping skills. Early in games, especially, is when you should be patient. Just because two teams score quickly on the first two drives of the game does not mean you should rush to place a live bet on the "over". How often do you really see two teams continue to score against each other at a lightning pace for the entire game?
Online bookmakers will throw the bait at you in order to entice you to take the over – or even ponder the "under". The line is not going to be close to what the original line was, so if the total was in the mid-40s, you can expect a live line to leap into the mid-to-high 50s range. It's akin to a hot stock. If there is rapid movement on a company with a great quarterly review, you can't get in on the stock without paying the price. Accordingly, if you want action, you'll have to buy on an increased number.
Early in the season, there can be benefits to avoiding a game until it beings. Maybe you liked a favorite but did not like the overall line. Then, if the underdog scores a touchdown or field goal first, you're going to be able to get an adjusted live line at a lower cost than an original buy. The end result might not be any different, but you'll have better odds on your side.
You're also going to be able to find better buys, with different odds available, with the variety of online sportsbooks and companies in Nevada that offer mobile live wagering. Every company can't put out the same number like they almost all do before a game starts. The action between timeouts and breaks on the field is typically less than three minutes. So if you're fast enough during action breaks to be quick on your browser(s), you'll get an edge somewhere.
One of the keys to being effective at live wagering is having a knack for anticipating momentum swings. You want to watch games close enough to see when the tide is just beginning to turn – often a drive or two before it actually happens. Maybe a team is up by a couple of touchdowns but their body language looks too overconfident. There are many different elements in sports that draw emotional swings. Oftentimes, you can even hear an announcer commenting that a timeout should be called or that a sideline looks too content.
Also realize who is on the field. True competitors will give it their all for an entire game even if they're losing. Comebacks will never disappear, just like blowouts won't. You can profit off both by simply trusting your visceral instincts.
Last year, when Peyton Manning and the Denver Broncos were down 24-0 on "Monday Night Football," did any fan truly count out a possible comeback?
Of course not.
Nine years earlier, Manning had mounted a miraculous comeback when the Colts were down by three touchdowns to Tampa Bay with less than four minutes left. Live odds after the Chargers made it 24-0 had the Broncos at +13.5. This was a number only available right before halftime. The number was closer to +10 for Denver at the actual halftime lines. But that's the effect of an agglomerate of sportsbooks pulling together to utilize halftime in order to field a proper number.
Of course, Manning and the Broncos stormed out and erased the 24-point deficit, scoring 35 straight points to end the game.
Another key phase of a football game that you can seek a live line for is in close games during the fourth quarter.
If it's a college game, overtime can offer a unique line. You won't get any points in those circumstances – just a moneyline odds offering. Still, if a team has proven it can win tight games, this is a good chance to win at -130 to -150 odds.
So if you're a novice to live betting, just browse line moves during games this upcoming weekend. Seek different and appropriate angles when you're making a live bet. They are there for the taking. Just remember that you shouldn't fall in the instant – and easy – trap of falling in love with a favorite early in the game. Oddmakers and bookmakers increase revenue from live bets and have the proper algorithms in place to attract the same type of trap-bet action they get from regular odds. In the end, it's all about being smart.
Read more articles by Zack Cimini