Thank God it's Friday: Winston Cleared for Action, Alabama not so Much
by Ricky Dimon - 12/6/2013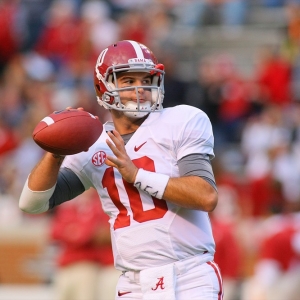 Well, thank God that's over. The Jameis Winston case that we have been hearing about just about nonstop for the last month reached a low point when it singlehandedly caused the cancellation of Ron Burgundy's anchoring of the 6 p.m. EST "SportsCenter" on Thursday. For others, however, a long week continues on the gridiron, the hardwood, and on the pitch.
All odds provided by Sportsbook.ag.

Alabama. Life goes on, and so does the SEC Championship Game—even when it does not involve Alabama. The Crimson Tide did not entirely lose a shot at the national title when they were stunned by Auburn on Chris Davis' missed field goal return last Saturday, but they did throw away the SEC West and get booted out of the conference championship showdown. You can't argue with Nick Saban's track record, but you can argue he cost his team dearly in the Iron Bowl. Attempting a 57-yard field goal with a backup freshman is one thing; going for it on fourth down from the opponent's 13-yard line with a chance to go up two possessions with five minutes left is another. Auburn is a -2 favorite over Missouri at the Georgia Dome on Saturday. Alabama is a +6500 longshot to win the National Championship

Duke. Duke had little chance to win the ACC Championship anyway. Same goes for all other contenders to win the Heisman Trophy. But those slim chances went entirely up in smoke when it was announced on Thursday afternoon that Winston would not be charged with sexual assault. The Seminoles have won their last eight games by an average of 46 points, including a 51-14 humiliation of then-No. 3 Clemson and a 41-14 round of then-No. 7 Miami. FSU is a -29.5 favorite over the Blue Devils, and Winston is -3000 to win the Heisman.
Drew Brees. Brees kind of dominated everyone in the media business when he pointed out—correctly—that the Saints have the best road record in the entire NFL since 2009. Unfortunately, that was his only instance of domination on Monday night. The Saints got clobbered on the road, 34-7, by a team it will likely have to go through in the NFC playoffs in order to reach the Super Bowl. The 11-1 Seahawks, who are 6-0 at home, limited Brees to a season-low 147 passing yards on 38 attempts. The Saints are -3.5 favorites over Carolina on Sunday and they are -150 to win the NFC South.

Marc Trestman. When did every single coach in football, both college and professional, get the idea that field goals—especially 47-yarders—are chip shots? Memo: a lot can go wrong on a field-goal attempt (see: Tide, Crimson). Trestman is not alone, but that doesn't make his decision to attempt a 47-yard overtime field goal on second down any less terrible. Chicago Bears' kicker Robbie Gould missed it, and Minnesota promptly marched down the field and settled for a 34-yard try. Blair Walsh nailed it, giving the host Vikings a 23-20 win. Chicago could have remained tied with Detroit atop the NFC North, but instead it is one game back. The Bears are +500 to win the NFC North and +6000 to win the NFC Championship.
Toronto Raptors. Just when things seemed to be turning around for Toronto, they went from bad to worse on Tuesday night. The Raptors had already lost three in a row, including all three at home and one to the reeling Brooklyn Nets. However, they took to the road and led Golden State by 27 points with nine minutes remaining in the third quarter. They still had an 18-point advantage going into the fourth quarter only to get outscored 42-15 over the final 12 minutes. The Warriors won with room to spare (112-103) to complete their largest fourth-quarter comeback since 1962. There is some good news, however, for Toronto. Its 6-11 record has it just a half-game out of first place in the Atlantic Division. No joke. The Raptors are +500 to win the division.
Michigan State. The 2012-13 college basketball season featured a comedy of changes at the top spot in the rankings. This one is on course to be no different. First Kentucky went down to Michigan State. Then the Spartans got manhandled at home by North Carolina, 79-65, on Wednesday night—thus paving the way for Arizona to become No. 1 next week. Of course, the real story here is North Carolina. This team is the enigma of all enigmas. Already this season the Tar Heels have losses to Belmont and UAB and wins over Louisville and Michigan State. Will the real UNC please stand up? Michigan State is a +450 favorite to win the National Championship.
Manchester United. United manager David Moyes said earlier this week that his club has a good opportunity to win another Premier League. Perhaps he did not look at the current standings. Nor could he have anticipated Wednesday's performance, in which Man U lost to Everton at Old Trafford for the first time in 21 years. Everton notched the match's lone goal in the 85th minute, sending the Red Devils to a third straight Premier League outing without a victory (0-1-2). United is tied for eighth on the table with Southampton, 12 points behind first-place Arsenal and six points back of third-place rival Manchester City. Man U is +2000 to win the league title; City is a +150 favorite.
Read more articles by Ricky Dimon