Thank God It's Friday: Knicks, Thunder Nearing Falls of Matt Barkley Proportions
by Ricky Dimon - 5/3/2013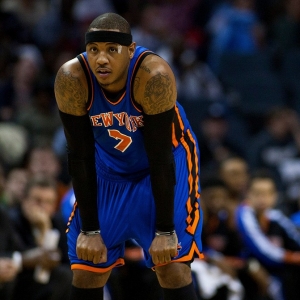 The first week of the NBA Playoffs were straightforward enough. Home teams took care of business, Miami and San Antonio swept their respective opponents, and other favorites generally cruised. New York and Oklahoma City, however, apparently can't stand prosperity. Thanks to minor collapses that may soon become major, Round 1 just got a whole lot more interesting. And for some teams, this week just got a whole lot longer.

(All odds provided by Sportsbook.ag)
Scott Brooks. It's true that his team was playing like garbage, but Brooks clearly lost his mind during the fourth quarter of Oklahoma City's Game 5 loss to Houston. He started intentionally fouling Omer Asik with six minutes remaining in what was a 10-point game. It continued through the four-minute mark even though the Thunder were within as few as six points. Last I checked, a six-point game with four minutes left is just about a toss-up, especially when the shot clock is 24 seconds and the trailing team is playing at home. Brooks, however, apparently did not think so much of his top-seeded squad. He also appeared not to realize that Asik was draining most of his free-throw attempts (13-of-18 in the game, 11-of-16 in the fourth quarter). As such, the Rockets prevailed 107-100 and forced a Game 6 back in Houston. OKC is a +1 underdog on Friday and +220 to win the Western Conference behind San Antonio at -120.

New York Knicks. The Thunder may have suffered a brain cramp on Thursday, but the Knicks may be in the midst of a far more epic collapse. After leading 3-0, they failed to close it out in Boston without the suspended J.R. Smith. They led 11-0 at home in Game 6 only to get clobbered the rest of the way and lose, 92-86, in a contest that was not as close as the final score suggested. It was once all right there for New York to put away a Rajon Rondo-less opponent with extreme ease. Suddenly, Melo and friends are in serious trouble. The Knicks are still -1.5 road favorites on Friday, and they are -1000 to win this first-round series.
Los Angeles Kings. If L.A. wants to become the first team to successfully defend a Stanley Cup title since Detroit in 1998, it will need a borderline miracle. The Kings aren't simply trailing St. Louis 2-0, they are doing so after two devastating losses. Jonathan Quick made a disastrous goalie blunder in overtime of Game 1, and the defending champs blew a 1-0 lead in the third period of Game 2 — giving up the game-winning goal with less than a minute remaining.

Matt Barkley. Okay, Geno Smith's plummet into the second round was painful…but damn if his fall can even be compared to that of Barkley. The former USC Trojans' signal-caller would have been a virtual Top 10 lock in the 2012 draft had he left college following his junior season. Even a No. 1 overall selection was not entirely out of the question. One disastrous year later, Barkley went No. 1…in the fourth round! That's 98th overall for those counting. Who knows exactly how much money Barkley forfeited by going back to school, but it's safe to say the number involves a whole bunch of zeroes. His situation could be worse than what it is in Philadelphia, but he won't be the first choice to run Chip Kelly's spread offense now and maybe not ever. The Eagles are +2000 to win the upcoming season's NFC Championship. San Francisco is +350 ahead of division foe Seattle at +500.

Vyjack. It's been a long week for Vyjack as the horse prepares for Saturday's Kentucky Derby. It's been a long week for his handlers, too. Trainer Rudy Rodriguez had to accept a 24-hour surveillance deal in exchange for his license to start Vyjack in the Run for the Roses. Four cameras hover over every corner of the stall, keeping constant watch on Rodriguez. The New York-trainer has long been scrutinized for alleged inappropriate tactics, some involving drug enhancement. On Wednesday, Vyjack drew the outside post position—No. 20. Big Brown won in 2008 from the far outside, but Vyjack — although he is good — is not Big Brown. Vyjack is +1800 to win. Verrazano and Orb are both +400 with Goldencents close behind at +450.

Real Madrid. On the bright side, Real Madrid was not humiliated to the same extent as FC Barcelona. Playing without Lionel Messi, Barca lost 3-0 to Bayern Munich in the second leg of their Champions League semifinal on Wednesday and fell by a ridiculous 7-0 on aggregate. Real trailed Borussia Dortmund 4-1 after one leg and could not make up the difference on Tuesday. Cristiano Ronaldo and company made it interesting, scoring twice late in the game to pull within one on aggregate. One more goal (the home team had seven more minutes to score following their 88th-minute tally) would have been enough for Real, which would have advanced on away goals had the aggregate been tied 4-4. Dortmund, however, allowed no more and survived to reach the final on May 25. Bayern, which finished runner-up to Chelsea last year, is a -225 favorite over Dortmund.

Tony Stewart. Nothing is going well for the 2011 Sprint Cup Champion in 2013. Stewart has embroiled himself in recent dust-ups with Joey Logano and Kurt Busch, which isn't exactly something new for NASCAR and certainly not for Stewart. What is new for the No. 14 car is utter ineptitude on the track. Stewart finished 41st at the Daytona 500 and — even though that is his worst result of the year — it hasn't gotten much better. He has no Top-10s in his last seven starts and he has been outside the Top 20 four times in this current stretch of futility. Stewart is all the way down at +4000 to win the Sprint Cup title. Jimmie Johnson is still a considerable favorite at +275, well ahead of the rest of the field. Kyle Busch and Matt Kenseth are co-favorites at +1000 to win this week's Aaron's 499 at Talladega.
Read more articles by Ricky Dimon