This Week in Sports Betting, A-Z
by Ricky Dimon - 10/4/2013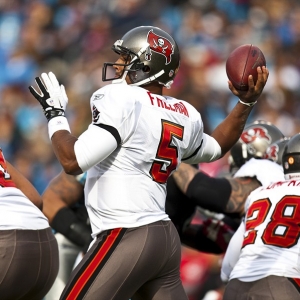 A. Awkward. That's what it was—to put it mildly—between Josh Freeman and the Tampa Bay Bucs. First he threw a bunch of interceptions, then the Bucs lost a bunch of games, then Freeman was benched, then he demanded a trade, then the Bucs shopped him to all other 31 NFL teams, then information was leaked regarding Freeman's participation in an NFL drug program, then head coach Greg Schiano was accused of the leaking, then Schiano denied it, then Freeman was finally released on Thursday.

B. Blackout. Nobody will soon forget the Super Bowl lighting malfunction…at least not if the Baltimore Ravens have anything to do with it. In the last week, both Terrell Suggs and former fellow linebacker Ray Lewis called the blackout a conspiracy theory. Suggs and Lewis suggest that commissioner Roger Goodell had a hand in it to save San Francisco from its slow start in the game. Seems outrageous, but is there anything Goodell wouldn't do? Sportsbook.ag has the Ravens as +3 underdogs at Miami in Week 5.

C. Connecticut. Head football coach Paul Pasqualoni got the boot on Monday. The Huskies were 0-4 this season and 10-18 overall under PP, who was in his third year at the UConn helm.

D. Darren Sproles. Rarely can a running back be a fantasy owner's delight when he is averaging 5.5 carries per game. But that's exactly what Sproles was on Monday night in New Orleans as he hauled in seven passes for 114 yards and a touchdown in the Saints' blowout win over Miami. He also averaged seven yards per rush and added a touchdown on the ground. The Saints are -120 favorites at Chicago on Sunday, according to Carbon Sports.

E. Evan Longoria. Longoria went 3-for-4 with a home run and two RBI in Tampa Bay's 5-2 victory over Texas in the tiebreaker for the second AL wild-card spot. Two days later, the Rays blanked Cleveland 4-0 to earn a place in the divisional round vs. the Red Sox. Longoria had four multi-hit performances and 11 RBI in his last seven regular-season games. The Rays (Moore) are +125 underdogs at Boston (Lester) in Game 1 on Friday, per Sportsbook.ag.

F. Fired. Lane Kiffin bit the dust—again—after USC's humiliation against Arizona State last Saturday. The Trojans were 3-2 with a horrendous 10-7 home loss to Washington State, a narrow 17-14 home win over Utah State, and a 62-41 embarrassment against the Sun Devils. Plus, all the players hated him. What's hard to understand is how Monte Kiffin could have produced a son who is this bad at coaching.

G. Government shutdown. The government may be shut down, but it won't shut down the Army and Navy-Air Force games this weekend. The three military schools received approval from the Secretary of Defense on Wednesday to proceed with their football games as scheduled. Carbon Sports has Navy as an 11.5-point home favorite over Navy on Saturday.
H. Homeless. Pacman Jones dished out $100 bills to homeless people earlier this week. He also paid $130 last week for a recent disorderly conduct charge. Perhaps all of that seems trivial when you still owe $11 million to victims of a Las Vegas club shooting.

I. Injured star. Georgia running back Todd Gurley tested his bum ankle at practice on Wednesday, and it did not go well. He is listed as day-to-day with the Bulldogs heading to Tennessee on Saturday. Keith Marshall had a career-high 20 carries against LSU after Gurley went down early in the game. UGA is a -10.5 favorite against the Vols, according to BetOnline Sportsbook.

J. Jimmie Johnson. JJ won for a record eighth time in his career at Dover International Speedway on Sunday. He had previously been tied with Bobby Allison and Richard Petty, who triumphed at Dover seven times. The win moved Johnson from third place in the Sprint Cup standings to second behind Matt Kenseth. Johnson is a +125 favorite at Bovada Sportsbook to win the Sprint Cup title.

K. Bernie Kosar. The former Cleveland Browns quarterback was arrested for a DUI on Sunday. But that's only the beginning. When asked if he would be able to perform the tasks of a field sobriety test, Kosar said he may have an issue. Why? Because of numerous leg injuries sustained during his NFL career due to terrible offensive lines. Classic.

L. Loserville. That's what Manchester has suddenly turned into. Man City lost 3-2 at Aston Villa last Saturday, and Man United lost a home match at Old Trafford, 2-1, to West Bromwich—both in Premier League competition. On Wednesday, City got blown out 3-1 by visiting Bayern Munich in Champions League group play. United posted a disappointing 1-1 draw at Shakhtar Donetsk. Sportsbook.ag has Bayern as a +333 favorite to defend its Champions League title. Both Man City and Man United are +1600 to win it all.

M. Muirfield Village. This week's Presidents Cup gives the United States a chance to erase the demons—somewhat—of last year's Ryder Cup collapse. The Americans are leading the international squad by one point after the first day of action, which featured six foursomes playing best ball. Team USA is a -450 favorite at Bovada Sportsbook to win the Presidents Cup.

N. Name-change. Donte Whitner is becoming Donte Hitner. No, you can't make this stuff up, folks. The 49ers safety confirmed both on Twitter and to reporters that he submitted official documentation on Tuesday. Whitner—er, Hitner…or we'll just call him Donte for now—hopes to have his new name on the back of his jersey by Sunday night's showdown vs. Houston, although he admits Week 6 is a more realistic goal.

O. One-on-one. Michael Jordan says that in his prime he could have beaten LeBron James in a game of one-on-one. The Worldwide Leader in Sports promptly spent several days and hours upon hours discussing the matter and dissecting it from every conceivable angle. That's when you know it's a slow sports week. Mercifully, the NFL and the MLB playoffs returned to the forefront on Thursday. Miami is a +260 favorite at Sportsbook.ag to three-peat next summer.

P. Practice!?!?. We're talking about practice!?!? Yep; believe it or not, Greg Oden is back. On Tuesday, the Miami Heat center practiced for the first time in four years. Four years! Somewhere, Allen Iverson is a jealous man.

Q. Joel Quenneville. Quenneville was inducted into the Chicagoland Sports Hall of Fame last month. He is in his fifth season as head coach of the Chicago Blackhawks and has already won two Stanley Cups—including last season. The defending champions opened on Tuesday with a 6-4 home win over Washington. According to Sportsbook.ag, Chicago is a +550 favorite to win the Stanley Cup.

R. Rhode Island. Former Rhode Island teammates Cuttino Mobley and Lamar Odom are both out of the NBA right now. But Mobley wants back in, and—according to him—so does the drug-battling Odom. Mobley last played during the 2008-09 season, and he has spent the last few years running a wellness center in Rhode Island for patients in need of therapy. Sounds like Odom should be joining Mobley there instead of on the basketball court.

S. Steven Tyler. The Aerosmith rocker and former "American Idol" judge has free Chipotle for a whole year. He received a personalized card from the restaurant that gives him one free taco per day over the next 12 months. If only we could all be so lucky…. Yeah right; dream on!

T. Team rules. Ha Ha Clinton-Dix violated some (as usual, Nick Saban would not disclose any specifics) and is suspended indefinitely from the Alabama football team. On the bright side, the safety still has an awesome name. Heck, Ha'Sean Clinton-Dix is also a pretty epic name, even though Ha Ha Clinton-Dix is better. The Tide are +140 favorites at WagerWeb to win the BCS National Championship.

U. Undefeated. Yes, it's that time of the season when hope springs eternal for every team in the NHL. The puck dropped on the 2013-14 campaign on Tuesday, and 18 teams in the league are undefeated. BetOnline Sportsbook has the Pittsburgh Penguins as +260 favorites to win the Eastern Conference and +550 favorites to win the Stanley Cup.

V. Vince Wilfork. New England's mammoth defensive tackle will miss the rest of the season after suffering a torn Achilles' on Sunday night at Atlanta. Bianca Wilfork posted a post-surgery picture from the hospital of her husband with a cast on his right foot. Thank goodness for Bianca, otherwise Bill Belichick obviously would have listed Wilfork as "questionable" for Sunday's game at Cincinnati. The Patriots are +900 at TopBet to win the Super Bowl.

W. Weird Al Yankovic. Weird Al revealed earlier this week that he is currently working on a new album. Is a fourth Grammy in the cards for the master of the musical spoof?

X. Xavier Malisse. One day after David Nalbandian announced his retirement from tennis, X-Man played his last match on Wednesday. He had previously planned to call it quits after the Australian Open in January, but Malisse instead wrapped things up at home in Mons, Belgium. He peaked at No. 19 in the world and reached the 2002 Wimbledon semifinals—before losing to Nalbandian.

Y. Ned Yost. For some, barely missing the playoffs is a disaster. For others, it's an incredible accomplishment. Yost and the Royals satisfy the latter. Kansas City compiled an 86-76 record—the franchise's best in 24 years—this season, and the manager agreed to a two-year contract extension on Tuesday.

Z. Zach Mettenberger. Mettenberger was once enrolled at Georgia before getting dismissed, and his mom is still March Richt's administrative assistant, for crying out loud! Talk about pressure as the LSU signal-caller returned to Athens last weekend. The Tigers could not quite pull out a win, but Mettenberger handled himself extremely well in a 44-41 thriller. He completed 23-of-37 passes for 372 yards, three touchdowns, and no interceptions. LSU is a -9.5 road favorite at Mississippi State on Saturday, per GT Bets.
Read more articles by Ricky Dimon