This Week in Sports Betting, A-Z
by Ricky Dimon - 12/4/2013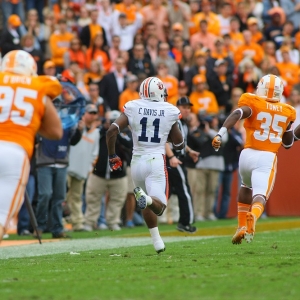 A. Auburn-Alabama. "Holy cow! Oh my god! Auburn wins! Auburn has won the Iron Bowl! I cannot believe it!" Yep, the call by Auburn announcer Rod Bramblett just about sums it up. BookMaker has the Tigers as -2 favorites over Missouri in Saturday's SEC Championship.

B. Brady Hoke. If not for the aforementioned, Michigan-Ohio State would have been the game of the day and maybe the game of the season in college football. The Wolverines were one play away from overtime against the No. 3 team in the nation, but instead Hoke chose to be one play away from winning. Michigan's two-point conversion attempt with 32 seconds left came nowhere close to being converted, and Ohio State is likely one win away from the BCS Championship Game following its 42-41 victory.

C. Civil War. Oregon-Oregon State is one of those games that always seems to be close even when one team is awesome and the other team stinks. Oregon State doesn't stink, but it isn't very good either. The Beavers took a 35-30 lead with 1:38 remaining, but the Ducks answered for a touchdown with 29 seconds left to survive, 36-35.

D. Chris Davis. Just when you thought Auburn receiver Ricardo Louis would go down in history for his heroics against Georgia, Chris Davis happened. Davis, who tweeted that he got a standing ovation in class on Monday, became the protagonist of one of the most amazing scenes in college football lore when he returned Alabama's missed field goal 109 yards for the game-winning touchdown. Auburn is +500 to win the BCS National Championship, according to Bovada Sportsbook.

E. Eleven. That's the NFL-best number of wins the Seattle Seahawks have through 12 games. Nobody other than the Broncos has reached double-digits in that column. Seattle, which has won its last three games by at least 21 points, has a three-game lead the NFC West. At 5Dimes Sportsbook, the Seahawks are +2.5 road underdogs against San Francisco on Sunday.

F. Fined. That's what Brooklyn Nets' head coach Jason Kidd was, to the tune of $50,000. Before you call him out for damaging both his reputation and his bank account for purposely spilling a drink on the court to virtually gain an extra timeout, consider the possibility that it was actually a shrewd career move. Kidd's loaded roster has produced a horrendous 5-12 record, yet nobody is talking about how bad the team is or how bad the coaching job has been.

G. Todd Gurley. No Aaron Murray, no problem. Gurley rushed 20 times for 122 yards and three touchdowns (all in the fourth quarter and overtime) while also catching a touchdown pass in Georgia's 41-34 victory over Georgia Tech. The Bulldogs have now won five in a row and 12 of the last 13 installments of the Clean, Old-Fashioned Hate rivalry.
H. Hazing. Apparently it happens in futbol, too, not just in football. In an upcoming documentary on British soccer in the early 1990s, David Beckham reveals that as a 16-year-old member of Manchester United's youth squad he was forced to stare at a picture of United star Clayton Blackmore while pleasuring himself. Now that just ain't right.
I. Indiana Pacers. This may be hard to believe, but the Pacers lost a basketball game on Monday night. They are now 16-2 with losses at Chicago (Derrick Rose was still playing and scored 20 points) and at Portland (the Blazers are 15-3). Indiana is a -8.5 favorite at Utah on Wednesday, according to BookMaker.


J. Jets. The New York Jets will give Geno Smith at least one more game in the starting quarterback role. Some may call that moronic. Others may consider the fact that Rex Ryan has Mark Sanchez 2012 as a comparison for Smith 2013. Sanchez had 13 touchdowns and 18 interceptions last season. Smith has eight touchdowns and 19 interceptions this season. So…yeah…by normal standards Smith is terrible. By Jets' standards he is mediocre.

K. Knowshon Moreno. Knowshon was in rare form on Sunday, and not because he had four catches for 72 yards and a score in Denver's win over Kansas City. He did a phenomenal military-crawl celebration after a key first down in the fourth quarter, and he produced some absolutely epic tears during the national anthem. Seriously, how are tears like that even possible? The Broncos are -12 home favorites over Tennessee this week, per Sportsbook.ag.

L. Lexus. A 1999 Lexus with 148,000 miles is up for auction on eBay. But here's the kicker: it was once owned by Leonardo DiCaprio. Even better, Gisele Bundchen—Leo's ex—rode in it. Don't put your money on Tom Brady making a winning bid.

M. Mike Tomlin. The difference between Kidd and Tomlin, other than a championship, is that Tomlin has a track record of pure class. We know sideline-gate on Thanksgiving was an aberration (and a funny one, too) as opposed to the rule. Kidd's coaching sample size is obviously way too small to determine his true character. Unfortunately for Tomlin, another difference between the two is their fine size (Tomlin was fined $100,000 on Wednesday)….

N. Nine. That's the number of games the New York Knicks have lost in a row. They are an outrageously awful 3-13, a half-game ahead of Milwaukee for last place in the entire NBA. Sportsbook.ag has the Knicks at +400 to win the Atlantic Division.

O. Ed Orgeron. Steve Sarkisian was hired as the Trojans' next head coach on Monday, a move that led to Orgeron's resignation as interim. Orgeron wanted the job and was reportedly infuriated when he didn't get it. Both guys have been decent at best as head coaches. Unlike Orgeron, Sarkisian has never starred in a major motion picture ("The Blind Side," in which Orgeron played himself). Advantage: Coach O.

P. Brent Pease. It takes a group effort to be as bad as Florida was this season. Pease, the Gators' offensive coordinator, and head coach Will Muschamp were two of the major players in accomplishing the feat of a 4-8 record that few could have thought possible in Gainesville. For his efforts, Pease is gone. Muschamp is still around, for now.

Q. Qualifiers. The World Cup qualifiers will be placed into eight groups during Friday's draw ceremony. Get your popcorn ready for 11 a.m. EST, televised by ESPN2, ESPN3, Univision, Univision Deportes Network, etc., etc., etc., etc. Host nation Brazil is a +300 favorite at Bovada Sportsbook to win the World Cup.

R. Aaron Rodgers. Green Bay's quarterback has not played a full game since Oct. 27 due to a broken collarbone. Not coincidentally, Green Bay has not won a game since Oct. 27. Rodgers is set to practice later this week, but doctors have not yet cleared him for game action. The spread for the Packers' home contest vs. Atlanta is off due to the uncertainty surrounding Rodgers.

S. Adam Scott. Scott was attempting to become just the second player and first since fellow Aussie Robert Allenby in 2005 to capture his nation's Triple Crown by winning the Australian Open, Australian Masters, and Australian PGA in the same season. He almost did it at the Open on Sunday, but a two-shot swing on the 72nd hole gave Rory McIlory a victory by one stroke. McIlroy is a +700 second choice at Bovada Sportsbook to win this week's Northwestern Mutual World Challenge. Tiger Woods is favored at +400.

T. Tennis. It may not be thought of as a one of the most lucrative sports in the salary department, but you can make a whole lot of dough. Just ask world No. 1 Rafael Nadal. The Spaniard earned $14.6 million in prize money this season, and in one week alone while playing exhibition matches in South American he reportedly made an extra $10 million. According to Carbon Sports, Nadal is +200 to win next month's Australian Open. Novak Djokovic is +125.

U. Un-American. You can't make this stuff up, folks: Auburn's athletic director Jay Jacobs actually said that keeping the Tigers out of the BCS National Championship if they win Saturday's game against Missouri would be "un-American." No. I'll tell you what's un-American: a team that boasts a bald eagle as one of its mascots losing to a three-loss LSU squad by two touchdowns. Now that's un-American.

V. Vin Diesel. The fate of the "Fast and the Furious" franchise may be up to Diesel following the death of Paul Walker over the weekend. Filming of the seventh movie in the series was supposed to resume this week in Atlanta. Of course, none of that matters in the grand scheme of things. RIP, Paul. Gone way too soon at 40 years old.

W. Wings. What the heck is the deal with the Detroit Red Wings' season? They won two in a row, lost two in a row, won four in a row, lost four in a row, won three in a row, lost seven in a row, and have now won four in a row and five of their last six. WagerWeb has the Red Wings at +800 to win the Eastern Conference.

X. Denotes not eligible for postseason. Man, what happened to Northwestern? The Wildcats started 4-0 then tested Ohio State in an extremely competitive 40-30 contest in their fifth game of the season. However, that only started a seven-game losing streak. Northwestern wrapped up its 2013 campaign by beating Illinois for its first Big Ten win, but a 5-7 mark leaves the team on the outside looking in on a bowl game.

Y. Thaddeus Young. Safe to say Young is no longer dealing with the "personal reasons" that kept him out three games from Nov. 20 through Nov. 23. The 76ers' forward scored 26 points in his first game back, recorded a double-double (15 points, 12 rebounds) in his second game, and scored 24 points in his third game. Of course, Philly has cooled off since a hard-to-believe 3-0 start and is now 7-12. The Sixers are +30000 at GT Bets to win the NBA Championship (insert laughter here).

Z. 'Zona. Arizona is up to No. 2 in the nation following its 72-66 win over Duke in the final of the NIT Season Tip-Off in Madison Square Garden last Friday night. The Wildcats, who have not been to the Final 4 since 2001, are 7-0. BetOnline Sportsbook has Arizona at +500 to win the National Championship.
Read more articles by Ricky Dimon