This Week in Sports Betting, A-Z
by Ricky Dimon - 11/22/2013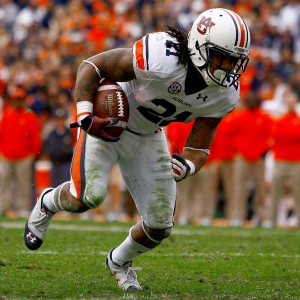 A. Auburn. The play of the year in college football came last Saturday at Jordan-Hare Stadium in Auburn. A wild fourth quarter saw Georgia take a 38-37 lead with fewer than two minutes remaining before the Tigers won on a miracle fourth-down touchdown pass from Nick Marshall to Ricardo Louis. The successful 73-yard prayer keeps Auburn with just one loss and still in both SEC and national contention heading into a highly-anticipated Iron Bowl. Sportsbook.ag has Auburn at +800 to win the SEC Championship.

B. Batkid. San Francisco spent $105,000 turning itself into Gotham City last week. But it was money well spent. As part of the Make-A-Wish Foundation, five-year-old Miles Scott—who has battled leukemia and is in remission—became Batkid for a day. One of his heroic, crime-fighting acts was saving the San Francisco Giants' mascot from impending doom.

C. Czech Republic. The Czech Republic successfully defended its Davis Cup title by going on the road to upend Serbia 3-2 last weekend. Novak Djokovic won both of his matches for the Serbs, but 34-year-old Czech Radek Stepanek became the first player in tournament history to win the decisive match of the Davis Cup final in two straight years. Djokovic is a +140 favorite to win the upcoming Australian Open at Bovada Sportsbook.

D. Detroit. It would probably take you at least 25 guesses to pinpoint which team in the NHL was sporting the longest losing streak prior to last night. So I'll just tell you. It was none other than the Detroit Red Wings, who had dropped seven consecutive contests. Detroit had not won a game since Nov. 2. The Wings had lost five of those seven games post-regulation, which was good news for their point total in the standings but utterly sad that they had not been able to win a single one. They finally ended it with a 4-3 win over Carolina on Thursday. At Bovada Sportsbook, Detroit is +850 to win the Eastern Conference.

E. Enrique Pena Nieto. The President of Mexico is denying he ever met Justin Bieber, who has been on a controversy-riddled Latin American tour. Bieber tweeted that he met the president and his family, along with some other "Mexican beliebers," but Pena Nieto promptly refuted the 19-year-old's claim. Everywhere in the world, teenage girls are wondering why anyone would deny meeting Justin Bieber.

F. Rob Ford. The Toronto mayor has more allegations against him than Alex Rodriguez. And he's handling them with about the same amount of class! This dude may not be cut out to be in charge of a high-profile city, but he's entertaining to say the least.

G. Grey Cup. The Canadian Football League championship game will take place on Sunday between the Hamilton Tiger-Cats and the Saskatchewan Roughriders. Both teams finished second in their division; Hamilton (10-8) behind Toronto and Saskatchewan (11-7) behind Calgary. Saskatchewan is a -7 favorite, according to 5Dimes Sportsbook.
H. Tim Hudson. Hudson signed a two-year, $23 million deal with the Giants on Monday. The 38-year-old is headed back to the Bay Area, where he started his career with the Oakland A's before spending nine seasons in Atlanta.

I. Zlatan Ibrahimovic. The 2014 World Cup will be without one of the best players in the business because Ibrahimovic's Sweden lost to Portugal 4-2 on aggregate. Ronaldo led the host Portuguese side to a 3-2 victory on Tuesday in the second leg of the home-and-home series. Not surprisingly, Ronaldo tallied a hat-trick while sending his nation to Brazil. Carbon Sports has Portugal at +3300 to win the World Cup.

J. Jack. Jack was jacking 'em up for Grinnell College again. Jack Taylor, who scored 138 points in a game last season, poured in 109 points in a game last weekend—giving him 190 through two contests this season. On Wednesday, he scored three. Taylor's scoring average promptly plummeted from 90.0 to 61.0.

K. Kobe Bryant. Kobe is back at practice and said earlier this week that a November return from his Achilles' injury is a possibility. After a full 5-on-5 practice on Thursday, Lakers' head coach Mike D'Antoni assured that Kobe is just "a few games" away. L.A. is a +5 home underdog on Friday vs. Golden State, per BookMaker.

L. Loss. The Indiana Pacers finally took one, going down 110-94 at Chicago last Saturday. Indiana, now 10-1 and tied atop the overall NBA standings with San Antonio, recovered—just barely—on Wednesday with a 103-96 overtime win at the Knicks.

M. Peyton Manning. The biggest game of the NFL season to date pitted 9-0 Kansas City against 8-1 Denver last Sunday night. As Manning tends to do, he won said biggest game of the regular season. The veteran QB threw for "only" 323 yards and one touchdown while committing no turnovers in the Broncos' 27-17 victory. At Sportsbook, the Broncos are -2 road favorites at New England on Sunday night.

N. North Carolina. Belmont!?!?! Seriously!?!? Then again, UNC's 83-80 loss to the Bruins last weekend may not have come as so much of a shock. The Heels have problems on and off the court, and one of those problems is that Duke has no such problems.

O. Ed Orgeron. USC's interim head coach said he wants the full-time gig starting next year. Lane Kiffin makes Orgeron (5-1 since taking over) look like the second coming of Bear Bryant. Of course, that's not saying a lot, so the jury is still out. BetOnline Sportsbook has Southern Cal as a -22.5 road favorite at Colorado this weekend.

P. Pass interference. Was it or wasn't it? Monday's conclusion to Pats vs. Panthers featured the most controversial final play of a game since last season's Fail Mary. What do they have in common? One ref called it one way and another ref called it another way. The difference between the two is that the general public also sees Pats-Panther both ways. Simply put, unlike the Fail Mary, it was a really tough call. Carolina is +615 at BookMaker to win the NFC Championship.

Q. Quarterbacks. Add Ahmad Brooks to the list of players fined for playing football. How far has protection of quarterbacks been taken? The 49ers' defensive end was fined $16K for not hitting Drew Brees in the head while sacking him last weekend. Ray Lewis offered to pay half, and Teddy Bruschi—perhaps not quite as seriously—offered to split it into thirds. Brooks, who is appealing, declined both.

R. Rant. Detroit Lions' head coach Jim Schwartz went on some kind of incoherent press-conference spiel about not being scared. Well, no head coach in the NFL is scared. But most of them are smart. Schwartz was not, as a botched fake field goal attempt with Detroit leading by four ultimately led to a 37-27 Steelers win last Sunday. The Lions are -10 home favorites over Tampa Bay on Sunday, according to 5Dimes Sportsbook.

S. Six. Jimmie Johnson's dynasty continued as he cruised to his sixth Sprint Cup title last Sunday at Homestead. JJ had taken all the suspense out of the Chase with a 28-point lead over Matt Kenseth going into the finale. He finished ninth, with only a minor hiccup coming in the form of a slight bump from Kenseth.

T. Tigers Trade. Goodbye, Price Fielder. The Tigers unloaded their playoff disappointment in exchange for second baseman Ian Kinsler. Fielder is a big loss (literally), but it frees up a ton of money in Detroit which the team may be able to use to keep its strength—pitching—intact. Miguel Cabrera can also move to first base.

U. Undefeated. There are still four unblemished teams atop the BCS standings. Alabama and Florida State are a lock for the Championship Game if they remain perfect, but the battle for third in case at least one of those two powerhouses slips up is a furious one. Baylor slaughtered Texas Tech last Saturday and is now .0013 behind Ohio State on the BCS list. Alabama is an even-money favorite at WagerWeb to win the National Championship.

V. Shane Vereen. The Patriots' running back suffered a wrist injury in Week 1 and was placed on short-term injured reserve. He returned last week and had one carry for seven yards. Oh, he also caught eight passes for 65 yards and was targeted a game-high 11 times by Tom Brady. Vereen's importance in the offense cannot be underestimated.

W. Jameis Winston. For a while it seemed like the accuser in the Winston case was after his fame. Now that the FSU quarterback's DNA has been linked to the scene, things could get interesting…and not in a good way. Stay tuned. GT Bets has Florida State as a massive -57 home favorite over Idaho on Saturday.

X. Xavier Henry. Well that's no way to treat a teammate. Then again, Henry and Jeff Withey aren't teammates anymore. The former Kansas Jayhawks met last Tuesday in NBA action, and Henry posterized Withey as the Lakers rolled over New Orleans, 116-95. L.A.'s third-year forward appears to be content with that highlight, because his last three games have been miserable. Kansas is a -17.5 home favorite over Towson on Friday night, per Carbon Sports.

Y. Yevhen Khacheridi. Ukraine's collapse in its home-and-home World Cup playoff was borderline epic. The Ukrainians won the first leg 2-0 at home only to fall 3-0 at France on Tuesday and lose 3-2 on aggregate. France led 2-0 after 22 minutes, so it probably would have won anyway, but Khacheridi's red card (after two yellows) did not help. Khacheridi was sent off in the 47th minute, and the French notched the series-winner 24 minutes later.

Z. Jay-Z. Robinson Cano's group of agents, including Jay-Z, met with the New York Mets on Monday. If anyone is insane enough to give Cano $300 million over three years, it's the Mets. Then again, so might some other teams. You know, the Yankees, the Rangers, the Angels….
Read more articles by Ricky Dimon