This Week in Sports Betting, A-Z
by Ricky Dimon - 12/26/2013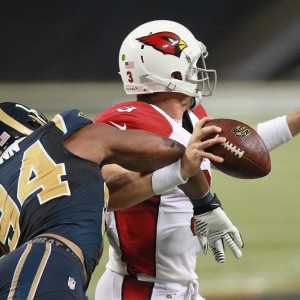 A. Arizona Cardinals. It's a good time to be the Arizona Cardinals. One year after going 5-11, they are 10-5 and still in playoff contention thanks to a three-game winning streak that includes a Week 16 upset of the Seahawks in Seattle. Of course, it could be even better. Had San Francisco lost its Monday night thriller against Atlanta, Arizona would be in control of its own destiny. After the 49ers pulled it out, the Cards' Twitter feed simply read: "Ouch." Arizona is even money at home against San Francisco in Week 17, according to 5Dimes Sportsbook.

B. Kobe Bryant. Kobe suffered a knee injury last week and could be out for the season, but he insisting that he is more "locked in" than ever and determined to return in a few months. For what it's worth, he is leading the Western Conference all-star voting among guards. You know, he could probably start for the Eastern Conference all-star team even on one leg. The Lakers are +3.5 underdogs at Utah on Friday, per BookMaker.

C. Colorado State. FYI: bowl season has started. Few may care until New Year's Eve or New Year's Day, but we've already had a wild one. In something called the Gilden New Mexico Bowl, Colorado State trailed Washington State 45-30 with fewer than three minutes remaining. The Rams promptly threw a touchdown pass, recovered a fumble, rushed for a touchdown, converted a tying two-point conversion, recovered another fumble on the ensuing kickoff, and then kicked a game-winning field goal.

D. "Duck Dynasty". Which duck hunters have bigger problems on their hands right now: the starts of the A&E's hit reality show or the Texas Longhorns heading into their Alamo Bowl against high-powered Oregon? It may be a draw, because the chances of anything ending well for either party are questionable at best.

E. Eagles vs. Cowboys. Well, it doesn't get any bigger than this. Actually, yes it does. All of the NFC East marbles come down to this Week 17 showdown, but—other than a division crown—all Philadelphia and Dallas are playing for is the right to lose a home playoff game against either New Orleans or San Francisco. BetOnline Sportsbook has the Eagles as -6.5 road favorites on Sunday.

F. Flagrant. Things got borderline out of hand in the final game of the Christmas Day NBA marathon between the Clippers and Warriors. Draymond Green and Andrew Bogut both had flagrant fouls at the expense of Blake Griffin, but in a stroke of interesting officiating—and/or some home cooking for Golden State—it was Griffin who got two technicals and the boot. The Warriors survived 105-103 after Chris Paul missed a last-second three. The Warriors are -6.5 home favorites over Phoenix on Friday, according to Sportsbook.ag.

G. Gabrielle Union. Dwyane Wade put a ring on it. With that rock, Union looks even better than she already did for a 41-year-old…or for anyone of any age.
H. P.J. Hairston. North Carolina University announced last week that it will not seek reinstatement for its suspended basketball star. "He is not a bad kid," head coach Roy Williams said of Hairston. "He made some mistakes." Translation: "He's a bad kid. We made a mistake recruiting him."
I. Ineligible. That's what Michigan State linebacker Max Bullough has been declared for the Rose Bowl after violating team rules. Bullough had 76 tackles, including 9.5 for loss, this season. He earned All-America Third-Team and Big Ten First-Team honors for the conference champions. The Spartans are +5.5 underdogs against Stanford, per Carbon Sports.

J. Jameis Winston. Winston added to his awards haul earlier this week when he was named AP National Player of the Year. Florida State's signal-caller is also the Walter Camp National Player of the Year, the Davey O'Brien Quarterback of the Year, the Atlantic Coast Conference Player of the Year, and of course the Heisman Trophy winner. The trophy that matters most, though, will go to either Winston's Seminoles or Auburn on Jan. 6.

K. Luke Kuechly. Carolina's second-year linebacker made a ridiculous 24 tackles in a huge Week 16 win over NFC South foe New Orleans last weekend. The Panthers prevailed 17-13 to clinch a postseason berth and take control of the division. They clinch it with either a Week 17 win at Atlanta or a Saints' loss to Tampa Bay. Kuechly has 146 tackles and four interceptions this season. Bovada Sportsbook has Carolina as a -7 road favorite over the Falcons.

L. Brook Lopez. Just when you thought things could not possibly get any worse for Jason Kidd and the Nets, Lopez is out for the year after suffering a broken foot in Friday's 121-120 overtime loss at Philadelphia. The borderline dominant center was averaging 20.7 points per game along with 6.0 rebounds and 1.8 blocks. New Jersey is a horrendous 9-19 but just three games back of Toronto in the laughable Atlantic Division.

M. Milan derby. Inter Milan got the best of AC Milan in Serie A action last Sunday. Rodrigo Palacio found the back of the net with four minutes remaining to give Inter the win over its city rival.

N. Novak Djokovic. Djokovic has hired former world No. 1 Boris Becker as his head coach. Anyone who follows tennis closely knows this is a curious decision, to put it mildly. Becker has remained quite a character in his post-playing life, and Djokovic had been faring more than just fine under now-former coach Marian Vajda. Carbon Sports has Djokovic as a +125 favorite to win the Australian Open.

O. Out of line. Chad Johnson does not play football anymore, but he does well to stay in the news; or doesn't do well to stay in the news, as the case may be this time around. The former Cincinnati wide receiver was spotted doing some last-minute Christmas shopping on Tuesday wearing a shirt that said, "Carpe That F***ing Diem." It should not go unnoted that Johnson was sporting said shirt at the kids store Toys R' Us.

P. Premier League. Manchester City has been the favorite from start to finish this season, even during a rough start. The Sky Blues are finally living up to their billing and they have surged to second place behind Arsenal on the heels of a three-match winning streak and a stretch of seven matches without a loss. Meanwhile, a busy week saw Arsenal draw with Chelsea on Monday before beating West Ham United on Thursday. Man City is a -770 favorite at BookMaker to beat Crystal Palace on Saturday.

Q. Quarter Quell. The second installment of the Hunger Games, which features former champions in the arena for the 75th annual installment of the games, has been racking up at the box office. "Catching Fire" finally dropped out of the top five over the weekend, but it passed "Despicable Me 2" for second overall this year behind "Iron Man 3." It has brought in almost $370 million.

R. Ray Lewis. Did LeGarrette Blount forget that Lewis is no longer on the Ravens? New England's running back did the Lewis dance after scoring a touchdown in the Patriots' 41-7 rout at Baltimore last Sunday. Of course, Blount can do whatever he wants when his team puts on such a performance.

S. Soldier Field. Philly-Dallas is not the only winner-take-all contest on Sunday. Soldier Field will host a virtual NFC North championship game between Chicago and Green Bay. Aaron Rodgers is back for the Pack after missing seven games with a broken collarbone. Green Bay is a -2.5 favorite over Chicago, according to 5Dimes Sportsbook.

T. Texas Rangers. The baseball market isn't out of control because Shin-Soo Choo became the highest-paid player named Shin-Soo Choo in MLB history. It's out of control because Shin-Soo Choo became the sixth highest-paid outfielder in MLB history. The Rangers signed him to a seven-year, $130 million deal last week. Wowzer.

U. UNC. North Carolina's wild season both on and off the court continued last Saturday. This time the Heels managed to hold off an upset-minded opponent (Davidson) in overtime. Through 11 games, they have losses to unranked teams Belmont, UAB, and Texas while defeating Louisville, then-No. 1 Michigan State, and Kentucky. UNC is a -27 home favorite over Northern Kentucky on Friday, per BookMaker.

V. Von Miller. The Broncos' linebacker suffered a torn ACL in last week's 37-13 road blowout and is out for the season. Because Denver's QB is Peyton Manning, "the season" in this case means two more games: Week 17 and one playoff game.

W. Wes Welker. Then again, that may not be the case. Manning is the truth, let's be honest, and he may get some help in the form of Welker even though he almost never gets any help from his defense (last year's playoff loss to Baltimore the most egregious example). Welker has been dealing with a severe concussion, but he practiced on Wednesday for the first time since Dec. 8. He will likely be held out until the playoffs. The Broncos are +275 at WagerWeb to win the Super Bowl.

X. X-Factor. Alex & Sierra, a boyfriend-girlfriend duo, won the X-Factor USA last week. That's all well and good, but the departure of judge Demi Lovato is more interesting. Although Lovato was likely going to leave no matter what, she is currently seething that a skit during X-Factor's season finale mocked her drinking problem. Drama.

Y. Kevin Youkilis. Youk, who played in just 28 games with the Yankees last season due to a back injury, signed with the Tohoku Rakuten Golden Eagles last week. They are the defending champions of the Japan Series. The 34-year-old's reported plan is to play one more season and then retire from baseball.

Z. Denotes clinched division. Someone consult the Elias Sports Bureau to see if this has ever happened: four divisions have been clinched going into the last week of the NFL season, and all four of those are in the AFC. That's right; no AFC divisions are still up for grabs while all four of the NFC divisions are still in play. GT Bets has Seattle as a -11 home favorite to beat St. Louis and wrap up the NFC West.
Read more articles by Ricky Dimon