This Week in Sports Betting, A-Z
by Nicholas Tolomeo - 1/18/2013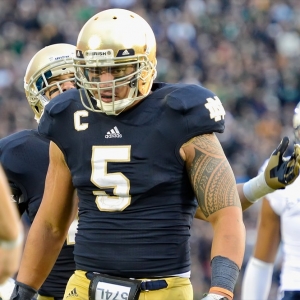 A – Armstrong, Lance. Lance Armstrong became the biggest Manti Te'o fan on Wednesday when it turned out that Armstrong's Tour de France medals were as real as Te'o's girlfriend. The Te'o dead girlfriend hoax was so big it bumped Armstrong's scandal and marathon interview with Oprah off the front page.
B – Bruce Arians. The Arizona Cardinals fired one ex-Steelers offensive coordinator in Ken Whisenhunt and hired another ex-Steelers offensive coordinator in Bruce Arians. No word on whether or not the Cardinals realize Andrew Luck is not coming with Arians to the desert.
C- Consol Energy Center. A sellout crowd turned out to a Pittsburgh Penguins intrasquad scrimmage, for some reason, on Wednesday night. There was no Guinness World Record official on hand, but it was believed to be the biggest gathering of virgins ever.
D- Deadspin. It was the sports blog Deadspin who first broke the Manti Te'o dead girlfriend hoax story with an incredibly in-depth investigative story. The site was swamped with millions of hits and received plenty of praise and recognition for its work. This led ESPN to bite its tongue in crediting the sports blog throughout its coverage of the hoax on Wednesday and Thursday.
E – Eliminate. The start of baseball season is over three months away, but, according to oddsmakers, it looks like the Colorado Rockies and Houston Astros are already mathematically eliminated from the World Series hunt. On 5Dimes the Rockies are listed at +10,000 while the Astros are the long shot at +15,000 to win the World Series.
F – Farrell, Andrew. The MLS held its Superdraft on Thursday, and the New England Revolution selected Louisville's Andrew Farrell with the No. 1 pick. The draft was so "Super" that the league decided to hold it Thursday afternoon during the workday. Unfortunately for Manti Te'o, the Superdraft did not muster enough social media gusto to knock him off the front page.
G – Golden Globes. After dominating the Golden Globes, the movie "Lincoln" appears poised to take all the fun out of gambling on Oscar Night. The movie is a heavy favorite to win Best Picture (3/10), Best Director for Steven Spielberg (1/5) and Best Actor for Daniel Day-Lewis (1/14).
H – Home dogs. At anywhere from +4 to +5 on Sunday versus the San Francisco 49ers, the Atlanta Falcons are a home dog in the NFC Championship game. They are the first home dog in an NFL Conference Championship game since 2011, when Green Bay, as a 3.5-point favorite, won 21-14 at Chicago. It also happened in 2009, but this time the host won outright when Arizona at +3.5 defeated Philadelphia 32-25.
I – Incarcerated. Former legendary NFL Draft bust Ryan Leaf has been thrown back in the slammer after violating conditions of his drug treatment program. Coming out of college, Leaf was once compared to Joe Montana. He is now in jail in the state of Montana. To be fair, the guy chosen ahead of him in the 1998 NFL Draft was Peyton Manning, and he just went one-and-done in the playoffs, so who's the bigger bust?
J – John Cena. The Royal Rumble is next Sunday, AKA the one thing that holds us over between Conference Championships and Super Bowl Sunday. Thanks to 5Dimes, we can still get our gambling fix in while watching pro wrestling. The Rock is listed as a –390 favorite against CM Punk (+280) in their fight for the WWE Championship. More importantly, in the Royal Rumble itself, John Cena is a surprising –260 favorite while the rest of the 30-man field is listed at +180. Hey, wrestling might be fake, but so is Manti Te'o's girlfriend.
K – Kate Middleton. If you are dead set on making the arrival of the royal baby a gambling event, Bovada has odds for you. Odds on the gender on the baby are split, with both boy and girl listed at –110. The favorites for name of the baby are John, Robert and Catherine/Kate at 10/1, while Anne, Charles and Frances are listed at 12/1. The longshots are Barack and Oprah at 250/1 and Mitt at 500/1. The favorite for hair color is brown at +150 with blonde (+200), black (+350) and red (+400) also available for wagering. The favorite for the weight of the baby is seven pounds to seven pounds 15 ounces at 9/4. If you think the royal baby will be premature you can have "under" four pounds and 15 ounces at 8/1. If you think the royal baby is going to be a fat load, you can have "over" 10 pounds at 6/1.
L – Lennay Kekua. Lennay Kekua, the made-up name of Manti Te'o's made-up girlfriend, is guaranteed to be a team name in your fantasy football league next season.
M – Martin Luther King Day. Most of Americans get Monday off so we can sit at home and bet on numerous daytime NBA games. The long day of degenerate gambling on basketball begins at 1 p.m. eastern time with Indiana at Memphis and Sacramento at New Orleans. Other highlights of the MLK NBA marathon include Brooklyn at New York at 3:30 p.m., Clippers at Golden State at 4 p.m. and Lakers at Bulls at 9:30 p.m.
N – NFL. Chip Kelly is making the jump to the NFL. Kelly first turned down the NFL, but that was likely because it was the Cleveland Browns who were interested. The Eagles jumped at the chance to hire the former Oregon coach. The Eagles ranked 29th in total offense in the NFL last season. Under Kelly, the Ducks ranked second in all of college football. Hopefully Kelly can find a way to continue playing against Pac-12 defenses.
O – Oprah. Millions tuned in Thursday night to watch Lance Armstrong's interview with Oprah. Nearly 100 percent of the audience who tuned in for the interview never saw one of Armstrong's races.
P – Playlist. Manti Te'o and his imaginary girlfriend dominated social media since news broke on Wednesday morning of the hoax. One of the more popular topics was Manti Te'o's imaginary favorite playlist. Some of the better Twitter submissions included, Soulja Boy – "Kiss me thru the phone," Bob Marley – "No woman no cry," Jay-Z – "99 problems," Nelly – "Just a dream," Beyonce – "Best I never had" and Michael Buble – "I just haven't met you yet".
Q – Question. If Oprah gets to pepper Lance Armstrong with questions for over two hours, why doesn't she interview every baseball player who ever cheated.
R – Reagan Maui'a. Everyone, including Manti Te'o, now believes that Lennay Kekua does not exist, well, except for former Arizona Cardinals fullback Reagan Maui'a. Maui'a says he met Te'o's girlfriend during a charity mission to American Samoa. Maui'a claims Kekua was tall, Polynesian, volleyball-type physique and real. There must be some negative correlation between commas in your last name and intelligence.
S – Stanley Cup. Apparently, there will be a Stanley Cup handed out this season. Oddsmakers have pegged the New York Rangers and Pittsburgh Penguins as co-favorites at +700. The Columbus Blue Jackets (yes, Columbus has another pro team besides Ohio State football) are the long shot at +12,500. The over/under on people giving a shit who wins the Stanley Cup is 5 percent of America.
T –Tuiasosopo, Ronaiah. Ronaiah Tuiasosopo (that's a guy) is believed to be the imposter who posed as Manti Te'o's girlfriend, Lennay Kekua. Turns out he is related to former Oakland Raiders quarterback Marques Tuiasosopo. If that isn't weird enough, it has also been reported that he Tuiasosopo once auditioned for the reality TV show "The Voice". You. Can't. Make. This. Stuff. Up.
U – USC. Turns out USC did show some fight during this awful 7-6 season, but too bad it came as soon as the season ended, and too bad it came against each other. USC players reportedly got into a full-fledged donnybrook after their loss to Georgia Tech in the Sun Bowl. Reports out of the locker room state that basically the entire team was throwing blows at one point, and coaches were on the business end of some haymakers too.
V – Victoria Azarenka. Victoria Azarenka is the No. 1-ranked women's tennis player in the world. She isn't exactly easy on the eyes, but neither is that guy with the afro from LMFAO, Redfoo. Turns out the duo are dating in arguably the oddest sports relationship since Hayden Panettiere dated that Ukrainian brick shithouse Vitali Klitschko. Redfoo (his real name is Stefan Gordy) is at the Australian Open watching Azarenka this week.
W – World Series. October is ninth months away but you can already bet on who will win the World Series. The World Series co-favorites at most sportsbooks are the Angels, Blue Jays and Nationals all listed at +800. You will likely never, ever hear the teams Blue Jays and Nationals in the same sentence as World Series favorites ever again.
X – XLVII. The Super Bowl is the most wagered event of the year, so why wait, place you bets now. Some sportsbooks are already posting lines for potential matchups. On 5Dimes New England is –2 vs. San Francisco and –6 vs. Atlanta. San Francisco is –3.5 vs. Baltimore. Atlanta is –1.5 vs. Baltimore.
Y – Yankees. On Thursday night, the Yankees agreed to a $1.875 million one-year contract with Joba Chamberlain. At the rate the world is going, this might not even make the New York Post. The Yankees should look into investing into some fake dead girlfriends or cheating at the Tour de France.
Z – Zero Dark Thirty. One of the most anticipated movies of the year, "Zero Dark Thirty," is going to have an uphill climb if it wants to capture any Oscars, well, at least according to the oddsmakers. "Zero Dark Thirty" is listed at 20/1 to win Best Picture behind "Lincoln" (3/10), "Argo" (4/1), "Les Miserables" (9/1) and "Life of Pi" (16/1). Perhaps its best shot at an Oscar in a major category is with Jessica Chastain, who is listed at 7/4 to win Best Actress behind only Jennifer Lawrence's performance in Silver Linings Playbook. Lawrence is listed at 4/7.