This Week in Sports Betting, A-Z
by Ricky Dimon - 10/24/2013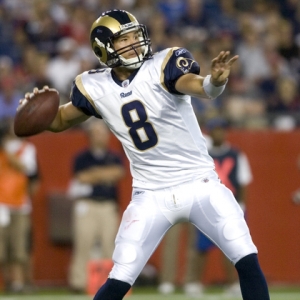 A. ACL. Even by NFL standards, it was a disastrous week on the injury front. Two marquee players in Sam Bradford and Reggie Wayne went down via the dreaded ACL tear. The Rams had only one other quarterback (Kellen Clemens) on the roster, so they added Brady Quinn and Austin Davis earlier this week. The Colts are already hamstrung by a lack of 2014 draft picks, so they likely won't spring a midseason deal for a wide receiver. Indianapolis is +650 at Sportsbook.ag to win the AFC Championship.

B. BCS. If Oregon has come up with a new acronym joke for BCS, it likely isn't printable. The Ducks are third behind Florida State, mainly as a result of the Noles' blowout of Clemson, but it's still early; very early. If both teams win out, Oregon will almost certain parlay its strength of schedule into a berth in the National Championship. Oregon is +200 to win it all at BetOnline Sportsbook. FSU is +250.

C. Checkered flag. Jamie McMurray captured it last weekend at Talladega. Runner-up Dale Earnhardt Jr. was in position to make a last-lap charge before the race ended under caution. Jimmie Johnson finished 13th and took over the top spot in the Sprint Cup standings from Matt Kenseth. Bovada Sportsbook has Johnson as a +200 favorite to win this week at Martinsville.

D. Doug Martin. The Bucs may be terrible, but they just enjoyed a decent two-day stretch. On Monday, they got to sit at home and watch Josh Freeman in a different uniform while undoubtedly thanking God that he is no longer on their roster. On Tuesday, Martin's shoulder injury was confirmed to be something not as bad as a season-ending torn labrum. Tampa Bay is a +6.5 home underdog against Carolina on Thursday night, according to 5Dimes Sportsbook.

E. Ecstasy. CeeLo Green was in a Los Angeles court on Monday to face one count of furnishing ecstasy to a female victim, a felony carrying a potential sentence of up to four years in prison. He pleaded not guilty and is due back in court on Nov. 20. The bigger news here—quite literally—is that CeeLo's booking sheet listed him at 5'7''. There is no way that guy is that tall!

F. Frank Haith. The fallout from the Miami (FL) booster scandal included a reduction of football scholarships (but no bowl ban) and a five-game suspension for Haith, the head men's basketball coach at Missouri (formerly at Miami). Haith's Tigers are +10000 at Carbon Sports to win the 2014 NCAA Tournament.

G. Giants 23, Vikings 7. That "Monday Night Football" game was just abhorrently bad. The worst part is that Freeman was so dreadful that ESPN had to spend the entire next day debating the merits of whether or not he should have been in the game for Minnesota just 10 days after landing with his new team. The statistics speak for themselves: Freeman was 20-of-53 for 190 yards, no touchdowns, and one interception. His passer rating was 40.6, and his QBR was 6.1.
H. Hasheem Thabeet. Thabeet has been on four teams in four years since being drafted No. 2 overall by Memphis in 2009, and he is best known for being an Oklahoma City sidekick who goes crazy on the bench whenever Kevin Durant does something awesome. The former UConn star won't be able to spectate from his favorite spot during next week's opener because he is suspended one game for head-butting New Orleans' Greg Stiemsma in a preseason contest. WagerWeb has the Thunder at +575 to win the NBA Championship.

I. Internet rumor. Tajh Boyd's week went from bad to worse after he completed just 17-of-37 passes and threw two interceptions in Clemson's 51-14 blowout loss at home against Florida State. A few days later, a rumor popped up that Boyd owes thousands of dollars in NFL gambling debt. Boyd, head coach Dabo Swinney, and athletic director Dan Radakovich all vociferously deny the allegations.

J. Jameis Winston. At the other end of the spectrum is Winston, Boyd's conqueror on Saturday. The freshman phenom is the toast of the college football for both his play and his fun-loving attitude that was evident during his pregame speech. Winston threw for 444 yards and accounted for four total touchdowns in FSU's rout of the Tigers. The Noles are -31.5 home favorites over N.C. State on Saturday, per Sportsbook.ag.

K. Kanye West. Baseball stadiums. Jumbotrons. 15-carat diamonds. 50-piece orchestras. It all went down on Monday night when Kanye proposed to Kim Kardashian. Odds on their second baby being named "South" are not yet known.

L. Jim Leyland. Leyland isn't technically retiring because he will likely stay with the Detroit Tigers in some capacity, but he did step down from his post as manager. He went 700-597 in eight seasons and led Detroit to a pair of World Series appearances. His lone World Series title remains with none other than the Marlins (1997).

M. Mayor Menino. If there's one good thing about Boston doing well in sports, it's that Thomas Menino gets to talk about his city's players. You know, "KJ" Garnett, Rajon "Hondo," Wes "Weckler," Vince "Willcott," Rob "Gonk" "Grabowski," and Adam "Varitek" for example. Now the Red Sox are competing for the "World Series Cup."

N. Nerlens Noel. The sixth overall pick in the NBA Draft is expected to miss the entire season, according to Philadelphia head coach Brett Brown. That may not be a bad decision given what Derrick Rose has done this preseason after sitting out a whole year following his ACL tear. Or (more likely) the Sixers are simply putting their tank-job for Andrew Wiggins out in the open for everyone to see. Hold your laughter, but Philly is +5000 at GT Bets to win the Eastern Conference.

O. Lamar Odom. Odom is apparently making good decisions, which is in stark contrast to the norm. Word on the street is that he recently slimmed down, talked to kids about the dangers of drugs, and decided to skip Kanye's proposal.

P. Pot. Three Houston Texans' rookies were released earlier this week for marijuana-involving shenanigans. That's the highest any Texan has been since a Week 2 win on Sept. 15! Houston, which has lost five in a row, is +900 at TopBet to win the AFC South.

Q. Quack attack. Third in the BCS means only one thing: Oregon may score even more—if that's humanly possible—to do everything it can to advance in the polls. The Ducks are already averaging an outrageous 58 points per game. They have put up at least 45 points in all seven contests and have scored at least 55 points six times. Oregon is a -23 home favorite over UCLA on Saturday, according to BookMaker.

R. Rick Pitino. Pitino said earlier this week that Louisville is one year away from a mini-dynasty, suggesting that a repeat title in the spring of 2014 will make it such. The Cardinals are third in the preseason USA Today rankings behind Kentucky and Michigan State. They are +1000 at Carbon Sports to win back-to-back titles.

S. Suspended. Redskins' safety Brandon Meriweather was initially suspended two games for unnecessary hits in Sunday's win at Chicago, which also led Bears players to say things like they wanted to punch him in the face. The NFL reduced it to one game, so Meriweather will miss only this week's road trip to Denver. Washington is a +14 underdog at Bovada Sportsbook.

T. Targeting. Targeting in college football—specifically in last weekend's Georgia-Vanderbilt game—is apparently when refs single out a player to eject from a game whenever he makes a tackle. They flagged and ejected a second UGA defensive player for what was a legal hit before the replay made them look so ridiculous that they had to let Ramik Wilson remain in the contest.

U. United. Manchester United eked out a 1-0 Champions League win over Real Sociedad on Wednesday at Old Trafford. Wayne Rooney and company are 2-0-1 after three games to sit atop Group A with seven points.

V. Shane Victorino. Victorino went 0-for-4 in Boston's 8-1 Game 1 World Series win over the Cardinals on Wednesday. No matter, though, because he is a permanent hero in that city for his grand slam that all but clinched the ALCS for the Red Sox in a Game 6 defeat of Detroit. BookMaker has Boston (John Lackey) as a -118 home favorite over St. Louis (Michael Wacha) in Game 2 on Thursday night.

W. Webb Simpson. When Webb wins, everybody wins—because it means air time for his wife. So it's good news for all of us that the golf season is still sort of in progress, because Webb did just that on Sunday at a fall-swing event in Las Vegas. He blitzed the field by six shots before an extensive post-round interview with his better half by his side.

X. Xavier Ouellet. Ouellet, 20, made his NHL debut last Thursday with the Detroit Red Wings. The highly-touted defenseman drew rave reviews for his performance in a 1-0 shootout loss to San Jose. Ouellet headed back to Grand Rapids of the AHL after just the one game as Detroit's normal crop of veteran defensemen improved health-wise, but he will likely be back sooner rather than later. Sportsbook.ag has the Wings at +1500 to win the Stanley Cup.

Y. Yacht sinking. Leave it to Wayne Newton to cause the biggest yacht disaster since New Zealand's epic collapse in the America's Cup. Well, he didn't exactly cause it, but Newton's 65-foot yacht somehow sank while docked on Lake Mead in Arizona. An assist crew will attempt to salvage the almost completely-submerged vessel later this week.

Z. Zydrunas Ilgauskas. Ilgauskas will have his No. 11 jersey retired by the Cleveland Cavaliers on March 8 prior to a game against the Knicks. He was the man, to be sure, but if teams are going around retiring the jerseys of guys like Big Z, there aren't going to be many jerseys available in the not-so-distant future.
Read more articles by Ricky Dimon